Loading
Women in Formula One -
a brief history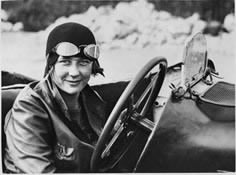 Women have been racing from the very start of the sport. There were quite a lot at Brooklands, such as the colliery heiress Eileen Fountain (on picture right), who became famous first as Mrs WB Scott and then later, after she remarried, as Mrs EM Thomas.
In European terms the two best known were Eliška Khásová, Mariette Hélène and Elizabeth Junek. Junek finished fourth on the Targa Florio and won her class in the German Grand Prix, a sports car race that year, in 1927. The following year she led the Targa Florio, ahead of the likes of Louis Chiron, Giuseppe Campari and Alberto Divo. Mechanical trouble meant she finished fifth.
Helle Nice was a night club dancer and good time girl who managed to talk her way into racing and did well until a disastrous accident in Brazil in 1936.
Formula 1 is a man's world. In the 62 years the World Championship has existed, five women have entered a grand prix compared to 822 men in the same period, but only 3 managed to qualify for race. The arrivals of Maria de Villota and Susie Wolff Stoddart onto the test driver rosters continue what appears a gradual shift towards increased female involvement in F1. Frank Williams' daughter Claire Williams recently took up a position on the board of the Grove-based team, following her father's decision to step down from his position.
October 11, 2012 Sauber F1 Team founder Peter Sauber formally handed over the running of the team to the 41 year old Austrian/Indian lawyer Monisha Kaltenborn. She already held the post of chief executive officer, and will take on the additional role starting at 2012 Korean Grand Prix. With this move she has become F1's first woman team principal. This move has been coming for some time, Sauber having transferred a third of the shares in the team to her back in May as a prelude to stepping down. Kaltenborn joined Sauber in 2000 to run their legal department. In 2001 she joined the Board of Management, before taking over as CEO in 2010, and since the end of 2011 she held a third of the company's stakeholding. Outgoing boss Peter Sauber, who entered F1 in 1993, remain as Sauber group's president of the board.
Then, in February 2014 Sauber announced they have signed up Swiss-grown Simona De Silvestro as 'affiliated driver' in the hope she could be behind the wheel of a Grand Prix car by 2015. The 25-year-old - who will initially be involved in a preparation programme involving physical training, simulator work and on-track mileage as she strives to obtain the necessary FIA super-licence required to drive a Formula One car - has genuine single-seater racing pedigree. After leaving Switzerland for the United States in 2006, she competed in Formula BMW USA and then the Atlantic Championship. Since 2010 De Silvestro has taken part in the IndyCar Series, winning the Indy 500 'Rookie of the Year' award in her debut campaign. 2013, in the first of two races at the Grand Prix of Houston, De Silvestro became the first woman in IndyCar history to claim a podium finish at a street circuit. talent is there.

Why now? What's happening?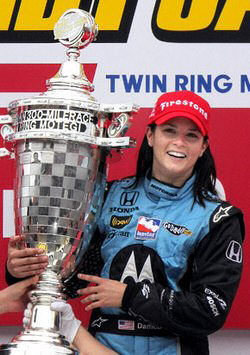 Have women actually tried and failed, or have women never attempted to race in Formula 1? Is it because they aren't interested? Is it because they're not good enough? Is it because they haven't had the opportunity? Are there regulations actually prohibiting women? Is it question of endurance, strength, speed, hormones?!
In this era of political correctness, women's rights, and open-mindedness, I want to remind you of a time when minds weren't so open.
The topic "women and Formula 1″ emerged again previous the Japanese Grand Prix 2009 after Force India driver Vitantonio Liuzzi's  statement "Suzuka is a real man's circuit." While the team smoothed Vitantonio Liuzzi's statement with "he's always entertaining", the female fans were running up in arms about it. From Teams' Facebook page: "If it's a real man's circuit what's he doing there??"

Danica Patrick became the first woman to win a race in a major international openwheeled singleseater category. Patrick won the third round of the Indy Car series at Motegi in Japan 2008. She also led the 2005 Indianapolis 500, before she lost position few laps before end of the race, finally finishing fourth.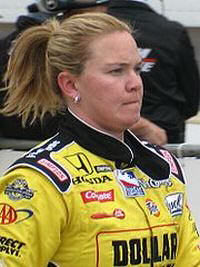 Sarah Fisher after qualifying 2007 in Indianapolis 500
The only female drivers in recent history that did peak the interest of some Formula One teams and principals were Sarah Fisher, Sarah Kavanagh, Katherine Legge and Danica Patrick. But as of now, none of these drivers will be in or anywhere near Formula One and the possibility of any of them actually getting a drive seem very unlikely. So far in the 21st century, Sara Fisher made history for McLaren when she tested in to one of their cars back in 2002 at the time of the US GP, becoming the first woman in 10 years to have driven a Formula 1 car, and Katherine Legge who took the wheel of a Minardi for Paul Stoddart at Vallelunga in Italy in 2005.
At the time, Martin Whitmarsh remarked that at that point in time they had never had a female in one of their cars so guessed it was about time.
But F1 has had precious few female drivers, and there's no sign one might arrive in the sport any time soon as the first team driver.
So… why? They certainly are allowed, and indeed one has actually scored a world championship point and one actually win race with Formula 1 car.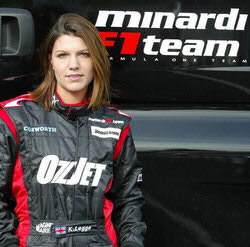 Katherine Legge during F1 test For Minardi 2005
But, there are many background reasons for this. There is only a small percentage of aspiring girl racers - compared to the hundreds of thousands of boys - who attempt a racing career, so the chances of them getting through to F1 is always going to be remote. Girls and women are usually less mechanically aware and good feedback from driver is more and more important. Young girls are much less likely to take an interest in driving at the age of eighth or so, when the champions of Motorsport start racing in karts. When women do get involved in Motorsport potential sponsors treat them less seriously than their male counterparts, and there is precious little money to go around at the lower levels. In some nations, religion and culture are also a factor.
Some people get the impression it's only hard for women to get into F1, but there are thousands of very talented male racers out there trying to get in and never do. In Formula 1 word, even if you are talented, there are still only 24 seats on the grid and only a handful of those - if any - become vacant each year.
It's not as if there aren't women racers in other categories. Women have been involved in motor racing from its inception.
Dorothy Levitt was an early motor racing pioneer and the first flag bearer for women when she competed in a race in 1903. In 1906 she broke the Ladies Land Speed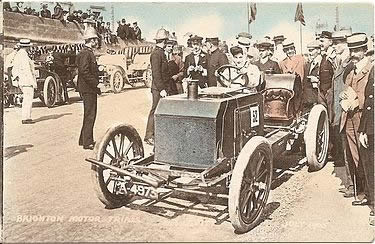 Dorothy Levitt driving a Napier at the inaugural Brighton Speed Trials in July 1905, setting a new Ladies World Land Speed record of 79.75 miles an hour, as well as winning her class and the Autocar Challenge Trophy
Record, and several years before the invention of the rear-view mirror she advocated women should "carry a little hand-mirror in a convenient place when driving" so they may "hold the mirror aloft from time to time in order to see behind while driving in traffic". She also won speedboat races and was one of the first women to qualify as a pilot - and in 1903 was one of the first to be fined for speeding when pulled over by police in London's Hyde Park. She was briefly banned from Brookland track when it opened in 1907, officials arguing that as there were no female jockeys it would be wrong to have female drivers.
The romantic novelist Barbara Cartland was the force behind some of the earliest female drivers at the Brooklands track in the 1920s.

Elizabeth Junek (Eliška Junková) (picture left) husband was a Bugatti driver in the 1920s. Initially she was his mechanic, when he found gear changes a struggle because of a war injury, she took over and made her professional debut in 1923. By 1926, she was racing men on equal terms. At the gruelling Targa Florio race she was fourth when she crashed out, but her skills and stamina earned her the respect of her contemporaries. Later in the year she won a two-litre sports-car class at the Nurburgring, becoming the only woman in history to win this race. At the 1928 Targa Florio she actually led until near the end, finally finishing fifth but beating many of the leading drivers of the time. But at that year's German Grand Prix tragedy struck. She was sharing the drive with her husband and he had just taken over when he crashed and was killed. The devastated Juneková retired immediately, sold all her cars, and went travelling. Ettore Bugatti gave her a new touring car for her journey, cannily employing her as an agent for his business in Asia.
Kay Petre got involved in driving in her 20s. In 1933 she bought her first racing car - a two-litre Bugatti - and was soon making her mark at Brooklands. 1934 she competed in the Le Mans 24 Hour race partnered by Dorothy Champney. She was obsessed with speed records. In a massive 10.5-litre Delage, the diminutive Petre was almost swamped - years later it emerged she had wooden blocks attached to the pedals to enable her to reach them. In 1934 she set a circuit record when she clocked 129.58mph on a lap. Ten months later her rival Gwenda Mary Stewart broke it. Petre immediately went out and smashed Stewart's time. Three days after that Stewart again drove faster, and this time Petre admitted defeat. But at Brooklands in 1937 she crashed, suffering serious head injuries and was left in a coma. In 1938 she made a final appearance at her beloved Brooklands, cheered to the rafters by the crowd, but by her own admission her nerve had gone. She never raced again, but did take up rallying, initially as a navigator but later as a driver.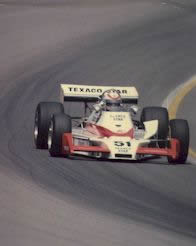 1978 Janet Guthrie finished ninth at Indianapolis 500, out of 92 entrants
The legendary Janet Guthrie, an aerospace engineer by profession, started racing in her 30s and in 1976 became the first woman to compete in a NASCAR Winston Cup race. She is the first woman to earn a starting spot in the Indianapolis 500 (1977) and the Daytona 500 (1977), where she was Top Rookie. Her ninth-place finish in the Indianapolis 500 (1978), with a team she formed and managed herself, was the best by a woman until 2005. She set fastest time of day at Indianapolis on May 7 and May 22, 1977. She was inducted into the International Motorsports Hall of Fame in 2006. "I think she's done a hell of a job," Mario Andretti said at the 1977 Indy 500. "She's got a good head on her shoulders. I've seen many guys who had much more trouble with Indy than she has had, from the standpoint of belonging on the course. Anyone who says she doesn't belong here, just feels threatened."
Michelle Mouton raced and won at the very highest levels of the World Rally Championship in the mid 80's during the exciting and wild days of Group B.
Ellen Lohr was a front runner in the newly fabled Deutsche Tourenwagen Meisterschaft (DTM) touring car series of the mid 90's, and women like Australian Drag Racing Champion Rachelle Splatt, three times Australian Rally Co-driver's Champion Coral Taylor, emerging Formula Ford talent Leanne Ferrier (Leanne Tander), talented GT-Production racers Paula Elstrek, Melinda Price and V8 Supercar's Kerryn Brewer and Amber Anderson (not only a race car driver but also as a lawyer, an aerobatics aircraft pilot, television reporter and the Official V8 Supercar Safety Car Driver).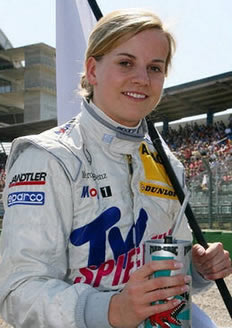 Susie Stoddart - Wolff, woman racer in DTM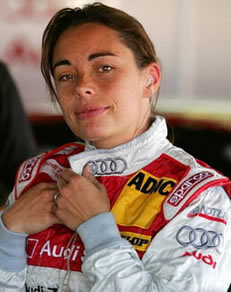 Vanina Ickx, woman racer in DTM with Audi                             team
Looking further a field to other motor racing series, there are still not that many women drivers. And if I had to give the first names that come into my mind, it would be Danica Patrick, Sarah Fisher, Katherine Legge and Milka Duno in Indycar. Then there is Keiko Ihara racing in British F3, Susie Stoddart - Wolff and Katherine Legge alongside Vanina Ickx in DTM, Fiona Leggate in the BTCC, in American Pro Stock is rising star Erica Enders. Then, there is Lyn St James who took two victories in the 24 Hours of Daytona and a win in the 12 Hours of Sebring sportscar race. The American lady twice competed in the Le Mans 24 Hours and became the first woman to win the Indy 500 Rookie of the Year award.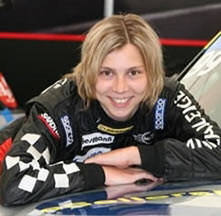 Steffi Halm, Porsche Carrera cup
In 2012, Susie Stoddart - Wolff become a Williams development driver, and she is the latest woman to try and break into Formula 1. The Scot is currently in her second season as development driver for Williams and she is hoping for a young driver test later this year. She has seven years' experience driving in DTM (German touring cars) with Mercedes. She's also been a finalist in the BRDC McLaren Autosport Young Driver of the Year Award.

In other formulae's there's Tiffany Chittenden, Jodie Hemming and Pippa Mann in Formula Renault, Steffi Halm in Porsche Carrera cup. Schoolgirl Sarah Moore has left the boys trailing in her wake by racing into the history books as the first female to ever win a British national level car racing championship and she's only 15 (The championship is a racing series for 13-17-year-olds and is part of the prestigious TOCA British Touring Car Championship package).
Some people think that women don't have the physical strength to compete in top flight motor racing. That's opinion of Stirling Moss in one interview to BBC Radio 5 live F1 special on April 2013: "I think they have the strength, but I don't know if they've got the mental aptitude to race hard, wheel-to-wheel. "We've got some very strong and robust ladies, but, when your life is at risk, I think the strain of that in a competitive situation will tell when you're trying to win," he said. "The mental stress I think would be pretty difficult for a lady to deal with in a practical fashion. I just don't think they have aptitude to win a Formula 1 race."
But his career took place in an era when racing cars was about the size of one's balls, not one's ability to multi-task at speed. And woman brain is better in multitasking.
Speak to any driver trainer these days and they will tell you that when it comes to teaching Joe and Josephina Public the basics of driving a racing car on a track day or similar, the women tend to be better than the men when starting from scratch. The reason is simple – the women listen to their teacher's advice, and apply what they've learned, while the men put their foot to the floor and try to go as fast as they can, ignoring everything they were taught. The fact of the matter is that – male or female – very few people are equipped with the skills needed to drive a racing car, especially at the highest level. It takes a combination of raw talent, physical strength, mental acuity, and an ability to multi-task. It's not easy. But it has nothing to do with gender. It comes down to talent. Some people have got it, some people don't.
I think Patrick's success in Indy Cars challenges Moss view. Experts in physiology and psychology now widely accept that the strengths needed to drive an F1 car are certainly attainable by women. Michael Schumacher admits that physical difference is not the issue. "The reasons are cultural," he said recently. "There are too few women coming up the ranks." To a certain extent he is right, but that argument is becoming an easy excuse.
Of course, there is a physiological aspect to the debate, because on average, women have 30 per cent less muscle than men. According to Dr Riccardo Ceccarelli, who offers medical support to the Toro Rosso and Lotus F1 teams - and has set up a centre called Formula Medicine which conducts research into how an F1 driver can train to the optimum - strength is not as important as many people think. They may have 30% less muscle so they have to work hard, but there's no reason why females can't get strong enough to race an F1 car.
"There is a big lack of culture in Formula 1," said Ceccarelli. "Too many drivers focus on physical strength and not enough on the mental side. "Yes, you need the strong muscles in the neck and upper body so you can have the energy to drive without any tiredness, but once you reach a certain level - there's no more benefit. There's no point putting on extra muscle. If women are capable to fly fighter planes, they should be able to drive an F1 car.
"Endurance training, rather than weight training, then becomes key. The heart will become bigger, which pumps more blood to the brain. That in turn improves the efficiency of the brain and improves the driver's ability to perform all the tasks he needs to perform in the cockpit. Slowly, drivers are coming round to this idea but there's a still long way to go. To achieve the optimum in training, our research shows a driver needs to spend just 30% of their time on physical training and the other 70% on brain training. If you can train the brain to be more efficient, it's easier to multi-task and that will make the bigger difference in terms of performance."
According to Doctor Oskar Handow science is intensively researching on this subject. Results of some studies say that sport women are certainly capable of racing in Formula 1. Neck muscles, so important in high g environment are easy trained to be strong enough, and level of fitness helps maintain level of concentration longer under adverse physical conditions, like the cockpit of a Formula One car for two hours.
Men generally are more physically able and generally have better spatial awareness. But there are exceptions to the rule on both sides—there are women who can lift cars and men who have such terrible spatial awareness that they cannot even parallel park.
We can dismiss fitness and awareness as the reason there are no women in Formula 1. There is no reason why women can't reach that level of fitness and indeed many do, in other sports. They on average eat healthier. But they are doing sports for different reasons than men do. For woman the aspect of fun comes to the fore and sweating is regarded as an unpleasant side effect. Their appearance and figure are important to them. Communicative aspect should be added. So physical and social sport motives are pursued more vigorously. Woman is more capable of multitasking, and if you look at new steering wheel of F1, that is an advantage. What is most important in Formula One is concentration, and men are not better than women in this regard.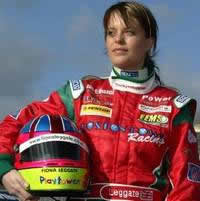 Fiona Leggate in the BTCC
Men tend towards to consider sport as a competition to let their sudorific ambitions out. The performance-oriented thinking is in high gear. Also psychological motives and coping with stress is stronger at the male side. Fact is that male respiratory volume is greater and the blood circulation is working more efficiently. In addition, the blood volume per kg body weight, the red blood cells, are higher. As a result the supply of oxygen and nutrients for the more complex metabolism are assured. Thus, men have higher nutritional requirements and need more calories. And as we can see after introduction of new buttons on the steering wheel after 2011 (adjustable wing and KERS), a lot of drivers complained that this is too much to bear with.
I also believe that there is a second reason. While watching Top Gear a couple of weeks ago, Jeremy Clarkson, although hardly one of the most impartial of people, made a very good point, which seems to be unfair but true: "The second a woman puts on a pair of racing overalls she is treated like a sex object."
So even if women aren't able to match men physically, that doesn't mean they can't be successful. Endurance and mental training needs to be the focus alongside being given a competitive car and more of all, a supportive team.
And until now, the latter has always been the problem. From the five women who had a chance in F1, three failed to qualify for a race - they drove cars that simply weren't good enough. Italian Giovanna Amati, for example, failed to qualify her Brabham in the three races she attempted in 1992. Later that year, Damon Hill, who would go on to win the world championship four years later, struggled to qualify - and didn't always succeed - in the same car.

In spite of everything, we already had a chance to watch women in Formula 1 in the past. Looking back over the years, there have only ever been 5 female drivers in Formula 1 and competed between 1958 and the early Nineties but they all drove incomparably bad cars. These women are Maria Teresa de Filippis, Divina Galcia, Lella Lombardi, Desiré Wilson and Giovanna Amati. Katherine Legge attended a test and Sarah Fisher got at least a few demo laps. The only Formula One Grand Prix in which multiple female racers were entered was the 1976 Formula One British Grand Prix with Lella Lombardi and Divina Galica.
So, who are these "extraordinary" women in Formula 1?
| Name | Seasons | Teams | Races (Starts) | Pole posit | Podiums | Wins | Championships | Points |
| --- | --- | --- | --- | --- | --- | --- | --- | --- |
| | 1958 - 1959 | Maserati, Behra-Porsche | 5 (3) | 0 | 0 | 0 | 0 | 0 |
| | 1974 - 1976 | March, RAM, Williams | 17 (12) | 0 | 0 | 0 | 0 | 0.5 |
| | 1976 - 1978 | Surtees, Hesketh | 3 (0) | 0 | 0 | 0 | 0 | — |
| | 1979 | Williams | 1 (0) | 0 | 0 | 0 | 0 | — |
| | 1992 | Brabham | 3 (0) | 0 | 0 | 0 | 0 | — |
The bottom line is that anyone who wants to work in F1 has to be able to get results. Most of the women in F1 will tell you that, in a world filled with men, they get asked out a lot, but very few will tell you that they have been victims of sexism. There are treated with skepticism when they first arrive, but then so are the men. They have to prove their worth, but once they have, they are accepted without any real fanfare. Formula 1 just wants good people – and they really don't care whether they come from Abkhazia or Merthyr Tydfil, whether they have brown or pink skin, their sex, creed or colour. The people who drive F1 cars all have astonishing ability and it is difficult to find such talent when the drop out rate of girls after karting is a serious problem.
---
Maria Teresa de Filippis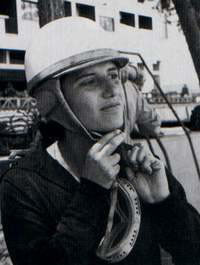 She was F1's first lady Formula One racing driver. Maria Teresa de Filippis was born to a wealthy family 11 November 1926 in Naples, Italy.
This attractive woman from Rome started racing at the age of 22 when her brothers taunted her she could not drive fast.
Within six years she was a works driver for Maserati and in 1958, driving the Maserati Juan Manuel Fangio had won his fifth world title with the previous year, became the first womento compete in a Formula One grand prix. Impressive performances in increasingly powerful sportscars - from BMW bike-engined Urania and 750cc Giaur-Fiat to 1100cc OSCA - caught the eye of GP driver Luigi Musso, who convinced her to graduate to a two-litre Maserati for 1955.
Petite and independent - she gave the domineering Enzo Ferrari the flick in favour of Maserati. She contested all of Italy's gruelling sportscar races - Mille Miglia, Targa Florio, Coppa d'Oro delle Dolimiti, Giro di Sicilia and Pescara 12 Hours - and scored several class wins before becoming the first woman to start a world championship grand prix.
In the early fifties Maria Teresa was very successful in national racing, first scoring some fine results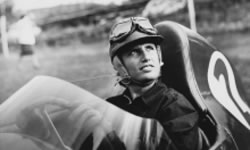 for OSCA with her own Maserati 250F.
Maria started on the Formula 1 grid at Spa-Francorchamps on June 15 1958, She qualified last in her privateer Maserati 250F and finished 10th, two laps behind the victorious Vanwall of Tony Brooks. She scored no championship points even though she took part in five races in 1958 and 1959 seasons with her own Maserati and then Porsche.
She participated in five World Championship Grand Prix, debuting on 18 May 1958. With the help of her boy-friend Luigi Musso (Formula 1 driver, killed in an accident during the 1958 French Grand Prix at Reims, France) she entered this year four Grand Prix races with her machine, and her best result being a 10th at Spa, two laps down. She was taken under the wing of Jean Behra.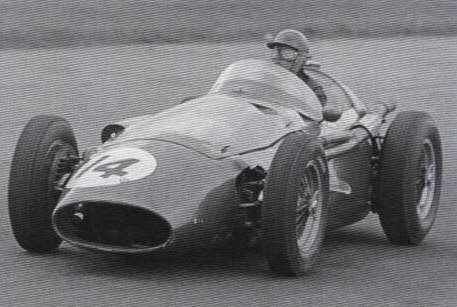 Maria Teresa de Filippis drove a Maserati 250F during the 1958-59 season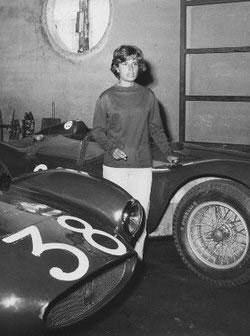 Same year Maria tried but did not qualify for the Monaco Grand Prix. She did however start the Belgian, Portuguese and Italian Grand Prix. Her highest qualifying position being 15th for the Portuguese race, in which she retired.
She did not lack bravery - Juan Manuel Fangio feared for her safety and urged caution. During practice for the Portuguese GP at Oporto, she wrapped her 250F around a lamppost then jumped into a borrowed car for the race. It retired early because of an engine problem.
In 1959 she signed up with (Formula 1 driver) Jean Behra's own Behra-Porsche team for 1959 but then retired from the sport after Behra was killed at the dangerous Avus motorway track at Berlin when he skidded over the lip of the track's notorious brick banking. This was one tragedy too many for the woman who also numbered the late Peter Collins and Alfonso 'Fon' de Portago among her friends. First and her only race 1959 was Monaco and once again resulted in a late retirement because of engine failure.
She also participated in several non-Championship Formula One races.

"Too many friends had died," she said. "Then Behra died … that for me was the most tragic because it was in a race that I should have been taking part in. I didn't go to the circuits any more. The following year I got married, then my daughter was born and family life became more important."
In an interview with The Observer in 2006, De Filippis would say the only prejudice she ever experienced was in France.
"The race director said 'the only helmet a woman should wear is the one at the hairdresser's' -- that was the only time I was prevented from racing," she said. "Apart from that I don't think I encountered any prejudice - only surprise at my success."

Maria Teresa de Filippis has a pre-race cigarette behind the wheel of her Maserati 250F
MAria returned to the sport in 1984 as the secretary general of the Club International des Anciens Pilotes de Grand Prix. Elected vice president of the organisation for retired drivers in 1997, she became its honorary president in 2011.
Maria Teresa de Filippis, the first woman to compete in a world championship grand prix, has died on 8 January 2016 at the age of 89. RIP Maria!
---
Maria Grazia "Lella" Lombardi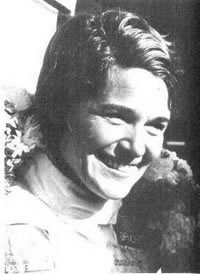 It's not until you get to Lella Lombardi, that you find one, and for now only woman who did score points. Legend has it she started showing an interest in racing after being driven to hospital at speed after an accident playing sport. Racing from 1974 to 1976, Lella became the only woman to ever finish top 6 at a GP, subsequently finishing 21st in the WDC championship that year. Lella is also the female driver with the most entries in Formula One, entering 17 races during the 1974 to 1976 season debuting on July 20, 1974. Her best finish being the 6th place she achieved in Spain. Her best qualifying position was 17th in Belgium in 1975. She scored a total of 0.5 championship points, and is the only female Formula One driver in history to have a top 6 finish in a World Championship race, at the 1975 Spanish Grand Prix at at Montjuich Park. Lombardi was lying sixth in a March when a big accident caused the race to be called off after 28 of the scheduled 75 laps. She leads Jackie Ickx on her way to sixth place. Half points were awarded for this race due to a shortened race distance, hence Lombardi received half a point instead of the usual one point for sixth place. This means that she is not only the sole female driver to score points in Formula One, but is the only ever driver with that career total.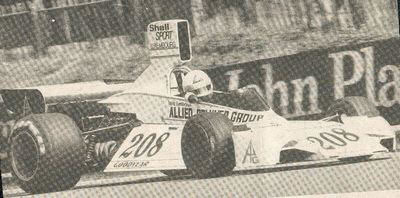 Maria Grazia "Lella" Lombardi was born in Frugarolo, Alessandria, March 26, 1941 and died in Milan, March 3, 1992. She died of cancer aged 50. Within her family, no one was interested in motor racing, nor driving on public roads. Actually, the fastest vehicle they owned was a ten-speed bicycle...
One day Lella met a young man, who as it later turned out, was a racing driver. From that day on, she followed him wherever he went. She was in charge of the tires, changed the spark plugs, and timed the laps. On one occasion the guy entered his Alfa Romeo for a rally. Lella was his co-driver. She enjoyed that 'high-speed weekend', and persuaded her friend to swap places for the next event. When Lella appeared in the driving seat, the other drivers were just smiling... Lella was very upset and put all her anger into her driving. She won the debut race! After that tremendous success, with the help from an Italian company, she was given the chance to drive a works Alfa Romeo in the Italian Touring Car Championship.
In the beginning, her results were modest, but she finished in third position at the Palermo event. The Alfa Romeo was to be followed by a BMW and later Lella's attention turned to single-seater racing. Her biggest success came in the Ford Mexico Championship in which she became the 1973 champion. The next year she stepped up to Formula 5000, and was racing in the Shellsport championship. That year marked her first appearance in Formula One.
After performing well in Formula 3 and Formula 5000 in the early 1970s, Lombardi entered Formula One in 1974 with Allied Polymer Group team with an old privately-entered Brabham, but it was with March next year that she raced a full season. It was that year that Lella drove a March 751 to sixth place in race at Montjuich Park in Barcelona for Spanish GP, scoring 0.5 points, as the race was stopped early following a serious crash.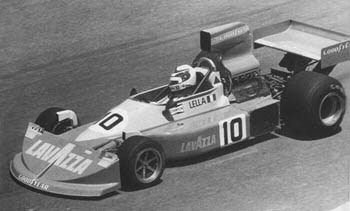 Lella Lombardi driving March 751 at Montjuich Park in Barcelona
She then had a one-off drive for Williams before a short-lived and unsuccessful partnership with RAM Racing, driving another Brabham. Lella Lombardi had also started in NASCAR driving in the Firecracker 400 NASCAR race at the Daytona International Speedway in 1977. Interestingly enough, there were no less than three female drivers in the field that included American Janet Guthrie and Belgian Christine Beckers.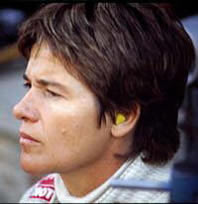 Lombardi later raced in sports cars with some success. She died of cancer in 1992 aged 50.
---
Divina Mary Galica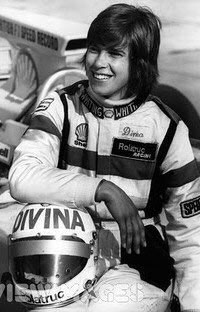 Divina Mary Galica (born 13 August 1944, in Bushey Heath, Hertfordshire, Great Britain) had a brief dalliance with Formula 1 at 1976 and 1978 and entered only 3 races. She did not qualify for any of these races. The closest she came was being 2.59 seconds slower than the last placed qualifier.
She was always speed junky and by age 20, she participated in her first Olympic games at Innsbruck in 1964, competing in downhill skiing and the slalom. She also participated in the next two winter Olympics, at Grenoble in 1968 and Sapporo in 1972. On both occasions Galica was captain of the British Women's Olympic Ski Team, and finished in the top-ten in the Giant Slalom. Aside from Olympic competition, Divina achieved two World Cup podium finishes in the downhill events, taking third place at both the Badgastein and Chamonix rounds in 1968. Galica also held the British women's downhill skiing speed record at 201 Kmh.
As a driver, she began when invited to a celebrity race, surprising onlookers with her natural talent. She eventually took up motorsport as a second career, initially racing karts, moving into Formula Two and Formula One before finding success in sports cars and trucks.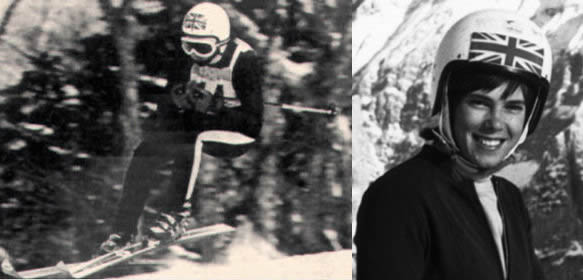 Female racer Divina Galica also took part in the Winter Olympics and represented Great Britain in various skiing disciplines at four separate Games between 1964 and 1992. Here on the picture, Divina Galica at 1972 Sapporo Olympic games during the downhill run.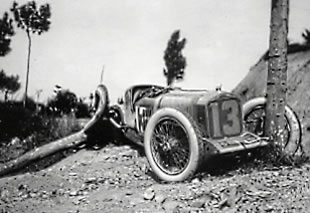 Unlucky No. 13 - The wreckage of Paul Torchy's two-litre 2LCV Delage GP in which he was killed 1925
Unlucky No.13 is a very unusual starting number and the FIA and several other race organizers conspicuously avoid appointment of the number. In fact, the history of excluding No.13 as an entry number goes back to 1925 when Paul Torchy was killed and 1926, when Giulio Masetti died in a Maserati carrying the No.13 when taking part in the Targa Florio. Since then, the number is not issued by organizers of motorsport events, even though a driver has the right to request it. In fact only twice before in F1's six-decade history has a car carried the number: Moises Solana, who retired, at the 1963 Mexican GP and Divina Galica when entering the British Shellsport International Group 8 series driving a Surtees TS16 Formula One car. Galica did manage to take third place at the Brands Hatch and second place at the Donington Park rounds. Galica also failed to qualify for the 1976 British GP carrying number 13.

Galica only entered 3 of F1 World Championship events, one in 1976 and two in 1978.
After promising showings in Shellsport International series, Nick Whiting decided to enter her for the 1976 British Grand Prix. It was the first time in 13 years a car with the No. 13 had been seen at a race. Unlucky 13 also proved for Galica, as she failed to qualify for the race, using their Surtees TS16. This year Galica had the honor of reintroducing the same dreaded No.13 to the F1 Grand Prix world. Number 13 was issued to F1 racer only once before: to Moises Solana at his home Mexico GP of 1963. Whiting acquired a second-hand Surtees TS19 for Galica to use in the British F1 event. The Whiting team lacked the technical expertise required to properly set the car up for each race, and Galica was often hindered by poorly adjusted machinery. Whiting managed to secure sponsorship from Olympus Cameras part way through the season, as prior to this the whole team had been run on a budget of only £10,000 for the entire season.

Two entries in the 1978 Hesketh team, on its back feet after it was cut loose by Lord Hesketh and Harvey Postlethwaite, remain her most serious attempts. Hesketh Racing's works driver Rupert Keegan had taken part in a couple of rounds of the British domestic series in 1977, and at the start of the 1978 Formula One season Hesketh offered Divina Galica the opportunity to replace him in the team's Hesketh 308E car. Galica took the Olympus sponsorship with her, replacing Hesketh's previous Penthouse sponsorship, but she failed to qualify for both '78 events she take part of, Argentine and Brasil GP, first and second event of the season.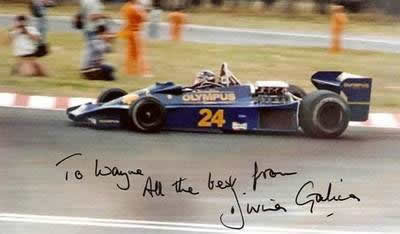 Following the second failure in Formula 1, she returned to the British Championship and her trusted TS19 to enter the fledgling Aurora championship, and mid-way Galica took second place at the Zandvoort round. Then she swapped the Surtees TS19 for an upgraded ex-works McLaren M23 car with which she returned to the series, only to take a poor seventh at Thruxton in September.
After her driving career, in the nineties she went back to embrace her old love as an alpine skier, represented Great Britain at the 1992 Winter Olympics, this time in the speed skiing event.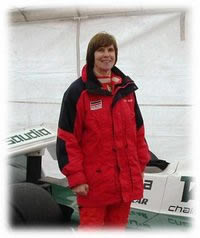 Aside from a limited number of outings in single-seater cars, Galica switched her attention to the Thundersports S2000 sports car class, taking a number of top ten finishes, and truck racing. Galica became a racing instructor with Skip Barber Racing Schools, rising to become senior vice president of Skip Barber Racing, managing both its driving school and racing series. In 2005, at the Mont-Tremblant weekend of the Skip Barber Race Series, Galica announced she was leaving Skip Barber to work for iRacing as a director in the company. On picture right, Divina today.


---
Desiré Randall Wilson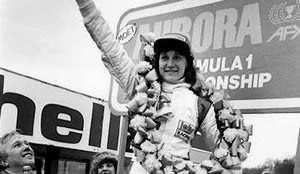 Desire Wilson celebrating her win at Brands Hatch Aurora F1 series
It's a completely different story with South African Desiré Wilson, one of the most naturally talented, ferocious competitors that I know, a fierce lady driver who was only in F1 for the sport. Up until now, she is the only woman who can claim to have won a post-war F1 race. Shame it happened to be at Brands Hatch in the short-lived British Aurora F1 series, a race open to original F1 machinery, might be a better way to describe it. As a result of this achievement, she has a grandstand at Brands Hatch named after her. She competed in only one official F1 race, not counting South African GP.
Bob Evans, Guy Edwards and Desire Wilson celebrating podium at Thruxton, British Aurora F1 series, 1978

Desiré Wilson (born Randall) was born 26 November 1953 in Brakpan, Johannesburg, South Africa, one of only five women to have competed in Formula One. She was a daughter of a South African motorbike champion.
Desire started racing in 1960 in South Africa, her homeland, and raced a variety of cars before winning the South African Formula Ford Championship in 1975. She and husband Alan moved to England and embarked on an open wheel and sports car racing career where she competed against and often beat the likes of Kevin Cogan and Bobby Rahal.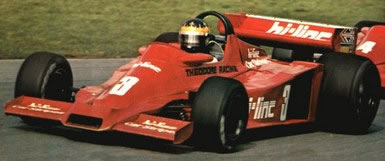 Desire Wilson 1980 competing in Wolf Ford WR4
Although she contested only five of the twelve rounds of Aurora series in 1978, she finished top-six in each of the last four races. that was enough to place her tenth in the championship. Her first full season was in 1979, with four podium finishes. She finished seventh in the championship. She also get a superlicence qualification, and now she was ready to tackle a world championship event. On April 7th 1980 at Brands Hatch, only two months before her outing at the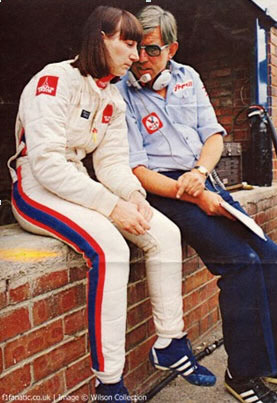 British GP, Wilson had become the only woman to win a Formula 1 race (with fastest lap) of any kind when she won in the Aurora F1 series in the UK with her four-year-old red Theodore-run Wolf WR4 with fastest race lap. Among those left in her wake was Emilio de Villota, (father of Maria de Villota, Marusia test driver) piloting a Williams FW07 of the type the works team had introduced just 12 months previously.
Same year and in same Aurora championship she finished 2nd at Thruxton with fastest race lap and 3rd at Mallory Park race. This win led into her attempt to qualify for the British Grand Prix. Also in 1980 Desire shared two victories with Alain de Cadenet in the six-hour race World Endurance Championship at Monza and Silverstone that year. But the following season she was still trying to gain a foothold in Formula One.
She sad: "In Aurora [it was] the same thing at first, it was like 'what's this woman doing here?' But then all of a sudden I started beating them, I won a race and all of a sudden people had respect for me. I had to actually gain the respect to prove you should be there."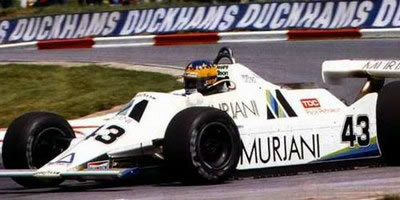 Desiré took part in the British Grand Prix same year, held at the same racing track where she won the second round of the Aurora championship just two months before. With a non-works Williams FW07 prepared by Brands Hatch Racing she failed to qualify for the race due to an improperly repaired (The replacement chassis provided for Wilson had been crashed heavily by Eliseo Salazar in an Aurora race at Monza two weeks earlier) and different car than she had won the Aurora series in, and didn't get used to the newer Williams before qualifying was over. Bad repairs had left the chassis flexing badly and even the most aggressive set-up changes did little to remedy its diabolical handling. Although her RAM team principal John MacDonald insisted otherwise, the De Villota chassis she'd used at the test before had been replaced by a different FW07. The same model was also driven by the other private entrant of the event, 1979 Aurora champ Rupert Keegan, who took the wheel of the No.50 entry shared by RAM Automotive and WPGE.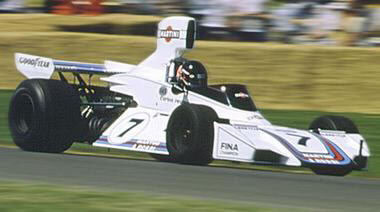 Only Keegan featured well in qualifying, lining up like 18th in his semi-works RAM car, ahead of a certain Gilles Villeneuve. Desire failed to qualify for her Championship debut, qualifying dead last, half a second behind a certain Keke Rosberg and only a second behind the reigning World Champion Jody Scheckter, who qualified a lowly 23rd for a Ferrari team hitting another one of its low patches. On what she recalled was "most disappointing weekend of my life" she was given a dreadful car to drive, describing the whole event as a "a con".
Ken Tyrrell however was so impressed by Wilson and he offered her a drive for the 1981 South African GP alongside Eddie Cheever. She qualified 16th, stalled her car at the start, but in the wet she caught up to the rest of the pack and passed numerous drivers including Eddie Cheever in the same Tyrrell and astonishingly enough she ran as high as 6th at one stage. She even had a brief battle with Nigel Mansell. After 51 laps however she damaged her gearbox, spun off, and had to retire. Due to the political trouble of 1981, the South African race was stripped of World Championship status and officially Desire Wilson's British Grand Prix entry is the only one she has.
Again, Ken Tyrrell offered her a drive for the rest of the year, if she could come up with enough sponsorship, but Michele Alboreto however raised $1 million and he got the drive instead. She had an extremely difficult time finding sponsorship because she was a native of South Africa when apartheid was at the height of exposure.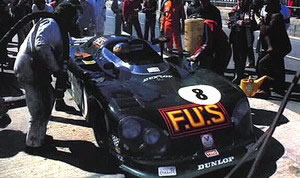 Wilson teamed up with Alain de Cadenet in sportscars, with some success. Here Wilson sits in the pits at Silverstone in 1980, a race she went on to win.

In 1982, she attempted to qualify for the Indy 500 racing for team Theodore driving 81 Eagle with a team that was underfunded and in equipment that wasn't competitive. Same year she competed in 8 races in CART Indy Car World Series for Wysard Racing, and finished 7th in Le Mans 24 Hour race driving Porsche 956.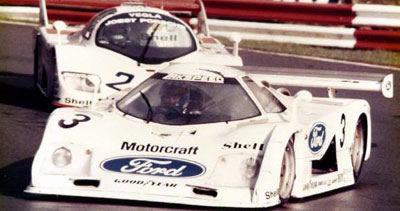 Desire Wilson in Ford Werke with codriver Jonathan Palmer during Brands Hatch race, finished 4th in race
1986 Desire finished 1st and 3rd in SSGT Class Escort Endurance Series at Mosport and Mid Ohio 24 Hour driving Saleen Mustang. She continued to race in the United States and the United Kingdom in open wheel and sports cars with some stellar performances, and after a horrific crash at Brainerd, Minn.
She raced in the 1991 24 Hours of LeMans too. She became involved in other disciplines including CART and sports car racing, and in the end, the CART pace car programme. Her last competitive outing was in the now-defunct North American Touring Car Championship. 
Desiré Randall Wilson 10 years ago and 2010 at Goodwood Revival where she drive 1960 Jaguar E Type and Mini Cooper S (4th position)

Desiré went to the States later on and she became a U.S. citizen and lives in Salt Lake City with her husband, Alan Wilson, who is a renowned racecourse designer. They now manage the new Miller Motorsports Park in Utah. Until today, she have impressive racing resume with 12 Pole Positions, 24 Wins, 16 Second Places, 43 Third Places, 28 Fastest Race Laps and 17 Track Records all together. Desiré has driven more than 120 different types of race cars on more than 98 race tracks in 17 different countries in her career. A lot of mans can envy her for success. Wilson competed in some of motor sport's greatest races including the Indianapolis 500 and the Le Mans 24 Hours, but she never felt at a disadvantage compared to her male rivals, even in an era of brutally tough ground-effect cars with manual gear levers and no power steering.
Desiré and Alan Wilson in office of the new Miller Motorsports Park in Utah they now manage
The full story of Desire Wilson's racing career is told in "Driven by Desire: The Desire Wilson story", published by Veloce and available from major booksellers including Amazon
.
---
Giovanna Amati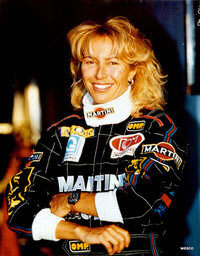 Giovanna Amati was born July 20, 1962 in Rome. Unlike many of the female drivers who raced at the top level before her, Amati probably owed her opportunities to the fact she was a woman. This Italian lady-racer was the last or maybe latest woman trying to qualify to a GP. Amati described her experience there for F1 Racing Magazine, saying: "It's a male environment and they want to keep it that way - the drivers, the journalists, everyone. Only one person came up to me and offered me his hand at my first GP in South Africa - and that was Ayrton Senna. He came over and said, 'Welcome Giovanna, I'm glad you're here. My congratulations.' The others ignored me, and when I failed they shrugged and said it was because I was a woman." True Champions, it seems, are sometimes proven as Greats not just on track...
Born to wealthy parents, Amati had a colorful childhood, including being kidnapped for ransom, and buying a Honda motorcycle when she was 15, managing to hide it from her parents for two years. She began racing professionally in 1981, winning several times over the next four years in Formula Abarth before moving up to Italian Formula Three in 1985-86, again scoring a few wins. By 1987 she had moved up to Formula 3000, with GJ Motorsports Reynard 91D, but by 1992 had recorded a best result of only 7th place in six seasons in both Europe and Japan.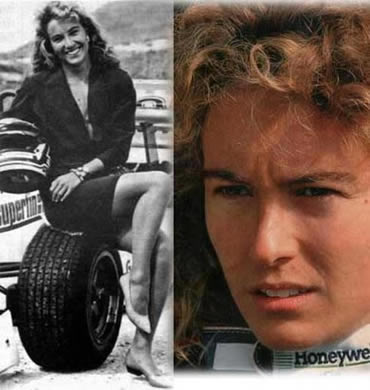 For a driver of such dubious pedigree, it's a miracle alone she reached the highest level of motor racing. But she was an aggressive racer. Amati entered in the Brabham team during its death struggle in 1992 when she tried to qualify three times but never got into the race. She gets the second seat for that Grand Prix season. With only previous Formula One experience being one test in a Benetton (courtesy of her then-partner Flavio Briatore), it was perhaps unsurprising that she failed to qualify. Taking the bad quality of car and a complete lack of testing into account though, it was hardly a surprise she failed in any of her three attempts. The last of the Brabhams was a slightly upgraded version of 1991's BT60Y, modified to fit a Judd engine into the gap Yamaha had left.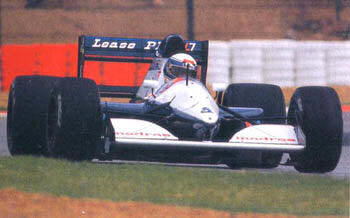 Giovanna Amati in upgraded version of 1991's Brabhams BT60Y
Even talented team leader Eric van de Poele missed out in every one of his qualifying efforts bar the first race in South Africa, the Belgian lucking in because of the unpreparedness of others. In the F3 and F3000 classes she had been in previously she had not proved any exceptional speed but she wasn't a total failure either. A lady driver however was thought to give the team some attention and bring some needed sponsorship to the Brabham team. But she was replaced, as her financial backing had not materialized, by none other than Damon Hill who at the time had lots of experience driving F1 cars by being employed by Williams as their test driver. Even so he only fared a little better and only qualified in two of the 8 GPs he was entered in.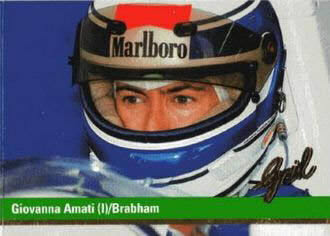 Since then, Amati went on to carve out a respectable career in sportscars, placing 3rd overall in the Sports Racing World Cup SR2 class championship in 1999. She has also moved into media, writing columns in Italy for motorsport publications and providing television commentary.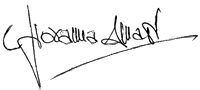 ---
How is situation today (2011) with woman in Formula 1? We still don't have any. And honestly, I can't see any woman even close to do that. And I hope we will not see any soon. Don't get me wrong, I would like to see a competitive woman driver in Grand Prix racing, and I think it would be of immense value to the sport, but the important point here is not getting any woman into F1, but rather getting the right one so as to clear away all the preconceptions that exist in this macho world.
Today in woman racing driver camp I can't see any woman with CV that suggests that she is capable of being on the pace in F1. Buying a driving place in F1 will not help matters because today even the pay-drivers have to have considerable talent as there is no room for those who do not. I think that having a woman pay-driver in F1 will actually do more damage for the cause of women in motor racing than it would help.
If one were to put any woman driver into F1 right now, the chances are that she would perform poorly, soon disappear and cast shadow over already murky world of woman F1 Racers. That would affect the chances of all other future female racers who want one day to be in F1 because it would give the prejudiced more ammunition in their argument that women cannot be F1 racers. The first woman in the modern era to break into F1 must be one who proves that there is no reason why women cannot do it, just as Danica Patrick proved that to be the case in Indy Cars. Right now, there are few signs of that right woman in the junior formula despite the efforts in recent years of Natacha Gachnang and Natalia Kowalska in Formula Two and Alice Powell in British Formula Renault. The women who are racing in the United States have more to lose than gain by trying to switch into F1. I am told that there were some discussions a year or so ago about Danica perhaps having a look at F1, but that she decided that NASCAR was a better long-term option for her.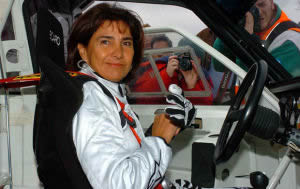 Michèle Mouton, President of the WMC, was the first woman to win a round of the FIA World Rally Championship and went on to win a total four World Championship rallies in the 1980s. The Frenchwoman was Vice World Rally Champion in 1982 and earned respect in a man's world not only for her driving, but for her personality and passion. She also bring the very first victory to Audi Quatro in manufacturers word championship series in San Remo 1981.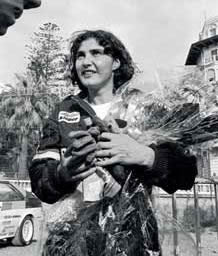 All of this is why the FIA recently established a Women & Motor Sport Commission (WMC), under the presidency of former rally star Michele Mouton. The aim is to put in place strategies and policies that will promote education and training, and put into practice actions and events that will strengthen the participation of women in all areas of motor racing, to help those with the right kind of talent to move up, by understanding the reasons why girls have tended to quit the sport after karting, rather than moving into cars with the men. There are many reasons for this and there is a clear need for support for the talented women racers at various moments in their development. Once those foundations have been laid and women start to make more progress in the junior formulae, then more will have the confidence to follow them and then it is really just down to the right talent coming along. The WMC comprises 19 members representing the ASNs, manufacturers, teams, drivers and the Federation Internationale de Motorcyclisme. Among the drivers is GT1 star Natacha Gachnang, cousin of Toro Rosso F1 racer Sebastien Buemi.

Today, it's easy to find good female racing driver, but is very hard to find extraordinary female driver capable of competitive Formula 1 drive. Just to have one driver to represent woman in F1 is not good enough. This woman must be capable of competing with best car drivers on the planet, an if it's not, it will cause more damage then good.
---
And then, on the beginning of 2012, few things happened that will maybe change perspective. First at March 2012 Team Marussia (ex Virgin) announced Maria de Villota as a test driver, and then 11. April 2012 Williams F1 has signed Susie Wolff as its development driver. Let's check one by one this two woman racers and their CV, to see if they deserve to be in Formula 1.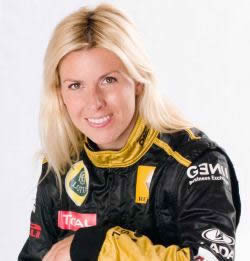 In December 2011 Marussia issued statement that Maria de Villota will became a Lotus F1 test driver for next year. News was confirmed at 07. March 2012. De Villota has raced in a variety of single-seater and sports car categories, including Spanish Formula Three, the Daytona 24 Hours, Euroseries 3000 and the Superleague Formula championship.

She was born at 13 January 1980 in Madrid, Spain. The , 32-year-old, is the daughter of ex-Formula One F1 driver Emilio de Villota, who made two grand prix starts (14 races, 12 DNQ) in the late 1970s (1976,1977, 1978, 1982) and was British Formula One series champion. She has already tested an F1 car, having completed 300km of running for Team Lotus (now Caterham) at Paul Ricard, August 2010.
CV:
2011: 1st Test in Formula 1, Paul Ricard (2009-specification Renault R29).
Atletico Madrid Driver in Superleague .
2010: Atletico Madrid, Superleague Formula. Best result 4th position ( Nürburgring)
2009: Atletico Madrid, Superleague Formula. Best result 7th (Jarama), Formula Palmer Audi, Trofeo Abarth Europe
2008: Euroseries 3000 Best result 7th possition  (Spa)
2007: Spanish GT Championships (2007) Best result, 4th position ( Estoril),
World Touring Car Championship (2006-2007)  Chevrolet official driver, ADAC Procar - Division I - Chevrolet Lacetti for Maurer Motorsport (victory at the Nurburgring, finishing third in the standings)
2005-2006: Spanish F3, Best result 3rd position (Jarama)
Ferrari European Challenge. Pole position Ferrari World Finals (Mugello)
2004: 24H DAYTONA, Gt class (Ferrari Modena, 10th position)
2002-2005: Spanish F3 (2002-2005)  Best result, 4th position (Jerez)
2001: Spanish Formula Toyota 1300. Best result,  1st position (Albacete, Valencia)
1996-2000: Go karts (First race, first win)

There was nothing in her CV to suggest that she is the next (at least) Danica Patrick and while one cannot fault ambition, it is probably not in the best interest of womankind to have de Villota as the premier aspirant for F1. This was obviously a financial deal and it is not at all clear how the Spanish lady would qualify for a superlicence in the event of the team needing a replacement driver. She just doesn't have the CV to brake into F1. Di Villotta is in no way qualified to drive an F1 car. Add the fact that she is 32 years old doesn't help.
And then, during a straight-line aerodynamic test at Duxford Airfield at 3rd July 2012 Marussia test driver was involved in a horror accident that saw her car hit the tailgate of a stationary support truck. She was testing the car for the first time. The accident happened at the end of her first installation run and involved an impact with the team's support truck. When Maria returned to pit, her car suddenly accelerated and hit lorry on helmet high in the tail-lift of a service truck. When questioned afterwards, De Villota said she thought she would miss the lorry and did not see the tail-lift. The tail-lift had been left in a position which "not only created the risk of injury, but was also protruding outwards at the level of the driver eye", the investigation document said. After two successful runs in the F1 car, De Villota was returning to the marquee garage when her front wheels locked when braking.
As the gears were engaged and the car was fitted with engine idle control, designed to maintain revs at about 4,100 rpm to avoid damage, it was essentially "fighting" De Villota and she was "pushed" along the runway into the lorry, the report said.
De Villota pressed a button to unlock the clutch and disengage the gears before the crash, but nothing happened. A gear change from second to first was also rejected by the engine idle control, the documents added. She had previously told engineers she could not operate the clutch when the steering wheel was at full-lock, which it was at the time of the crash.
Due to the injuries to her face and skull she sustained, Maria has lost her right eye, and she remains in critical but stable condition. After good recovery, Di Villota will probably never seat in racing car again because of her impaired vision.
It is with great sadness that I learned that Maria de Villota has passed away, aged 33, and my thoughts and prayers are with Maria's family and friends at this very difficult time. A great fighter with a big smile has left us. Maria is gone, but she has left us a very clear message of joy and hope. RIP Maria!
On morning Friday, October 11th 2013 Maria de Villota has been found dead by emergency services in a hotel room in "Hotel Sevilla Congresos" in Seville, Spain. Maria left us while she was sleeping, approximately at 6am. She was due to appear at a 'What Really Matters' conference in this southern Spanish city. First reports confirmed that she passed away of natural causes, but later forensic investigation confirm that she had died "as a consequence of the neurological injuries she suffered in the incident at July of 2012". The Spaniard had remained involved in the sport after the horrific test accident in 2012 that resulted in the loss of her right eye as well as massive head injuries and she was a member and Ambassador for Women in Motorsport with Formula One racing's governing body, the FIA, and also participating in both the FIA Drivers' Commission and its Action for Road Safety campaign.
---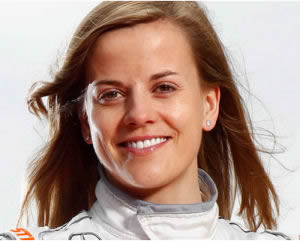 Just weeks after Marussia appointed Spaniard Maria de Villota as a test driver, Williams revealed that the Susie Wolff will take on a development role at the team. Williams reviled that 29 years old Wolff will join Williams as a development driver, which involves aerodynamic testing, simulator work and track tests. Susie will also attend a number of races.
Born in Oban, Scotland, 6 December 1982, Susie has been racing for Mercedes in German DTM for the last seven seasons. Before marrying Toto Wolff (an executive director of the Mercedes F1 team and Williams shareholder) at October of 2011, she was known as Susie Stoddart. I mentioned her on beginning of this article. Because Susie is married to Toto Wolff and the decision was approved by the Williams board, Toto excused himself from the process, to ensure there was no conflict of interest in the decision.
I think that her CV is better suited for F1 entry, but is it still good enough? I think that is better than some current male drivers have.
She has progressed through the ranks of motorsport, starting off in karting, , being named British Women Kart Racing Driver of the Year in 1996, 1997, 1998, and 1999, and in 2000 was named Top Female Kart Driver in the World. In 2002 she made her debut in the full Formula Renault UK Championship, and in 2003 won the BRDC Rising Star of the Year Award, as well as being selected as a finalist for the BRDC Mclaren Autosport Young Driver of the Year Award in 2003 and 2004. In 2004 Susie competed in her third season in the Formula Renault UK Championship, finishing 5th overall with 3 podium finishes. Then 2006 Susie moved up to the German Touring Car series DTM to compete for Mercedes-Benz with 2004 spec car, and in her debut season she achieved 6 wins out of the 2004-spec cars.
CV

2012: DTM: 2009-spec Mercedes-Benz C-Class Coupe, Persson Motorsport, entered this season under the name Susie Wolff.
2011: DTM: 2009-spec Mercedes-Benz C-Class Coupe, Persson Motorsport
2010: DTM: 2008-spec Mercedes-Benz C-Class Coupe, Persson Motorsport, 13th in the championship
2009: DTM: 2008-spec Mercedes-Benz C-Class Coupe, Persson Motorsport
2008: DTM: 2007-spec Mercedes-Benz C-Class Coupe, Persson Motorsport
2007: DTM: 2005-spec Mercedes-Benz C-Class Coupe, TV Spielfilm, Mücke Motorsport, best place: 10th place at Mugello in Italy
2006: DTM: 2004-spec Mercedes-Benz C-Class Coupe, Autoscout 24, Mucke Motorsport, 6 wins, 9th overall in the final round
2005: British Formula 3 International Championship, Alan Docking Racing team, only competed in two races that season because of an ankle injury obtained in the winter; One-off Porsche Carrera Cup GB VIP invitation drive at Brands Hatch.
2004: British Formula Renault Championship: three podium finishes, 5th place; Finalist BRDC McLaren Autosport Young Driver of the Year and BRDC Rising Star
2003: British Formula Renault Championship: 9th place, BRDC McLaren Autosport Young Driver of the Year Award: Finalist selected as BRDC Rising Star
2002: Formula Renault UK Championship for DFR Racing, first podium finish, 9th overall; Formula Renault Winter Series for Motaworld Racing team.
2001: Formula Renault Winter Series for the Motaworld Racing team
2000: Kart, British Formula "A" Championship, 10th place; Kart, Formula "A" World Championships, 15th place; awarded the title of Top Female Kart Driver in the World
1999: Kart, British Formula "A" Championship, 13th place; Kart, Formula "A" World Championships, 34th place; British Woman Kart racing driver of the Year
1998: Kart, British Junior Intercontinental "A" Championship, 10th pl.; Kart, Federation Cup, 11th place; European Intercontinental 'A' Championship. British Woman Kart racing driver of the Year.
1997: Kart, 24hr Middle East Kart Championship, 1st place; Kart - Scottish Junior Intercontinental "A", 1st place; Kart - Scottish Open Junior Intercontinental "A", 1st pl. British Woman Kart racing driver of the Year
1996: British Woman Kart racing driver of the Year
Her record in other categories is not exactly stellar. A handful of podium finishes in the UK Formula Renault series led to a seven-year stint in the DTM German touring championship, where she scored nothing at all. But, as ever in motorsport, appearances are not always quite what they seem; Wolff is far from a no-hoper. She did a thoroughly competent job in her two full F1 test outings, posting very respectable lap times. She has stood on a Formula Renault podium with certain Lewis Hamilton and in the DTM she never drove anything like competitive machinery.
17 October 2012 Scot Susie Wolff has become the first woman to drive a Formula 1 car since Spaniard Maria de Villota lost her right eye in a testing crash in July. She drove (a year old) 2011 Williams at Silverstone. Wolff's test was to familiarise her with driving an F1 car - she has spent several sessions in the team's simulator preparing for it.
Her first and proper Formula 1 test come along at 18 of July 2013, on the final day of the revamped Young Driver Test at Silverstone, and she get her chance to drive an F1 car alongside male colleagues, the first time a woman has done that since 1992. And she enjoyed it, showing no signs of exhaustion despite completing the equivalent of almost two grand prix races. Scot completed 89 trouble-free laps (she didn't do any mistakes, she didn't go off at all and she made good progress with the new tires) to generate the acclaim of the paddock and set the 9th quickest of the 16 runners on track this day, on the fourth lap of a five lap run on medium tires. 30-year-old impressed as she finished just 2.199 seconds behind the World Champion Sebastian Vettel, and just nine tenths adrift of Williams' regular race driver Pastor Maldonado's best time at the same test.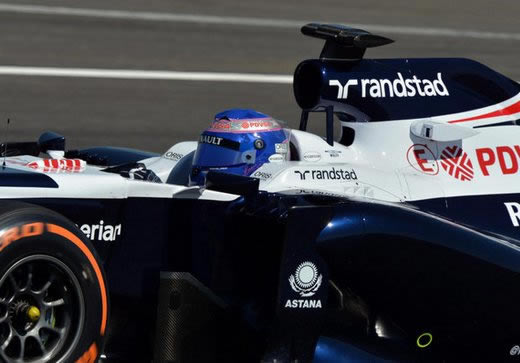 Wolff (on the picture up behind the wheel of Williams F1 car during the test) completed 89 laps with a best time of 1:35.093 and tested some aero parts in the morning, followed by some driver assessments and the pit stop practices in the afternoon. Her time was 0.46s off the best effort of European Formula 3 champion and her fellow Williams tester Daniel Juncadella (2012 Euro F3 champion) on Thursday, a guy who is rated as an up-and-coming young star. He logged a time of 1m34.631s. She said she had been targeting Juncadella's time and felt she could have achieved it with a cleaner run on the medium tires. Wolff's lap came on her fourth lap on a run on medium rubber, meaning that she is confident her headline pace would have been stronger given another run on fresh tires. There was more potential there, definitely. She had shown the speed needed to be taken seriously as a potential Formula 1 driver.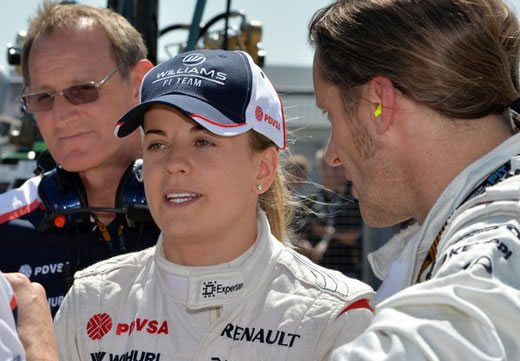 In the end so it wasn't so bad taking in account that her last proper race was in DTM car two years ago, car completely different from Formula 1 open wheeler, and her F1 experience largely being limited to a simulator. Other than that, she had not driven a single-seater on a race track since a season in British F3 in 2005. Juncadella career, for example, was based in open wheel racers all the time, except 2013 when he moved in the DTM after winning the Formula Three Euroseries last year.
On his first day of the test, Wednesday, Juncadella's fastest time came on his 22nd timed lap of the day, at 16:19, and he did a total of 30 flying laps. He went for a time after three runs of six, five and four flying laps each, which would have afforded him some time to change the settings of the car to his liking. Juncadella got another go on Thursday afternoon, this time setting his best time on his 12th flying lap, again after initial four and then three-lap runs.
Wolff's programme on Friday was more truncated. She said she was aware she had only a "handful of laps" before being given a chance to go for a time on new tires. She wasn't kidding. Williams will not reveal details of the drivers' programmes, but it's clear from the timing sheets and what little they did say that Wolff had to do a series of eight aerodynamic tests, where the car is not driven to its limit, so the team could check the performance of various parts on the car. And then it was straight into the new-spec-tire runs before lunch. There were no timed laps in the afternoon because the team spent it doing pit-stop practice with the race team, to try to iron out the mistakes that had cost them their best chances of points in a difficult season at the previous race in Germany. That meant Wolff had to go for a time after a very limited period in the car and with no chance to alter the set-up. Her fastest time - a 1:35.093 - was set on her ninth flying lap of the day, at 12:43. Unsurprisingly, she did not get the best from the car, struggling to use the tires in the optimum way, same as Juncadella, a recurring problem even for regular race drivers. After setting that first time, she had another run, and all but matched her best time, this time setting 1:35.186. But that was on the fourth lap on that set at a time when the tires were already beginning to go off.
So, is she good enough?
At Silverstone, given the context, Wolff did more than enough to prove she deserves a lot more respect than she has been getting. Whether or not she ever becomes the first female driver to take part in an F1 race weekend since Giovanna Amati in 1992 (Giovanna Amati attempted to qualify for the first three grands prix of 1992 driving the desperately off-the-pace Brabham-Judd BT60B but was unable to make the grid for the South African, Brazilian and Mexican Grand Prixs. She was replaced for the next race by Damon Hill, who was only able to qualify twice in his eight appearances for the team), or even the first since Lella Lombardi in 1976 to start a grand prix, remains to be seen, but if you ask me, I think that that she is. As I say before, she certainly have a better CV that some of current formula 1 drivers. Her testing day drive of 89 laps show that she is physically well prepared and she can do it, no problem there. I just hope that Williams will offer her some more opportunities to prove herself. I don't believe that she can fight with the best of the best drivers, but she can prove that woman drivers can compete in Formula 1 in some team in the middle of the grid.
---------------------------------------------------------------------------------------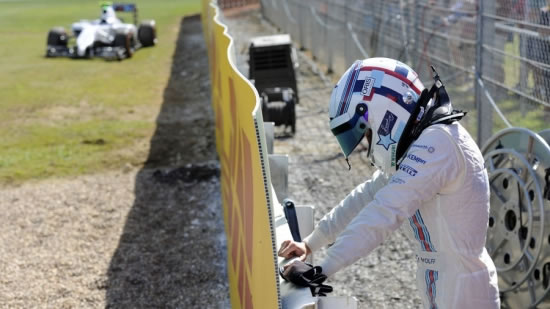 Susie Wolff was left "massively disappointed" after her historic (first female since Italian Lella Lombardi in 1976) on-track debut at a British grand prix weekend at Silverstone was limited to just four laps due to mechanical problems on the car.

Free Practice One at Silverstone GP July 04 2014 was an historic one for Formula 1 and for Susie Wolff as she became the first female since Italian Lella Lombardi in 1976 to compete in an official F1 session. She posted a time of 1:44.212s on her first flying lap, but she was left "massively disappointed" after her on-track debut at a grand prix weekend was limited to just four laps of the Silverstone circuit. Wolff's Williams suffered an engine issue forcing her to park the car at the side of the track after just 4 laps. She said the issue was terminal and was on an engine that was close to the end of its life. She will have one more try in two weeks in Hockenheim.
---------------------------------------------------------------------------------------
18 July 2014 during free practice one i Hockenheim, on her second try and first full practice session at a grand prix, Susie Wolff impressed. She was 15th (of 22), just 0.227 seconds slower than team-mate Felipe Massa, an 11-time grand prix winner. Considering Wolff's lack of mileage in a car that Massa has raced all season, her performance appeared to make a strong statement. She went a long way to showing she could do a good job. BTW, all participants during this session are regular racing team drivers with a lot of kilometers in respective cars behind them.
.........
11 Felipe Massa Williams 1m20.542s +1.411s 19 laps
.........
15. Susie Wolff Williams 1m20.769s +1.638s 20 laps
........
Wolff again hit trouble with car on her first lap, with the car stuck in gear. But the team managed to get her out for her to complete a consistent programme. In trading lap times with Massa, she appeared to do that - out on the track at the same time, the Brazilian was initially 0.1secs quicker, before Wolff beat him by 0.2secs and then the Brazilian edged back ahead. Massa had clearly been pushing hard - he ran wide at Turn One shortly after setting his fastest time.
The two cars were not in exactly the same specification so it would be unwise to draw too many conclusions from the times.
---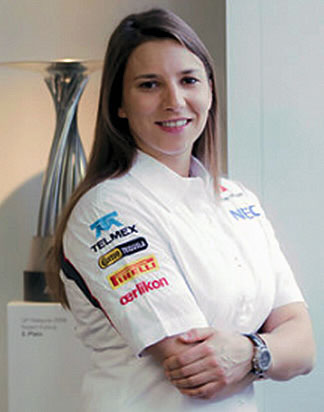 In the middle of February 2014, Sauber announced that female IndyCar racer Simona de Silvestro have signed to a role it has dubbed 'affiliated driver'.
She joins Sauber for a 'preparation programme', which will see her involved in track testing and simulator training, all aimed at preparing for the mental and physical demands of F1, obtaining a superlicence and progressing to the 2015 grid.
The thing about Simona de Silvestro is that, first and foremost, she is a racer. The 25-year-old Swiss girl has been racing in the United States since 2006, has done a great job in IndyCar in recent years and, of all the women racing at the moment, she probably has the best credentials, although one might argue that Danica Patrick still has a better record as she won an IndyCar race a few years back, before moving off to NASCAR. The key difference between the two is that De Silvestro finished on the podium in Houston last year, a street race, rather than on an oval, the first podium finish for a woman on a road course in the history of the series. This means that she is competitive at a track where ability and physical strength are both important. One nickname which has been applied to her is "The Iron Maiden". You will not see her on the cover of lads' magazins with her race suit unzipped. By not engaging publicly with her gender, but solely with her job and her results, Simona has managed to avoid being draged into the lucrative but demoralising 'girlracer' market.
On 22 May 2010, she qualified in the 22nd position for the 2010 Indianapolis 500. She finished the race in 14th position, and earned Indianapolis 500 Rookie of the Year honors racing for KV Racing Technology.  During 2011 São Paulo Indy 300 race, she started 13, than accident between her and Helio Castroneves put her nine laps down, she finished 20th, nine laps down, but recorded the fastest lap of the race.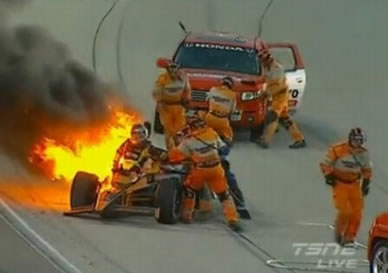 She received second degree burns on her right hand and superficial burns on her left hand in a crash during practice for the 2011 Indianapolis 500 on 19 May. The crash, which sent her car flying into the catch fence before flipping and landing on its left tires, was caused by mechanical failure in the left rear of her Dallara/Honda. A large fire quickly spread from the rear of the car to the front, including a large portion of the cockpit. For her part, de Silvestro was more concerned about her father, telling media "I thought he was going to have a heart attack." She ended up with minor burns on her right hand as she tried to help herself out of the burning car. Two days later, on 21 May, using her backup car, she qualified 24th for the race with a four-lap average of 224.392 mph. There was no doubt in her mind that she would get back in the car - the only question was whether or not she'd be able to fit her racing gloves over her bandaged hands. (In the IndyCar series, fires that last more than a few seconds are rare, thanks to fuel cell technology. But in de Silvestro's crash, the oil cooler on the right side of the car was destroyed, spilling the 20 liters of oil into the sidepod rather than onto the track, fueling the fire).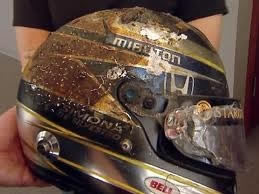 During 2012, De Silvestro was racing for Nuclear Clean Air Energy sponsored Dallara/Lotus and the entire season with the inferior Lotus engine. The underpowered engine made it impossible for de Silvestro to be competitive, resulting in consistently poor qualifying and race results. How bad it was proof is that on several occasions the car was black flagged for failing to maintain the minimum safe speed.
On 30 October 2012, de Silvestro signed on for KV Racing Technology for the 2013 IndyCar Season, driving the No. 78 Dallara/Chevrolet with sponsorship from Nuclear Clean Air Energy. She joined veteran driver Tony Kanaan to make KV Racing Technology a two-car team for the 2013 season. On 5 October 2013 in the Grand Prix of Houston, de Silvestro finished second in the first race for her first podium finish, joining Danica Patrick and Sarah Fisher as the only women in IndyCar history to record a podium finish and the first woman in IndyCar history to claim a podium finish at a street circuit when she was runner-up behind last year's champion Scott Dixon.
Is Simona finally the one to do it? Well, if there's a female driver out there with the potential to make it in F1, I believe Simona de Silvestro is that person.
---
At February 6 2015, Carmen Jorda, Spanish model and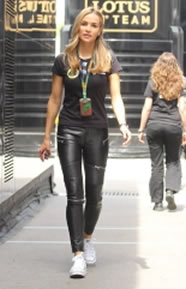 race car driver, became a Formula 1 development driver for Lotus F1 not because of her results driving racing cars. Finishing 28th in GP3 in 2012 failing to score any points (racing for Ocean Racing Technology), 30th in 2013 again failing to score any points (racing for Bamboo Engineering) and 29th in 2014 again failing to score any points (racing for Koiranen GP), with a best finish of 13th, is not the raw material from which F1 careers are hewn and her appointment seemed inappropriate at best. When the announcement was made, the head of the FIA's Women in Motor Sport Commission, the distinguished rally driver Michele Mouton, described the appointment as "a marketing gimmick" and said that "Simona de Silvestro, Danica Patrick, Susie Wolff or even Beitske Visser" as better choices.". The implication was very clear: Jorda had landed the role more because of her looks (and, perhaps, her money) rather than her ability. At the time Lotus needed the money and did not care to much. Jorda faded out of the sport, but popped up again 2017 by saying, rather unwisely, that "it's not fair to be compared with men because we will never be on the same level". One can understand this remark if she was speaking only of herself, but other women racers did not agree. Jordá currently does not compete in any racing series.
"I think some of us have proven differently," tweeted Simona de Silvestro.
---
The best way to get a credible female involvement in F1 on the race track is to make sure that the driver is one who is able to do the job, rather than a 32-year-old Maria de Villota with little relevant experience who happens to have some cash that the team needs. Picking the wrong person will only serve to strengthen opinions that women cannot make it in F1. I am sure that eventually we will find the right one, and the sport will be far better because of that, but finding the wrong one is not the way forward. Trying to force things to happen, will only result in making it more difficult for women racing drivers in the future. Maybe Susie is the one.