Loading
Refueling
From 2010, only tire change is allowed during pitstop. Refueling is banned, and drivers have to start with all fuel needed for race. But article created few years earlier is still here.


Fuel rig with his signal lamps
Ferrari team in action

Fuel rigs ready for action
It is nice to see pit team dancing around car during pit stop and refueling. That is highly trained team, and only small mistake can decide if you win or lose.
Refueling is only permitted in team garage or FIA garage, and only FIA approved system made by French company ATL (Aero Tec Laboratories) can be used. Teams can change fuel load during any practice session and during qualification, except qualy session 3 or after qualifications. Fuel left after qualifications should be used for race. During race, refueling is allowed. If race is suspended, refueling is forbidden.
Juan Manuel Fangio won the 1957 German Grand Prix after deciding to make a pitstop for fuel and tires mid race. It was the first time that such a strategy had been intentionally used to win a Grand Prix, but that statistic is often forgotten in the excitement surrounding Fangio's last win, which he only claimed on the final lap. That first pitstop had not gone particularly well and Fangio would probably have won the race easily without it, which might explain why no other team tried using refuelling as a strategy until 25 years later.
Refuelling during races first took place in Formula One in 15th August 1982, when the Gordon Murray from Brabham team, run by Bernie Ecclestone, calculated that a quicker race time could be achieved when starting a car with only half a tank of fuel. This day was the Austrian Grand Prix, which was the 13th round of the season. Up until this day, the pit lane was a place to stop if a car has a problem, place for fixing punctures, sorting out broken wings, generally, place to be avoided. Brabham were one of the first teams to be using thirsty turbo engines in the eighties, and figured a mid race pitstop would help them overcome the performance drawback of having to run with extra fuel. Chief Designer Gordon Murray worked out that if you purposefully stopped halfway through the race and filled up with fuel, then you could run the two stints much lighter, and hopefully faster, than everybody else. It also meant that the tire compounds could be softer, as they could be changed at the halfway point. Idea of fuel stops catch on and a number of teams started using them the following year. This was despite Brabham having the only car that was designed with an efficient half-sized tank.
The FIA (then known as FISA) soon banned refuelling from 1984. Fuel volume permitted for racing was reduced from 250 litres to 220 litres, intending that there should be a further reduction to 195 litres in 1985. In-race refuelling was also banned therefore widespread use of fuel cooling towers was adopted to freeze the fuel to approx. -30 degC prior to filling the car thus reducing the volume and being able to squeeze more fuel into the limited volume. In this period fuel and engine development resulted in massive power increases, especially for qualifying.
Exactly ten years later the sport's governing body changed its tune, and felt compelled to spice up the show after a few years of Williams domination. Everyone's attention turned from fuel and tire conservation to pitlane tactics. At the first race featuring the new regulations in 1994, Michael Schumacher was unable to pass Ayrton Senna on the track but jumped him in the fuel stops. It was a sign of things to come. The fuel load of a car is the single biggest factor impacting its overall speed, and when teams were given the opportunity to play with this as they wanted it opened up a whole new range of strategic possibilities. Pitstop tactics became just as important as speed itself.
The strategic element of refuelling gained even more significance in 2003 when the idea of making drivers qualify with their race fuel load was to mix up the grid, and therefore the first stint of the race. It is an idea that has largely worked past years. Renault, Toyota, and Red Bull enjoyed front row qualifying positions in 2008 thanks to running light tanks in qualifying. Although they never had a chance of finishing those races that high up, they prevented Ferrari and McLaren from dominating the Grands Prix lights to flag.
That is all going to change with rules changing in 2010.
Team working on the car during pit stop must wear special fire resistant boiler suits made of Nomex, light fire-resistant material used also by firefighters. Special helmets with separated breading air supply must be used by team members responsible for refueling rig. Each team must ensure that an assistant equipped with a suitable fire extinguisher of adequate capacity is beside the car throughout all refueling operations.
Refueling rig is special production by French company and approved by FIA. Inside rig tank, fuel is pressurized and lightly chilled to temperature no less than 10 degree centigrade below ambient temperature. Fuel is pressurized to allow faster flow rate, which is maximum of 12.1 liters/second. Use of mechanical pumps to allow faster flow rate of the fuel in any way is not allowed.
The FIA may take a one-litre fuel sample from any car at any time during a Grand Prix meeting to check that the fuel being used is legal and same as sample provided by fuel supplier on beginning of event.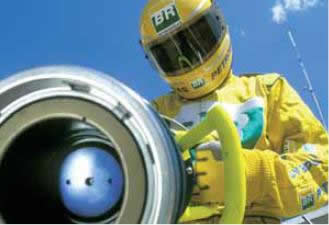 From 2010, only tire change is allowed during pitstop. Refueling is banned, and drivers have to start with all fuel needed for race. This will put additional load to tires because until now, car was loaded with 50 to 60 kilograms of fuel, and now this load is about 150 to 170 kilograms.
Now engineers have tu calculate amount of fuel to be used during complete race. To much fuel and you can lose to much time just to finish race with to much fuel left in the fuel cell. Not enough fuel and, well...!
The fuel calculations per km of the race are made dating back to pre-season and the engine guys are keeping a close eye on how that is developing. Basically the process is that race engineer will inform the engine engineer how many laps he is going to do, so for example in Q3 it was two runs of one lap and in the race it was 55 laps. The engine engineer will then work out the fuel required and that will be put into the car.
And there is another thing to consider. With refueling, pitstop duration was about 6 to 9 seconds, and a plenty room for good strategy and overtaking trough pits. Without refueling pitstop duration is around 2 to 3 second and strategy should be impeccable. Often this short time can't be used for any meaningful strategy.
But anyway, during pitstop in one typical Formula 1 race there were places to be won and lost to other drivers by mistiming the stop, so how did the teams decide?
The teams have a more sophisticated timing system than the one available to the public and media. It divides the lap into ten sectors, rather than the basic three available for rest of us and this gives them a much faster evaluation of the way the tires are behaving. Rather than wait 20 plus seconds to find out whether they are going off, they can tell every (more or less) 8 seconds how the performance is going.
Engineers and computers study the trends and make the strategy calls based on what they see.
This works in two ways; it tells them the precise moment when their tire compound are losing performance, and by reading the sectors of cars already on different compound, they can see what performance gain rivals are experiencing.
After one driver has pitted and his lap times went from 1m 19.7s (old tires) to 1m 17.6s (new tires - different compound). Rival engineers could see immediately the speed advantage he was getting from his new tires and decide to do and when to do their pitstop.
---
The FIA has announced further details of changes to F1's technical rules for 2010.
The big among these is the widely-expected banning of refuelling. The minimum weight of the cars is also being increased from 605kg to 620kg, and there are revisions to the rules governing KERS.
The refuelling ban – which I am very happy to see – was originally proposed by the F1 teams' association but subsequently dismissed by Max Mosley as he felt it would interfere with 'the show' too much.
However the F1 teams have now convinced the FIA that a refuelling ban makes sense on cost grounds, as it saves them having to transport refuelling equipment around the world at great expense. To my mind a ban has always made sense in pure sporting terms and I now hope refuelling is gone for good.
The consequences for the cars are clear – they will now require larger fuel tanks to last a full race distance. Tire wear over a race distance will now be more critical as the cars will be heavier.
At this point it is often suggested that, as the cars will have to carry more fuel, they will be less safe. Logically that might make sense, but given how infrequently F1 cars catch fire it may make little difference. Indeed the number one cause of F1 car fires – refuelling – will be gone, so I expect it will be beneficial for safety on the whole.
Now on the end of season 2010 we have more clear view on consequences of refuel ban.
There were many views regarding the refuelling ban and the general feeling was that it was not a good thing for the sport - leading to processional racing with Alonso concurring: "Sometimes you were not very competitive, but you were on a more aggressive strategy with five or six laps less fuel and you qualified in front. Now, these days, whatever your position is in qualifying, it's more or less your finishing position in the race."
Prost on the other hand along with others welcomed the refuelling ban as this would lead to results being decided on track rather than the pit wall, encouraging drivers to think about their racing... "When you start with 160kg you have to think differently, and they are not used to that. After a few races, I am sure the good drivers, the top drivers, will like it."
I was in the no-refuelling camp and I believe this has been a cracking season, encouraging the driver to take greater charge over their race and we have certainly seen an increase in the importance of intelligent driving and more on track overtaking for position.

There was some caution from the teams at the beginning of the year (especially given that lack of race simulations being achieved during pre season testing) however we are seeing the teams comfortable with what they are working with and taking more risks in terms of tire strategy.
I think it has its up sides and its downsides. I mean Bahrain, Spain and Monaco were all processions with little to no on track action at all and one advantage of refueling was less competitive teams could still qualify high up with low fuel loads like Alonso at Hungary last year - shame his wheel fell off. And drivers all across the grid were on different levels off fuel which gave greater speed differences which also helps.
The main problem of course being if a driver can't overtake another straight away then often they focus on protecting their tires from the turbulent air because they have to last a lot longer than in previous years where they could stick at it.
I know there has been more overtakes this year than in previous years but how much of that is due to wet races and championship contenders qualifying out of position (eg. Malaysia and Monaco).
There's also the double edged sword of having everyone on the same strategy.
On the other hand with refueling we would never have got that near race long 4 way duel for the lead at Turkey and Canada...a dry race with no-one qualifying out of position...was EPIC!!!