Loading
F1 drivers deceased
behind racing car wheel
The fifties

Accidents

GP races: 84
Estimated racing kms: unknown
Accidents in races: unknown
Injuries, drivers: unknown
Fatalities, drivers: 25
Fatalities, officials: unknown
Fatalities, spectators: unknown
Technical newbies:
Disk Brakes (1951)
First non-turbo producing 100 hp/1000 cc (1953)
Direct Injection (1945)
Desmodromic valves (1954)
Cars with the engine in the back
The sixties

Accidents

GP races: 100
Estimated racing kms: 483.000
Accidents in races: 47
Injuries, drivers: 4
Fatalities, drivers: 3
Fatalities, officials: 0
Fatalities, spectators: 0
Technical newbies:
Four wheel traction (1960)
Six speed gearbox (1961)
Monocoque (1962)
Spoilers and small wings (1967)
Wings on supports (1968)


The eighties

Accidents
GP races: 156
Estimated racing kms: 863.000
Accidents in races: 540
Injuries, drivers: 4
Fatalities, drivers: 8
Fatalities, officials: 1
Fatalities, spectators: 0
Technical newbies:
Double Chassis (1981)
Carbon Fibre chassis (1981)
The survival cell (1982)
Pneumatic Valve handling (1986)
Active Suspension (1987)
Semi - automatic gearbox (1989)
Seven - gearbox


The nineties

Accidents

GP races: 162
Estimated racing kms: 854.000
Accidents in races: unknown
Injuries, drivers: unknown
Fatalities, drivers: 2
Fatalities, officials: 0
Fatalities, spectators: 0
Technical newbies:
High nose (1993)
The 2000's

Accidents

GP races: in progress
Estimated racing kms: unknown
Accidents in races: unknown
Injuries, drivers: unknown
Fatalities, drivers: 4
Fatalities, officials: 1
Fatalities, spectators: 0
Technical newbies:
CART-alike flip-ups (2001, Williams)
Carbon-cased gearbox (2004, BAR 006)
V-keel front suspension (2005, Renault R25)


---
Down is the list of drivers who died during some racing event. All drivers on this list raced at least once in an unofficial Formula One race or in official Formula One World Championship race. Drivers with their names marked in red died at an official Formula One Championship race.
The Indianapolis 500 was part of the FIA World Championship from 1950 through 1960. Drivers competing at Indy during those years were credited with World Championship points and participation. On this list are only the drivers who competed on Indianapolis 500 plus at least one FIA World Championship race.
The modern era of safety in Formula One began with the death of Roland Ratzenberger and Ayrton Senna at the San Marino GP in 1994. The tragic loss of one of the F1's greatest driver was a wake up call for the Formula One community.
Sorted by the year:
1950 - 1955, 10 drivers died
1956 - 1960, 20 drivers died
1961 - 1965, 6 drivers died
1966 - 1970, 18 drivers died
1971 - 1975, 10 drivers died
1976 - 1980, 3 drivers died
1981 - 1985, 5 drivers died
1986 - 1990, 2 drivers died
1991 - 1995, 3 drivers died
1996 - Today, 4 drivers died


As addition to my list, there is a list made by London-based data visualization agency infogr8. They researched and visualized the trends in driver fatalities and subsequent safety features in Formula One since the championship began in 1950.
infogr8 manager Richard Silvester said:
"The sport and the levels of safety have changed unrecognizably in the recent decades. Just three drivers have died in the last 32 years, however there were occasions in the past where multiple deaths occurred on a yearly basis. By visualizing a range of data sets including previous race results, the team they were racing for, the track that they were racing on and the percentage of the races they completed, we can see some fascinating trends and are reminded how much these drivers were willing to risk to be crowned champion."
There are some interesting details hidden in the list. Despite being a round on the F1 calendar for only a decade, it is the Indy 500 that has claimed the most F1 lives, with seven fatalities since 1950. The legendary "Green Hell" of the Nurburgring, in contrast, has claimed five, while three F1 drivers lost their lives at Monza and two died at Spa-Francorchamps.
But here are limits on infrogr8 data set. Data set used only includes those F1 drivers who died in practice, qualifying, or while racing in a Formula One event. As a result, some big names are excluded from the list. For example, Jim Clark is one of notable omissions from the analysis.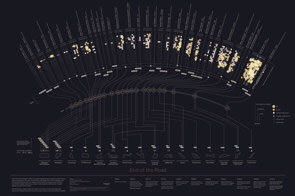 Click here for the full image as a PDF
---
All together 81 drivers died in 65 years of Formula 1 World Championship
To know more about safety in Formula 1, development in safety after incidents and tragedies, check article about general safety.
Check my article about improvement in racing car safety year by year
Check my article about improvement in track safety year by year
Check my article about improvement in driver safety year by year

---
Formula 1 is now in its seventh decade and it was only when reflecting on Webber's accident at European GP at Valencia 2010 race that I realized that the 2000s decade was the first decade in which no-one died in an F1 car, which is a massive achievement in Formula 1 safety.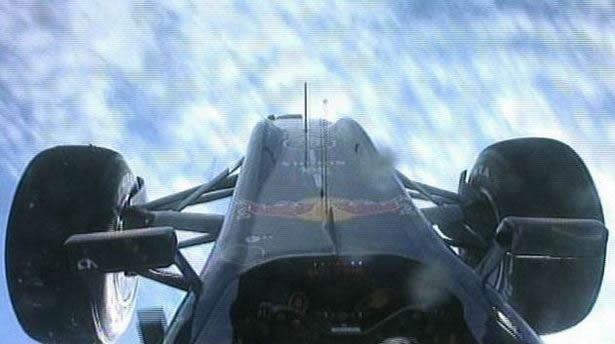 The Red Bull driver somersaulted and landed upside down after running into the back of Heikki Kovalainen's Lotus.
Webber said: "I'm happy. After accident I was just having a shower and thinking, 'Mate, you're lucky to be in one piece.'
"It was a nasty incident. I was surprised by what happened. I'm a little bit tender here and there but the car did a great job."
Sadness in Formula 1 Part 1
FATAL CRASHES IN F1 PART 2