Loading
Aerodynamical grip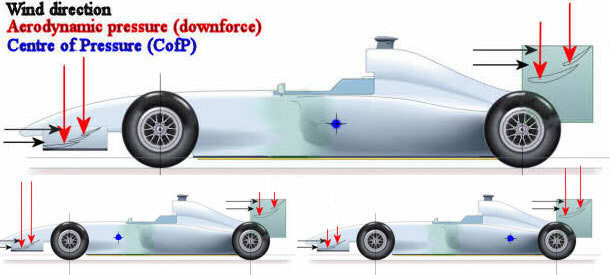 Grip between tires and track pavement provided entirely by aerodynamical forces produced by wings, rear diffuser and practically all F1 bodywork, called Downforce. Higher the speed of the car, bigger the aerodynamical grip. In Formula 1, real aerodynamical grip start to develop around and above 70-80 Kmh, but around 120-130 aerodynamically produced downforce is about equal as Formula 1 car weight. Aerodynamical grip and mechanical grip are very important, and good F1 car should have good amount of both. If you miss mechanical grip you are slow and car is undrivable in slow corners and tracks like Monaco or Hungaroring. If you miss aerodynamical grip, your car will be unstable and undrivable on fast parts of the track.
The following text is courtesy of:
Willem Toet, Head of Aerodynamics,
Sauber F1 Team, Sauber Motorsport AG
(...) Removing downforce increases lap time by more than 20 seconds. Reducing the drag of the car to just 25% of its real value, gives much less than 5 seconds of lap time gain, and just 2 seconds if you have no downforce. Why does the gain vary due to downforce level? If you are at the cornering limit because you have no downforce, a drag reduction is not going to help much until you get to a straight and only then once you have enough grip to use all that power. Alternatively, if you can fly around the corner because you have grip, your average speed is higher and you will have to 'fight' drag more, using power – so a drag reduction will help you more in those circumstances. In low-speed corners little power is needed to maintain speed, so reducing the drag has almost no effect. In high-speed corners the influence of drag can become quite significant. However, it makes 10% of the difference you make with downforce and that is with lower drag than can actually be achieved.
In extreme cases, e.g. when all cars are easy flat though a given (very high-speed corner), then the situation changes and, practically speaking, only drag will be important. Teams take this into consideration when selecting the downforce level for a given race track as the ideal compromise changes.

The designs of the race tracks in many ways drive the compromise teams use for selecting the drag level of the car used for their development work.
Calculated speed variables depending on corner speed:
| | Corner Type | Speed without downforce | Speed with downforce | Speed increase because of downforce | Speed increase possible in corners because of drag reduction to 25% of normal value |
| --- | --- | --- | --- | --- | --- |
| A | High speed | 139.5 kph | 235.5 kph | 69% | 7.0% |
| B | Medium speed | 101.4 kph | 127.6 kph | 25% | 0.34% |
| C | Low speed | 76.6 kph | 86.2 kph | 12% | 0.2% |
(...)