Loading
Eric Sidney Watkins
Eric Sidney Watkins, neurosurgeon, born 6 September 1928; died 12 September 2012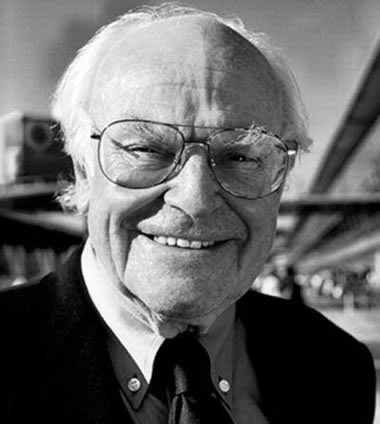 Eric Sidney Watkins, commonly known within the Formula One as Professor Sid or simply Prof, who was 84, suffering from cancer, passed away after a heart attack at the King Edward VII Hospital in London, surrounded by his family. Watkins was married, with four sons and two daughters. He had two brothers and a sister. He leaves behind a massive legacy as his work on improving safety has saved countless lives and will save more in the future.
The whole F1 fraternity has assembled on the grid during Singapore Grand Prix held on 21 - 23 of September 2012, for a minute of silence to remember Professor Sid Watkins.

I am very sad, I did not know Prof but from what I learned, saw and heard I can say he was a man of many, very sensitive and personal to all, and for that they loved him so immensely, and that's why I have so much respect for him. Sincere condolences to his family. R.I.P. Sid.
This article is my humble addition to so many.
Born - 6 September, 1928 in Liverpool
1978 - F1 boss Bernie Ecclestone offers Watkins job as F1 race doctor
1981 - Elected president of F1 medical commission
1992 - Founds Brain and Spine Foundation
1994 - Roland Ratzenberger and Ayrton Senna die
1994 - Appointed chairman of FIA Expert Advisory Safety Committee
1995 - Performs life-saving surgery on Mikka Hakkinen after crash
2002 - Made OBE
2004 - Becomes president of FIA Institute for Motor Sport Safety
2005 - Steps down from various FIA medical positions
2011 - Steps down as head of FIA Institute

Eric Sidney Watkins was born in Liverpool to Wallace and Jessica Watkins. Wallace was originally a coal miner from Gloucestershire, but had moved to Liverpool during the Great Depression of the 1930s where he started a small business initially repairing bicycles before progressing to motor vehicle repairs and later starting out a career as a racing cyclist. Sid helped out his father in the workshops until he was 25.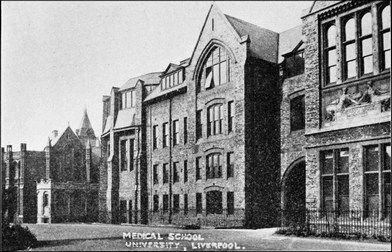 Liverpool University medical school
From an early age, Sid was determined to pursue a medical career, but he had always been in love with racing cars. From Prescot grammar school he went to Liverpool University medical school, graduating with an MD (1956). After studying medicine, Sid was required to do National Service, being posted to West Africa as a Captain in the Royal Army Medical Corps, attached to the Royal West African Frontier Force. It was while he was in Africa that he took part in his one and only motorsport event as a competitor, driving a Ford Zephyr Zodiac in a rally. He retired after only one stage and concluded that he was better suited to other activities. When he completed his National Service he returned to Britain and continued his studies, with the goal of becoming a neurosurgeon. He learned the job as a student of celebrated Joe Pennybacker at the Radcliffe Infirmary in Oxford, before moving on to do research work at several university hospitals. It was during this period, in the late 1950s, that Sid first became involved in motor racing as a medical officer at club events in Britain.
In 1962 he was appointed as professor of neurosurgery at the State University of New York at Syracuse, where he maintained his motorsport links as a regular member of the medical team officiating at the US Grand Prix at the upstate Watkins Glen circuit, where the Formula 1 race took place from 1961 to 1980, and he found himself joining the medical team for the US Grand Prix there in 1962. He took an anaesthetist and an orthopedic surgeon with him and they worked in primitive conditions, using their own equipment. Back then things were crude when it came to safety.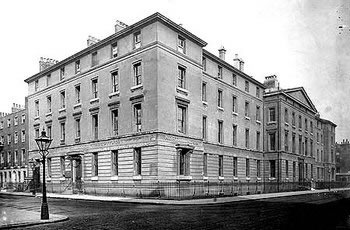 University of London Hospital
On returning to Britain 1972, be became professor at the University of London Hospital, one of the oldest and most prestigious neurosurgical units in the world. He would remain in that post for the next 22 years. There he was contacted by Dean Delamont of the RAC MSA who, knowing of his work at Watkins Glen, asked him to fulfill similar duties at the British Grand Prix at Silverstone and there was where he encountered Bernie Ecclestone for the first time. At the time Formula One was still a very dangerous activity and Ecclestone was looking for ways to improve that situation. Previous attempts to provide intensive care for injured drivers - in the form of the Grand Prix Medical Unit instigated by BRM's Louis Stanley - had met with a lukewarm response. In the 1970s, Lord Louis Stanley, a BRM team principal, funded and equipped a large transport trailer - dubbed the "Stanley Passion Wagon" - for medical use at all European Grand Prix races. As humble as this facility was, Watkins incredulously learned, that many circuits boycotted its use. Outside medical help was viewed suspiciously and wasn't always welcome from circuit owners. But now Prof once again suggested that the facilities should be provided to take the intensive care unit to the driver should he be trapped in his car. Silverstone chief medical officer rejected the idea vehemently.
It took Bernie Ecclestone to see the situation clearly, and in 1978 he visited Prof, feigning a medical condition, and asked if he would be prepared to attend each race as F1's official medic and medical chief. Ecclestone offered Watkins $35,000 a year for the entire season. Watkins had to pay airfares, hotel bills, rental cars and all incidental expenses. Watkins accepted. In one interview Sid jokes:
"Bernie said 'I know what you've been doing for the British Grand Prix – would you come and try to do it everywhere for Formula One?' And then he said, 'I suppose you want to be paid? How about $35,000 a year to do the 16 races?' So I said, 'Oh that would be marvelous!' (At the time Prof was taking home £400 a month as a consultant). But he (Bernie) said, 'You pay for your airfares, hotels, rental cars and all incidental expenses.'
"Then when I did my tax at the end of the year my accountant said, 'Why are you doing all this for Formula One?' I said, 'Well, they're paying me a lot of money' and he said, 'No they're not. You've actually made a loss on the travel!'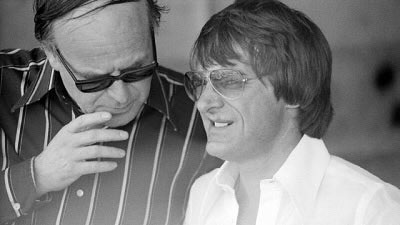 At Watkins's first race in his new role, the 1978 Swedish Grand Prix, he found a motorhome outfitted as the medical center. Capacity: one patient. An adjacent portable hut was expected to house any 'excess casualties.
He was offered the FOCA F1 medical delegate role, Watkins agreed and, while continuing his work at the London Hospital, he began attending all the Formula One races around the world. His first day as the Safety and Medical Delegate, was at Brands Hatch to introduce himself to the drivers. Thus began one of the most far-reaching relationships in F1 history.
Initially, his job was met with hostility by some of the racing circuits, who saw his appointment as a way of monitoring their performance. Ecclestone's legendary iron hand has been needed to back up Watkins more than once during the crusade for a safer Formula 1. At the time, medical facilities would sometimes consist of nothing more than a tent. Sid recalls the medical centre in Buenos Aires, which was basically a wooden hut.
"The first thing we did was sweep the flies away. The chief medical officer was a cosmetic doctor who objected to my presence."
As Prof's role expanded, supported by Bernie, he often came into conflict with circuit authorities.
He recalls: "We had an episode in Germany where, just before the race, they were going to the chief medical officer out of race control because they wanted someone else sitting there. So I sent for Bernie half-an-hour before the start. I explained that the person trying to take my place was Hushke von Hanstein, the German representative on the FIA in those days and the big chief at Hockenheim.
"Bernie said to him: 'Now, I'm going to go down and stand in front of the cars while you settle this problem with Prof Watkins. And if it's settled, he's going to lean out trough the window and put his thumb up – and if it isn't settled, he's going to put his thumb down.' Hushke said to him: 'Mr. Ecclestone, what am I going to do with 80,000 Germans in the Motordrome?' Bernie turned round and said: 'They can go fuck themselves.' Well, the problem was settled immediately.
Once word spread that this was how tough Bernie was going to be about medical safety, the dominos started to fall and everybody started to give in. Over the years Prof was responsible for changing entrenched attitudes. He initiated the availability of full medical care throughout a meeting and in testing, rather than just on race day. Conditions and equipment were upgraded. Training of the stuff became intensive, and staffing levels increased. At the same time, he worked very closely with the FIA on improving all aspects of safety, from the drivers' safety equipment to the cars safety and circuits themselves.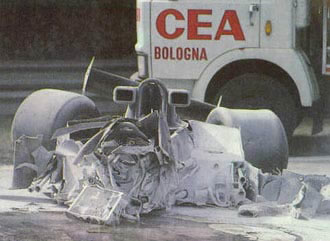 Remains of Ronnie Peterson Formula 1 car
At the 1978 Italian Grand Prix, Ronnie Peterson crashed heavily on the first lap, with the car catching fire. Fellow drivers Clay Regazzoni, Patrick Depailler and James Hunt pulled him from the wreckage but by the time Sid Watkins arrived at the scene, Italian police had formed a human wall to prevent people from entering the area. An official is seen trying to rip the helmet off Ronnie, despite that the chinstrap hasn't been opened. He yanks Ronnie's head. Finally, after opening the strap, the helmet comes off. Watkins was initially stopped from assisting with the treatment and there was a long delay of approximately 18 minutes before an ambulance arrived to take Peterson to hospital, where he died the following day from fat embolisms. Ronnie did not have fatal injuries - or injuries that should have been life-threatening. Andretti, who in 1996 presented Watkins with the Mario Andretti Award for Medical Excellence, believed, "Under Professor Watkins's care, Ronnie would have survived. I think if any positive can come out of a negative, it was the fact everybody realized after that, someone has to be absolutely in charge in situations like that."
Following the race, Watkins demanded that Ecclestone provide better safety equipment, an anaesthetist, a medical car and a medical helicopter always on stand by.
All were provided at the next race in the USA. There Sid introduced a Medical Chase Car which follows the Formula One field on the always dangerous first lap, as fast as possible, so it could be at any accident within seconds of the crash occurring. The car was to be driven by a competent professional driver, but when Watkins showed up for the race's start, a nervous, sweating, obese gentleman was at the wheel, and obviously uncomfortable with the prospect of the task at hand. Their high-speed pursuit of the field lasted until the first corner, when the driver clipped a curb and got the medical car completely airborne "we were able to have a leisurely conversation between us about when we might land" Sid recall. When they did, the car was totaled.
Anyway, movement began which would save countless lives as views changed forever on the subject of the expendability of the stars at the very heart of the F1 show. He did more than anyone else in field of driver safety, getting F1 to the stage where it is today: a highly dangerous sport where accidents are survivable. He was for 26 years the FIA medical delegate and introduced correct extraction techniques for getting drivers out of cars after accidents, led moves to improve crash structures and other safety measures and saved the lives of many well known F1 names.
In 1981 the FIA decided to create a Medical Commission for the first time and Watkins became the first President of the new body. By 1982, circuits had proper medical centers; a helicopter on standby for the entire race weekend and a top hospital always on-call to provide further treatment once a driver had been stabilized.
Medical pursuit car was a separate story. In the quest for a proper medical pursuit car Sid try it all: Porsches, Lamborghinis, Ferraris, and other exotics all proved inadequate in both size and reliability. Vans and ambulances chugged around too slowly. The medical-car conundrum wasn't solved until a few years ago, when Watkins worked out a deal for a couple of specially equipped Mercedes 500 station wagons. Watkins concluded that the new cars had everything but bars and cigar-humidors, after which Daimler-Chrysler boss Jürgen Schrempp had small but elaborate ones installed.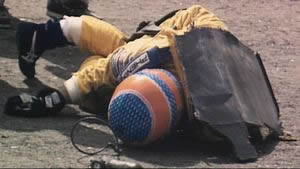 Martin Donnelly almost tragic accident 1990 at Jerez in Spain
He attended to many serious accidents of Pierluigi Martini, J.J. Lehto, Christian Fittipaldi, Jos Verstappen, Luciano Burti, Eric Comas, Ferrari's Didier Pironi at the 1982 German Grand Prix, Gerhard Berger at the San Marino Grand Prix in 1989, Martin Donnelly 1990 at Jerez in Spain, Nigel Mansell, Jordan's Rubens Barrichello at Imola in 1994, Karl Wendlinger at Monaco 1944, McLaren's Mika Hakkinen almost fatal head injury at Adelaide in 1995, Olivier Panis in Montreal 1997 and Michael Schumacher at Silverstone in 1999 among others who owe their lives, limbs or careers to Watkins's expert and timely treatment. But it was in response to the drivers who lost their lives that he drastically changed motor sport for the better. Fatal accidents of Peterson, Paletti, Gilles Villeneuve at Zolder May 8. 1982, Roland Ratzenberger and Ayrton Senna, who was a close personal friend. He even suffered burns to his ankles when a fire erupted while he was working to save the life of Italian Riccardo Paletti after a start line accident in Canada in 1982.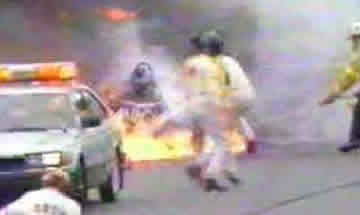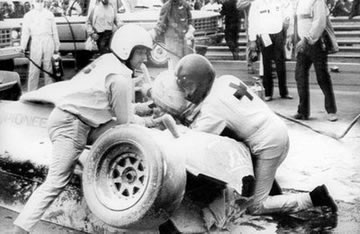 For Riccardo Paletti it was a dream that turned into a nightmare when he crashed on the start grid at the 1982 Canadian Grand Prix. It was only his second Formula One start.
When Riccardo Paletti slammed at speed into a stalled car at the start of the 1982 Canadian GP, Watkins was there within 10 seconds helping him - even as the Osella's ruptured fuel cells pumped their contents out around them. The fuel ignited, and most rescuers fled until fire crews could extinguish it, but when the smoke cleared, there was Watkins, still fighting to save the mortally injured driver. At the British Grand Prix in 1985, Watkins received a silver trophy during the drivers briefing. The trophy reads; "To the Prof, our thanks for your invaluable contribution to Formula 1. Nice to know you're there".
Dr. Sid Watkins dashed into the fire precisely 27 seconds after Gerhard Berger's crash at the San Marino Grand Prix in 1989. As he worked to revive the unconscious driver, fuel from the Ferrari's fractured tanks gushed out and soaked Watkins, who could easily have become a human torch at any moment. Berger recalled: "When I woke up, Sid was sitting on my chest, still trying to intubate me. He had saved me."
In Martin Donnelly's crash in the 1990 Spanish GP, the impact was so horrific that the fully seat belted driver was thrown from the wreckage. Watkins rushed to Donnelly, who was lying on the track, opened his crushed helmet, and found the driver's face blue with lack of oxygen. Watkins forced an airway down his nose, gently removed what was left of the helmet, then carefully intubated Donnelly and got him breathing. Watkins would later induce a coma lasting 14 days to ensure Donnelly remained still. Watkins fought one crisis after another with Donnelly for three months. Of Donnelly's eventual recovery, even Watkins called it remarkable.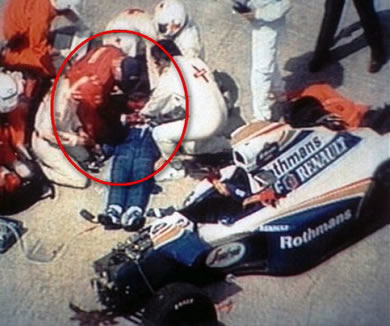 After Paletti's incident there would be no more fatal accidents in a Formula One event until 1994 when Ayrton Senna and Roland Ratzenberger were killed on the same weekend at Imola, and following that fatal Imola weekend, English neurosurgeon worked to establish the body now known as the FIA Institute for Motor Sport Safety. He was involved very personally at Imola in 1994, in that fateful weekend when Rubens Barrichello narrowly escaped from an horrendous accident (he had swallowed his tongue and was choking to death after a mighty practice shunt, until saved by Watkins's immediate and expert intervention), before Roland Ratzenberger and Ayrton Senna were killed. He was particularly close to the Brazilian, with whom he had forged a friendship based on mutual respect, and they cemented a real father-son relationship.
"Senna hit a concrete wall at very high speed," Williams said later, with difficulty. "I had Sid tell me later he had no marks other than his skull damage, which was from when the wheel and suspension assembly hit it, you see. So the car itself - the car proper, with the wheel, and the whole suspension coming off . . . He was very unlucky to be killed. I suppose, if there should have been a guardrail instead, or a tire wall . . ."
After that terrible weekend in Monza, FIA President Max Mosley decided to establish a new FIA body called the FIA Expert Advisory Safety Committee, which was designed to revolutionize the approach to safety in motorsport, with the goal being to apply science to the problem and research not just the cars, but also the safety of the circuits and the equipment that was used to protect the drivers. That's when it all got completely exploited. After '94 everything became very scientific. Watkins was asked to be the chairman and the work done by this body led to better circuit design, better barriers, stronger cars and better overall safety. Prof headed a hand-picked team who analyzed every aspect of modern Formula One including circuit design and crash-testing at MIRA with a chassis donated by McLaren. They started testing and the first videos of what happened to crash-test dummies during an accident were absolutely terrifying. The forces at relatively low speeds were above concussion level. The research that was done led to many other innovations that have saved many lives in accidents since then.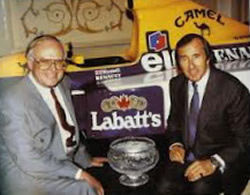 Sid and Jackie Stewart 1992 at Labatt's safety award presentation
As a consequence, the breadth of the seat belts was increased to reduce chest injuries and side protection and higher cockpit head protection was introduced. To prevent rebound head injuries – whereby a driver's neck flexes forwards then recoils onto the chassis under the airbox – pads were placed behind the drivers' heads, so creating the removable U-shaped structure that we see today, a device also permitting easier driver extraction. HANS followed, developed for speedboat racing by Bob Hubbard but modified for F1 by Mercedes. And the work didn't stop there: contemporary cars have a collapsible steering column, a deformable crush structure on the nose and gearbox, stronger roll bars (roll structure), puncture-resistant fuel cells, wheel-tether anchors, strengthened sidepods and foam padding (of three different grades) within the monocoque and medical warning light. He's advocated better helmets, shoes, uniforms, and gloves for drivers. Plus, for the circuits, he's campaigned for better runoff areas, redesign of dangerous corners, elimination of catch fencing, permanent medical centers, full medical and emergency crew staffing, and much, much more.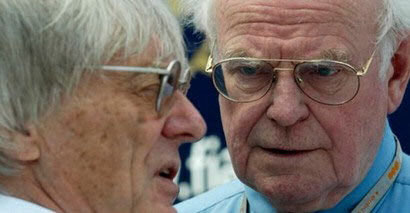 As the former Autosport journalist Nigel Roebuck once said, there are very few people who Bernie Ecclestone will take advice off and even fewer who he will take orders off - Sid Watkins was one of the very few. Slavica Ecclestone (ex wife) being the other.

In 2002 Watkins's involvement in motorsport was recognized by the British Government with his appointment as an Officer of the Order of the British Empire (OBE).
2004 all various safety groups that had been formed were unified as the FIA Institute and Watkins was invited to become the first President. He was also the first President of the FIA Foundation and became involved in the FIA's initial campaigns for road safety.
In addition to his work in racing, Watkins was also one of the founders of the Brain and Spine Foundation, a charity in Britain that aims to improve "the prevention, treatment and care of people affected by disorders of the brain and spine".
Sid was the comforter, confessor and friend to many of the top names in the sport – both on and off the track, in addition to becoming what amounted to the beloved "village doctor" in a community that moved from one country to another every fortnight. If you had a medical problem at a Grand Prix, Sid would fix it. He was great company, a mischievous uncle, who recommended a regular glass of whisky and a good cigar. He was a great neurosurgeon and a safety campaigner who strove to make the sport he loved safer for all those involved. His work saved many lives, both in the thick of the action and as a result of changes that were made to cars, circuits and safety equipment. He was a well-liked character, with a ready smile, which became close to many drivers - and none more than Senna. Sid's commonsense approach and willingness to speak his mind made him a respected figure too.
He recounted in his autobiography that he had tried to persuade Senna to retire in a conversation at the scene of Ratzenberger's accident.
Senna broke down at the crash scene and cried on Watkins' shoulder.
Watkins wrote that he said to Senna: "What else do you need to do? You have been world champion three times, you are obviously the quickest driver. Give it up and let's go fishing." Senna replied: "Sid, there are certain things over which we have no control. I cannot quit. I have to go on."
Twenty-four hours later, Watkins attended to Senna himself after the Brazilian's own fatal crash.
In 1987, Nelson Piquet crashed during practice at the San Marino Grand Prix, and was declared unfit to race by Watkins. Despite it being only the 2nd race of the season Piquet tried to persuade officials to allow him to compete knowing any lost points could lose him the championship (which he ultimately won). In response Watkins threatened to resign if overruled. The officials opted to support Watkins. Piquet, months later, contritely confessed he had been unfit to drive. "Thank God he didn't leave," Piquet said. "He's our guardian angel."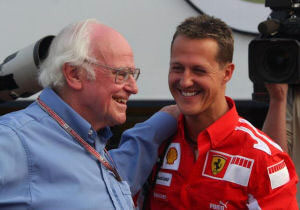 Back in 1991, when Michael Schumacher had just come on the Formula One scene, he had a massive accident at Suzuka during practice for the Japanese Grand Prix at the 130R corner, which was a serious challenge back then. Prof thought he needed to calm himself down a little and told him: "Michael, you're a good-looking lad. And if you carry on like this, you're going to be a good-looking corpse…"
Not long afterwards, Schumacher went out in the spare Benetton B191 and went quicker, for such is the way of race drivers. But many would never have dared to offer such advice in the first place.
During one interview with Sebastian Vettel present, Watkins laughed when asked whether Sebastien Vettel is the "real deal," as good as Jim Clark was in his era and Michael Schumacher has been before retirement.
"He's obviously a wonderful driver, but he's also got a wonderful car. If you want to talk about drivers in poor cars, think of Stirling Moss, who drove all sorts of vehicles and drove them extraordinarily well, particularly when they weren't the fastest. It's a different dimension, really. People like Senna or Michael could make a bad car go quick. And so could Jim Clark. Recently, we've seen Michael struggling. But if you put Michael in the Red Bull, he'd be away like a shot! So we don't know about Vettel because we haven't seen him in a bad car yet." Who can say that in face of one F1 driver?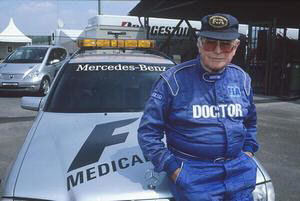 On 20 January 2005, Watkins announced his retirement from his various medical positions in the FIA, but stated his intention to continue as President of the FIA Institute for Motor Sport Safety, but continued to campaign for safety improvements in motorsport through his role as the first president of the aforementioned FIA Institute. He stepped down from that position in 2011, retaining an honorary role. FIA President Max Mosley appointed Watkins's longtime deputy Gary Hartstein as his successor.
| | |
| --- | --- |
| | |
| 2001 Spanish Grand Prix Catalunya, Barcelona, Spain. 27-29 April 2001. Professor Sidney Watkins is presented with his 'Bernie Award' by the man himself, Bernie Ecclestone, on behalf of the Grand Prix Party and Professor Sidney Watkins Brain and Spine Foundation Charity. | The day after retiring, he received the FIA Academy Gold Medal for Motor Sport at the official FIA Gala prize-giving ceremony in Dubai |
Each year the Motorsport Safety Fund organizes the Watkins Lecture, which takes place at the Autosport Show at the National Exhibition Centre in Birmingham. These lectures usually focus on motorsport safety related matters, and have been delivered by guest speakers such as Max Mosley and Ross Brawn.
Watkins wrote or co-authored a number of books on racing safety, including his autobiography Life at the Limit: Triumph and Tragedy in Formula One.
Many past and current drivers and Formula 1 personalities sent tributes via Facebook, Twitter or via personal web pages. There are some of them:
Veteran team boss Sir Frank Williams, helped by Sid after his 1986 road accident, said: "Sid Watkins gained the respect and admiration of all the drivers throughout his time in Formula One. I know a number of them, throughout their time as racing drivers, looked to Sid for many different kinds of advice, in addition to his medical expertise. Perhaps most significant in my mind is that Sid was held in high regard by Bernie Ecclestone. My own endorsement of Sid's abilities goes without saying. He took splendid care of me when I spent 11 weeks in his hospital post-injury. After that I emerged as a human being who, if not fully mobile, could continue with a perfectly normal and healthy lifestyle. I remain forever grateful to him."
McLaren Group boss Ron Dennis said : "Today the world of motor racing lost one of its true greats: Professor Sid Watkins. No, he wasn't a driver; no, he wasn't an engineer; no, he wasn't a designer. He was a doctor, and it's probably fair to say that he did more than anyone, over many years, to make Formula 1 as safe as it is today…..Sid was a dear friend of mine, and I'll miss him bitterly. To his widow Susan, and to his family, I extend my sincerest condolences. He was a truly great man, and the world of motor racing simply won't be the same without him."
Red Bull technical director Adrian Newey said: "Professor Sid Watkins became a very good friend over the years. He was one of the great characters of the sport, who quietly changed the nature of it with the advancement of safety. He was very passionate about motor racing in every respect and tried to ensure the health of it at all levels, including club level and national racing. He will be sadly missed."
F1 supremo Bernie Ecclestone: "What Sid Watkins did in the way of safety in Formula One was incredible. He gave his whole life to that cause, to make sure that it could be as safe as it possibly could be. We all owe him a debt of gratitude for his caring and commitment…..We always talked things through and worked together, and he then took care of all the medical things which I knew nothing about. I am pretty sure that he is irreplaceable. You only meet somebody of his caliber once in your lifetime."
Gary Hartstein, his successor: "For a long time I wanted to call him every time I had to make a decision. Then I just started thinking "what would he do in this situation? And finally, for better or for worse, I realized I was doing just what he'd do (but probably not as well!) When I told him this a few years ago, he smiled and said "Of course old boy! You've had a bloody great teacher! He will be greatly missed"
Lewis Hamilton: "It's a sad day, with the loss of Professor Sid Watkins. Without his incredible contribution to the sport, our lives as drivers would be a risk. My condolences go out to his family."
Jenson Button: "Rest in peace Sid Watkins. Motorsport wouldn't be what it is today without you. Thank you for all you've done, we as drivers are so grateful. Only a life lived for others is a life worthwhile."
Michael Schumacher: "I have extremely good memories in the professional and person sides with him. He was close to me in some of my difficult moments, such as the accident in 1999. But even more with all the FIA background work for safety improvements, Sid was one of the major driving forces and always looking for support in trying to achieve the goals that were needed. In particular after 1994 when we lost two of our friends. For him this was a big motivation to do what he had wanted to do for many years."
Martin Brundle, ex F1 driver:" Sid would often prescribe 'a stiff whisky and aspirin' unless your leg was hanging off. His way of saying 'just put up and get on with it'. Sid was the 'go to' man for health in motorsport. He helped, saved, or made more comfortable, numerous people who never sat in a racing car. Motor sport has lost a true visionary +character with death of Prof Sid Watkins, 84. Great man, funny too. Saved my left foot being amputated."
Rubens Barrichello, ex F1 driver: "It was Sid Watkins that saved my life in Imola '94. Great guy to be with, always happy… thanks for everything you have done for us drivers. RIP."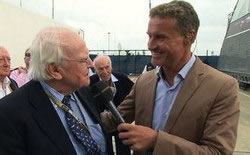 David Coulthard, ex F1 driver and now BBC Formula 1 TV presenter: "Sid Watkins was one of the best men I have met in my life, totally selfless and the world has lost a great."
Bruno Senna: "RIP Prof. Sid Watkins. Sad news for us who stay behind."
Luciano Burti, ex F1 driver: "RIP Prof Sid Watkins. You and Dr. Gary Hartstein were my guardian angels rescuing myself from the F1 accident in 2001. We'll miss you."
Heikki Kovalainen: "Sad to hear Professor Sid Watkins has passed away, one of the true greats in motorsport. RIP."
3-times F1 World Champion Jackie Stewart: "We were killing ourselves at the rate of one a month when I finally decided to quit [in 1973]. What that meant to an individual driver was that after five years in the sport, you had a two-out-of-three chance of being killed. When Sid came in, all that changed. Now, we haven't had a death in F1 since 1994, even though the total number of accidents, and frequency of accidents, is up."
Gérard Saillant, FIA Institute President, added: "Sid was a true gentleman of our sport and always a pleasure to work with. He will be sorely missed by everyone who knew him, from doctors and drivers to officials and fans. Sid's influence will live on for many years to come."
Anyone wishing to learn more about the life of the Prof should read "Life at the Limit: Triumph and Tragedy in Formula One."