Loading
Unsprung weight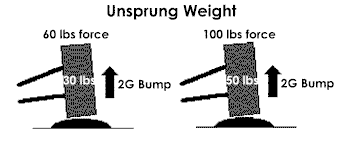 "Sprung" weight is a term used to describe the parts of a car that are supported by the front and rear springs. They suspend the vehicle's frame, body, engine, driver, all liquids and the power train above the wheels. These are quite heavy assemblies.
The "unsprung" weight includes wheels and tires, brake assemblies, the rear axle assembly, and other structural members not supported by the springs. We can say all parts outboard from suspension springs.
"Unsprung weight" is an important concept. This is weight that is not supported by the suspension of the car. This usually includes a some percentage of the weight of the suspension itself, including control arms, push-road, and struts. In fact in the case of a Formula One car, we should say 'semi-sprung' rather than 'unsprung' because each tire acts as a spring in its own.
The Lotus 72 was still winning races five years after its launch. Today is hard to imagine a time when one of the Formula 1 biggest teams would run the same chassis for six seasons. Between 1970 and 1975 Lotus did just that, winning 20 races, two drivers' titles and three constructors' championships. In all there were six specifications of the Lotus 72, but the fundamental design remained unchanged throughout. It is one of the most iconic Formula One cars of all time and its success and longevity in the sport are testament to its brilliant design. Some of the concepts behind the Colin Chapman- and Maurice Philippe-designed car were at least two years ahead of their time. Its side-mounted radiators and overhead airbox provided engineering solutions that are still in use on modern F1 cars and its in-board brakes were just one example of Lotus's briliant idea how to reduce unsprung weight.
Reducing unsprung weight is the key to improving handling. The lower the unsprung weight, the less work the shocks and springs have to do to keep the tires in contact with the road over bumpy surfaces. Lot of problems, if not all of them is caused by inertia. Bigger weight means higher inertia. Higher inertia means more workload for shocks and springs to keep tiers on the ground. If unsprung components have a high mass they are harder to accelerate/decelerate and thus it is more difficult for the suspension to maintain a consistent tire load.
An easy way to reduce unsprung weight and improve traction in normal cars is to replace stock wheels and tires with special magnesium lightweight wheels. Note that as the wheel diameter or width increases, the weight of the overall wheel and tire package increases, thereby increasing unsprung weight.
F1 and racing cars fight high unsprung weigh with sophisticated and expensive light materials and hours and hours of engineers work.