Loading
Karting - Kart racing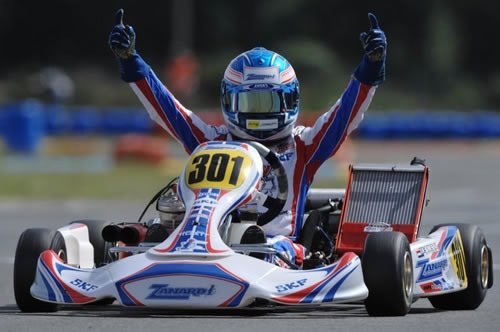 Karting is probably the world's most popular form of motor sport. It is practiced around the world by hundreds of thousands of enthusiasts at widely differing levels of competition. Go-karts are a type of small, suspensionless vehicle. They come in a variety of forms, from motorless models to high-powered, high-performance ones meant for competitive racing, some, like Superkarts, being able to beat racing cars on long circuits. Though many people associate these vehicles with children, people of all ages race go-karts and often use them as a stepping stone to more advanced motor sports. Racing go-karts is a popular sport in both North America and Europe, with a number of different leagues and national championships. The Fédération Internationale de l'Automobile (FIA), best known for regulating the Formula One races, also oversees international go-kart competitions, including the CIK-FIA Karting World Championship. Motorized go-karts come in an astonishing range of complexity and power. Simple four-stroke models are available, as are powerful two-stroke or Wankel engine go-karts. Some make use of alternative power supplies, including alcohol fuel, electric motors, and propane engines. They can range in power from 10 horsepower all the way up to 90 horsepower and above.
These small cars are adaptable enough to be used on a large number of surfaces, and a number of custom tracks for karting also exist. Dirt tracks are the most common in the United States, but ice tracks also exist for go-karts which have been modified with spiked wheels for better traction. Go-karts can reach extraordinary speeds, which is one reason they are often used as an introduction to full automobile racing. Most hobbyist karts can't go much faster than 70 - 100 km/h, while professional go-karts can reach speeds in excess of 250 km/h.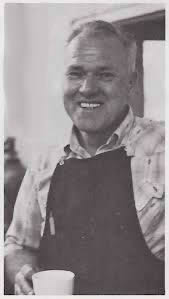 Tinkering with a lawn mower engine and some metal tubing, Art Ingels was trying to fashion a new toy. As Ingels was a race car builder by trade at Kurtis Kraft, it was not surprising that his toy should be something like a car. But he wanted his toy to be smaller than a car, so he called it a "little car." Soon he had fitted four wheels to the metal frame, attached a steering wheel, installed a seat, and adapted a chain to connect the engine and rear wheels.
1956, Ingels, excited by his creation, took the little car to the Rose Bowl, the famous stadium in Pasadena California. There, in the spacious parking lot, he zipped around on his new toy. The spectators watched in amazement. Duffy Livingstone, a friend of Ingles, was also excited by the little car. He was so captivated that he quickly built one on is own.
Requests for the little cars from friends and Rose Bowl spectators flooded Livingstone, Ingels and fellow race car maker Lou Borelli. The little-car builders worked fast, and in few days a dozen of their products were buzzing around the Rose Bowl. Racing these little machines was instantly popular. "Caretta Kart Manufacturing" was born.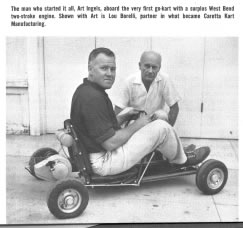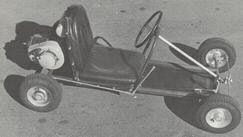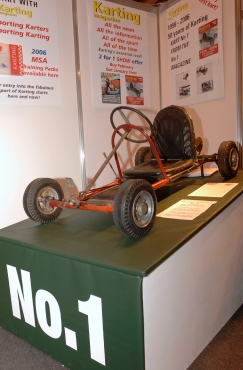 On the top picture Art Ingels' first kart with his partner Lou Borelli. On second picture is the first kart ever, built by Art Ingels, the father of karting in late 1956, and on the end, the first ever kart in the museum.
Speaking of the first little cars, Livingstone said, "We built them for fun, and they just took off from there. We didn't have the foggiest idea of what would happen." Today Ingles' little car has been developed into a highly sophisticated machines that are raced by all kinds of people.
It is easy to see why the popularity of these little cars continues to grow. They offer the same thrills and challenges as big race cars do and at a fraction of the cost. Because they are relatively inexpensive and easy to maintain, the little cars appeal to people of all ages. Aspiring race car drivers, or those too young to drive cars, can practice their driving skills with them. Fast drivers can race them at dizzying speeds far more safely than they can drive their cars and motorcycles. With their low center of gravity and sturdy construction, they are easy to handle and control even at speeds as high as 200 km/h).
From his muffler shop in Los Angeles, Duffy Livingstone began manufacturing and selling the little cars. Livingstone, along with partners Bill Rowles and Roy Desbrow, had seen the great demand for the little cars. In almost no time, the mufflers were gone from the shop, and the three partners were spending all their time building more little cars.
All the while Livingstone and his partners were building, selling, and promoting their little cars, they were without a name to call them. Lynn Wineland, an advertising man who worked with Livingstone, provided one when he coined the term "Go Kart. " "Zip Kart" and "Dart Kart" were names Wineland considered but rejected.
The growing family of little-car drivers now had a name for their machines. All they needed was more room to race. Southern California's parking lots had become congested with karts. There were even complaints that karting was a public menace.
To relieve the problem, Livingstone, Desbrow, Rowles, and Don Boberick built the first kart track. Its name was Go Kart Raceway (1958 - 1978), and the place chosen for it was lrwindale, California, just outside Los Angeles, south of where the 210 freeway runs today.
The tiny machines that began as toys in southern California's parking lots did not remain there long. Karting has rapidly spread to other countries, and currently has a large following in Europe. Then they spread to all parts of the world, and with them their owners created an entirely new sport, that of kart racing, or karting.
A veteran hot rodder and a race car builder Art Ingels is generally accepted to be the father of karting. But the first serious kart manufacturer was an American company, Go Kart Manufacturing Co. (1958). McCulloch was the first company, in 1959, to produce engines for karts. Its first engine, the McCulloch MC-10, was an adapted chainsaw 2-stroke engine. Later, in the 1960s, motorcycle engines were also adapted for kart use, before dedicated manufacturers, especially in Italy (IAME), started to build engines for the sport.
They are usually raced on scaled-down circuits. Today, karting is commonly perceived as the stepping stone to the higher and more expensive ranks of motorsports. Even though a kart differs from a car, all the racing techniques, the awareness of the way the vehicle handles, the discipline, and instincts needed to become a professional racer are developed with karting. It is therefore no surprise that most of today's top Formula 1 or CART racers have started their racing careers with karting.
While go-karts intended for the general public in amusement parks may be limited to speeds of no more than 25 km/h, karts vary widely in speed and some, known as Superkarts can reach speeds exceeding 260 km/h. A KF1 kart, with a 125 cc 2-stroke engine and an overall weight including the driver of 150 kilograms has a top speed of 140 km/h. It takes a little more than 3 seconds to go from 0 to 100 km/h with a 125 cc shifter kart (6 gears), with a top speed of 185 km/h on long circuits.
Different types of racing formats
Over the years, karting has grown and changed from a "parking lot" recreation to a full-fledged sport. In the process several types of racing have evolved. The different kinds of kart races are run on different kinds of tracks and under different race procedures.
The three major types of karting competition are: sprint racing, endurance or road racing, and speedway racing. In addition, other types of karting competition have developed, including ice racing, Formula Kart Experimental racing, and Super Kart racing.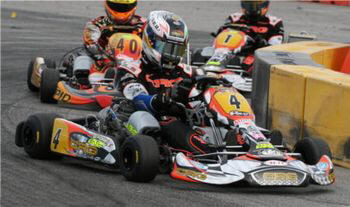 Sprint racing is the oldest type of kart racing. This is the type that is available to everyone as this is the ones normally offered in most karting circuits particularly for those who only want to experience the sport merely as a pastime instead of a racing competition. As its name implies, sprint racing combines high speed and short distances. Sprint races are run on asphalt tracks with length of 400 meters to over 1,600 meters in length. The tracks have several twists and turns, which make driving them a true test of skill. The kart used in sprint racing resembles Ingles' early kart. A sprint kart can be immediately identified by its "sit-up" driver's position, which is designed for greater control on the twisty sprint courses. It normally occurs in the format of three qualifying heats and a final race for trophy positions. A heat typical duration does not normally exceed 15 minutes. Competitors try to complete each heat in as little time as possible, with a variety of point scoring calculations to determine the event's overall winner. Drivers must combine strategy and skill with speed in order to maneuver their karts trough many turns and curves in a sprint course, to a winning finish. The thrills of sprint racing attract more people than any other type of kart racing
Endurance or road racing is another type of kart racing, evolved from sprint racing. For Americans, Endurance racing is commonly termed "Enduro racing". Early karters, seeking new ways to race their machines, began to run greater distances. Gradually they modified their karts so that they could race for longer periods of time. The road-racing kart that resulted, also called an enduro kart, was quite different from its sprint-racing ancestor. One of the kart's first structural changes involved its fuel-carrying capacity. Other structural changes soon followed. Drivers noticed that at high speeds "sit-up" position produces drag. Drag tends to slow down the vehicle and lower its gas mileage. By exposing less surface area to the wind, drag can be reduced. Karters discovered that they could reduce drag by driving their machines from a "lay-down" position. As a result, drag was reduced and drivers' karts went faster and got better gas mileage. With these changes, the road-racing kart developed a sleek, road-hugging look.
Race last for an extended period, from 30 minutes up to 24 hours or more, for one or more drivers in the team. In this kind of racing consistency, reliability, and pit strategy have greater importance than all out speed.
Enduro racing in the USA, most WKA & IKF sanctioned events typically last 30 minutes (Sprint Enduro) or 45 minutes (Laydown Enduro) and are run continuous without pit stops. Enduro events are held on full-size road racing circuits that are usually between 2.5 and 6.5 kilometers long.
Once the flag drops to signal the start, the karts cannot be pushed. After predefined time of the race the racers drive out their final lap to the finish line. The kart that has completed the most laps is the winner. If two or more karts tie for the most laps completed, the first kart to cross the finish line wins the race.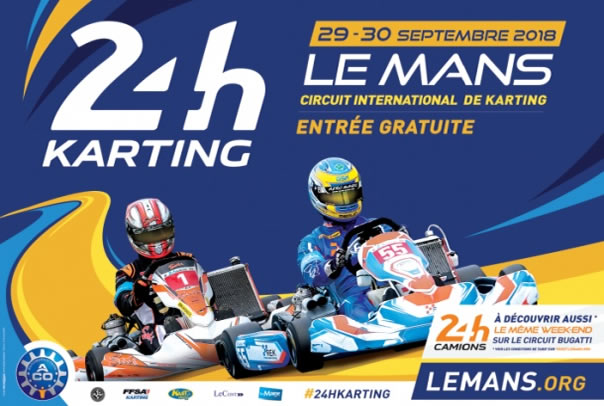 As well as the famous 24 Hours of Le Mans race for automobiles there is also a 24 hours event for karts which takes place at the kart circuit Alain Prost at Le Mans, France. This race has taken place first time in 1986 and its winners list include four times Champ Car champion and Formula 1 racer Sébastien Bourdais in 1996. Enduro karters can also feel the excitement of racing down the tracks at Daytona International Speedway, Indianapolis Raceway Park, Ontario Motor Speedway, Watkins Glen Grand Prix, Sens Espaces Karting in France, Kartódromo International de Palmela in Portugal, new karting track RACB Karting Francorchamps in Belgium and many other motorsport circuits.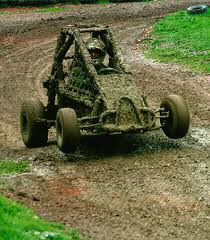 Speedway racing, more commonly known as dirt-track racing, speedway racing was started to provide an inexpensive and fun type of kart racing in areas that did not have asphalt tracks. It takes place on asphalt or clay (dirt) oval tracks which are normally between 250 and 400 meters long. Tracks primarily consist of two straights and four left-turn corners, few tracks are symmetric and often the shape parallels that of an egg or a tri-oval.
Speedway races use modified sprint karts, called 'Offset' kart chassis, and they have been developed with precise handling and adjustability in left-turn-only racing in mind. Speedway kart races range in length from 4 laps for a trophy dash, to 20 laps for a main event. Sometime, like a sprint race, speedway competition consists of three separate heats – two 10-lap heats and one 20-lap heat. The second heat, however, is run from an inverted start. In other words, the drivers who led the first heat have to work their way up from the back of the pack during the second heat. Driver's line up for the third heat according to the number of points they received in the first two heats. As in sprint racing, the overall winner of the speedway event is the driver who has accumulated the most points in all three heats combined.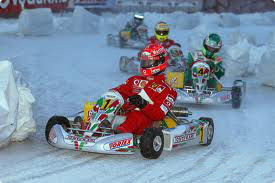 Ice Racing was born in northern regions when karters had to put their karts into storage during the snowy, winter months. But several innovative drivers conquered the forbidding terrain and discovered the sport of ice racing. Both sprint- and road-racing karts can be raced on ice. The basic materials of the machines remain unaltered. The tires, however, are modified to gain traction on ice. Several types of studded tires have been designed to provide adequate grip on the icy track. Driving these machines around an oval of ice is a challenge to even the most experienced karter. The races are conducted in the same manner as those on the more traditional asphalts surfaces. Though the top speeds of the karts are reduced, all the thrills of high-speed competition are still there.
Construction
Construction of the Kart is relatively simple. Metal tubing frame, 4 wheels without any suspension on 4 corners, steering wheel and engine. Power is transferred to rear drive shaft by mean of chain, without any differential. Add to that brakes and that's it. Sound simple? It is if we are not talking of high performance racing karts. Let's go to see in details.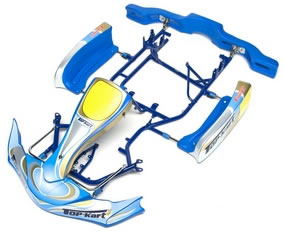 Chassis are made of steel tube. More competitive and expensive chassis use Cr-Mo (chrome – molybdenum) steel tubes with diameter from 28 to 32 mm for better stiffness and lover weight. There is no suspension therefore chassis have to be flexible enough to work as a suspension and stiff enough not to break or flex on a turn. Kart chassis are classified in the USA kart racing association as "Open", "Caged", "Straight" or "Offset". All CIK-FIA and approved chassis are "Straight"and "Open". "Open" karts have no roll cage. "Caged" karts, as name implies, have a roll cage surrounding the driver, and they are mostly used on dirt tracks. "Straight" chassis are most used and recognizable chassis, and the driver sits in the center. "Straight" chassis are used for sprint racing. In "Offset" chassis the driver seat is moved to the left side to balance for left-turn-only speedway racing, where this chassis are used.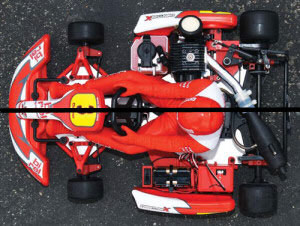 Kyosho - Birel offset kart chassis
Changing the stiffness of the chassis you get different handling characteristics for different situations. Typically, for dry conditions a stiffer chassis is preferable, while in wet or other poor traction conditions, a more flexible chassis may work better. The high-tech racing chassis allow for stiffening bars at the rear, front and side to be added or removed according to race conditions. To achieve the best performance under different conditions it is possible to adjust camber and caster (castor), and to adjust the front and rear height. The main differences from the car are that a kart does not have a suspension and has a stiff rear axle. The stiff rear axle causes inside and outside rear wheels to always turn at the same speed. In curves, however, the inside wheel has to travel less distance and thus should rotate slower. In a rear-driven car, this is made possible via the differential. In a kart, however, the same rotational speed would result in the tires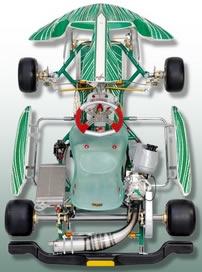 scrubbing, thereby slowing down the kart and also causing bad handling. For that reason, a kart is designed to actually lift the inside rear tire off the ground in a curve, effectively making it a three-wheeled vehicle when cornering! This solves the scrubbing and handling problem one would otherwise experience. The lifting of the inside rear is accomplished through chassis twist and a specially designed front-end geometry. The front-end geometry of a kart is designed so that during a curve it tends to lower the inside front-wheel and raise the outside front-wheel. That is known as "jacking effect" from the castor. This contributes to the tipping motion of the kart chassis during a curve and thus is the second major contributor to the lifting of the inside rear-wheel. In chassis that is to stiff you are not capable of lifting the inside tire and the chassis will constantly be in a bind.  The cures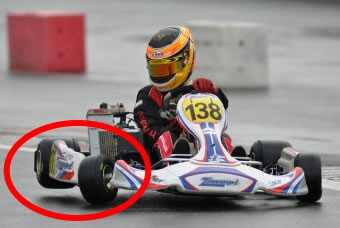 is to remove strength from the chassis or raise the weight in the chassis to increase the degrees twist that the chassis goes to.
Professionally raced karts typically weigh 75 to 79 kg, complete without driver. Avanti, Tony Kart, Trulli, Birel, CRG, Gillard, Intrepid, Kosmic, Zanardi or FA Kart are a few well known examples of the many European manufacturers of race-quality chassis. Emmick and Margay are American companies producing kart chassis.
List of all kart motors you can find here.
| | |
| --- | --- |
| | |
| Front disc brakes | Rear disc brakes |

Braking system use disc brakes mounted on the rear axle. Front disc brakes are used in most shifter kart classes and are increasingly popular in other classes. However, certain classes do not allow them. Shifter karts and Superkart have dual master cylinders, one for the front and one for the rear and are adjustable to allow for front/ rear bias changes.
In the kart, braking like you do in a car simply won't work. The best way to brake in a kart is the opposite to on the road: you should hit the brakes hard initially so they almost lock, then as you get closer to the apex of corner, gradually and smoothly release them. For more advanced drivers, try researching 'trail braking' to help you find those last few tenths.
The best known braking systems for kart racing use are Haase, Brembo, Sinter, Comer.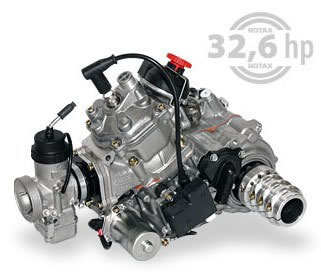 Engines can be 2 stroke, 4 stroke or in rear cases Wankel engines. Power is in range from 5 to 100 hp. Everything depends of the class of kart (age of driver). Amusement park go-karts can be powered by 4-stroke engines or electric motors
4-stroke engines can be standard air-cooled industrial based engines, sometimes with small modifications, developing from about 5 to 20 hp. Briggs & Stratton, Kohler, Robin, and Honda are manufacturers of such engines. They are adequate for racing and fun kart applications. There are also more powerful four-stroke engines available from manufacturers like Yamaha, TKM, Swissauto or Renntech - Aixro (Wankel engine) offering from 15 hp up to 48 hp. They run to and around 11,000 rpm, and are manufactured specifically for karting. Those are used in some National Championship classes like the two-strokes.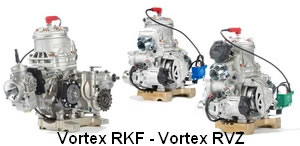 2-stroke kart engines are developed and built by dedicated manufacturers. WTP, Comer (Comer motors are for ages 5 to 12), IAME (Parilla, Komet), TM, Vortex, Titan (made by Honda), REFO, TKM, PRD, Yamaha and Rotax are manufacturers of such engines. These can develop from about 8 hp for a single-cylinder 60 cc unit (MiniROK by Vortex) to over 90 hp for a twin 250 cc. Today, the most popular categories worldwide are those using the Touch-and-go (TaG) 125 cc units. The recent 125 cc KF1 engines are electronically limited at 16,000 rpm. Most are water-cooled today; however, previously air-cooled engines dominated the sport.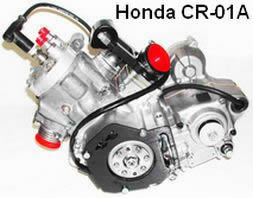 As far as a karting shifter motors goes, nothing out beats the power and reliability of a stock Honda, Parilla, Rotax. The TM ICC shifter engine is made for the serious shifter kart racer. It is raced at the highest level of kart racing in the United States. In senior Classes - Despite the wide range, it's very simple. Rotax or Stock Moto. Both are water cooled engines that provide ample power, lowest operating cost, and the most competition in the USA. Anything less the 125cc and an adult racer will get bored quickly.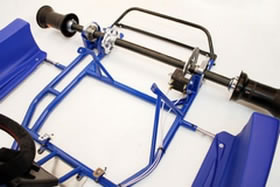 Transmission plays a very important role in the mechanism of the Go kart. Because of the transmission system, the driver gets to manage the speed of the kart. A transmission system, simple in its kind, consists of a number of gears and these are responsible for controlling the speed of the equipment, and final drive which transmit power to rear axle and both rear tires in same way (50%-50%). Karts do not have a differential. The lack of a differential means that one rear tire must slide while cornering. This is achieved by designing the chassis so that the inside rear tire lifts up slightly when the kart turns the corner. This allows the tire to lose some of its grip and slide or lift off the ground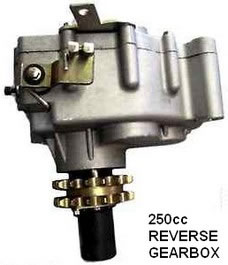 completely. That's why if chassis is to stiff, you are not capable of lifting the inside tire and the chassis will constantly be in a bind. Power is transmitted from the engine or gearbox (if you have one) to the rear axle by a chain. Both engine and axle sprockets are removable and their ratio has to be adapted according to track configuration in order to get the most from the engine. In the early days, karts were direct drive only but today junior and club level classes use centrifugal clutch. Dry centrifugal clutches are now used in many categories (Rotax Max is one example) and have become the norm as the top international classes have switched to 125 cc clutched engines as of January 2007.
A gearbox, simple in its kind, consists of a number of gears and these are responsible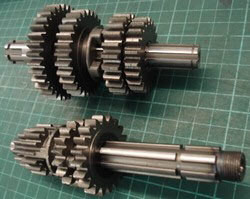 for controlling the speed of the kart. Engines have rev limit and going past this, expect that the engine will blow up. This limitation is commonly known the "redline". This is where transmission comes in. It allows the changing of gears in order for the gear ratio connecting the engine and the drive wheels changes the moment you speed up or slow down. This allows the engine to stay below the "redline" while still keeping up with the optimal rpm. Gearbox can be automatic or manual.

Paddle shift kit sequential gearbox
Shifter Kart Racing is a perfect example of the evolution that kart racing has undergone. Advances in technology have given these machines better components, high-tech transmissions, and enough horsepower to give it a ratio that equals the very best high-end performance cars available on the market today. Shifter kart use manual gearbox as part of their drivelines. Since these machines have the advantage of a gearbox, the speeds that shifter karts can achieve is truly astonishing. Figure something to the tune of 160kph, and the upper limit even reaches 200 in some instances. Six gears in a sequential manual transmission are similar to the most exotic cars. G-loads in a shifter kart reach 2 g levels, and you can really feel it. By comparison, the best sport compact cars offer 1-g levels of performance.
Real races for shifter karts are typically enduro-sprint events in excess of one mile in length. The best part about this is that a driver not only masters steering techniques to place the vehicle where he wants, but also has to deal with a shifter to match the engine revs and vehicle speed to reduce lap times. Footwork is often trickier in a shifter kart because of this, and gives an added element to see who's got the right stuff.
| | | |
| --- | --- | --- |
| | | |
| Bridgestone slick tires | Bridgestone wet tires | Karting tires for ice racing |

Tires make the only small contact patch between machine and track, principle is same as in Formula 1 or any other land racing. Great equipment is a game changer. Almost all big tire companies developed tires to more specifically meet the kart racer's needs. Kart tire and are much smaller than those used on a normal car. Rims are made of magnesium alloy or aluminum. Tires can support cornering forces in excess of 2 'g' (20 m/s²), depending on chassis, engine, and engine setup. Normally, in use are 5˝ and 6˝ dry weather slick tires and full wet tires for wet weather. There are some special types also (ice racing, cross country racing etc.). The best known karting tire manufacturers are Mojo, Maxxis, MG, Bridgestone, VEGA, Dunlop, SAVA and MRF.
So, if you really want to work on your racing career, why not just start with car-racing? Let's face it: racing is expensive. Many people can't afford to purchase a car, make it race-ready, and then proceed to crash it every weekend. Karting, therefore, may be the most cost effective way to express your inner Michael Schumacher. Because you can start learning almost all you need to know about racing through karting at only a fraction of cost. Michael Schumacher once said that all he ever learned about racing, he learned while driving a kart! Ayrton Senna said that karting is the purest form of motor racing. We can assume that these two probably knew what they were talking about.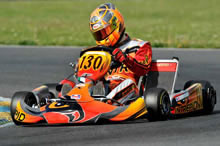 The beauty of karting is the simplicity. You don't need a big pit crew, in fact, you can go karting all by yourself. You don't need an expensive transporter, since a kart can fit in the back of a van or a pickup-truck. You don't need a whole lot of tools either, and if you are skilled enough, almost all of the maintenance can be done by yourself. Only the most complex engine rebuilding, is usually done by specialized engine builders.
If you compare the costs of the season in karting with the cost of going racing in an open-wheel car, for example Formula Ford, or one of the school series, you will find that often the cost of a single car race weekend would pay for an entire season in karting! And, for some club racing no special license or health certification is required. Now consider that you can just take your kart to the track whenever you feel like it, and you will see that there is no other form of motor racing which will give you as much seat time for the same, low amount of money.
For many, it is simply a wonderful way of enjoying competitive racing on a small and manageable budget, meeting friends at the track on the weekend and just having a lot of fun. For others, it is a serious stepping stone into a career of racing, maybe leading all the way up to Formula 1. Karting is definitely recognized as the first and most important step in order to become a professional race car driver.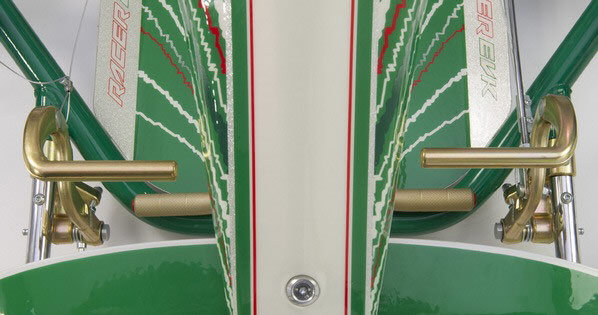 For owner driver, you need to decide on which class of kart you want to run. This usually all comes down to cost. To make racing a profession, you probably want to start with karting as a young teenager and stay with it for several years, having success in national and international competition, before moving on to car racing. This would be a wise choice, since for the same budget, you will be able to experience much more competition and seat time in karting than anywhere else. Most countries have their premier classes such as Formula A in Europe and also Gearbox or Shifter karts. Classes such as Formula A are usually high on cost. Since this class (or the equivalent premier class in the preferred county) is usually contested by the higher profile teams and drivers if usually means they spare no expense. Engine rebuilds, new tyres, constant maintenance and help from a team are often contributing factors. Gearbox is much the same. Although there are exceptions.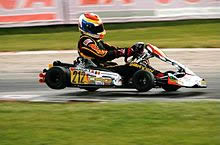 Not to scare people off, you also have the more accessible classes. The Rotax Max class (on picture right) is a new 2 stroke 125cc powered kart which has changed the shape of 2 stroke racing in the past few years. It has been introduced to countries all over the world. It basically gives performance close to that of other 2 strokes while keeping cost low. How low depends a lot on the regulations adopted in each region or series it is run in.
As a general rule you can assume that a class with sealed engines and a tyre chosen for you is intended to help you cut costs as usually sealed engines prevent extra performance tuning in the hope of equal engines along the grid and a set tyre is usually a slightly harder compound meaning several new sets are not required per meeting. But as with everything, that's not a strict rule.
Let's see what classes we have. Keep in mind that this is only a general list and all of these classes are broken in subclasses. Different nationalities have different subclasses open to all ages.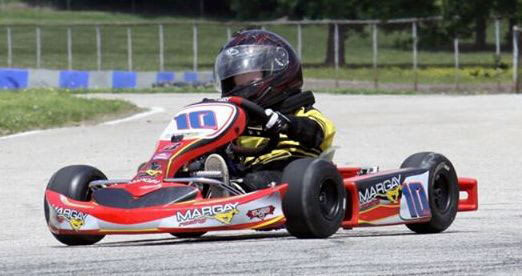 Kid Kart classes are purpose built karting chassis that use a spec 50cc Comer C-51 Engine. The Kid Kart competitors are aged 5 years to 7 years. The spirit and intent of this class is to allow kids to become accustomed to driving a kart and driving with other competitors on a track. Most clubs just offer this class as an exhibition class with all competitors receiving the same trophy, some clubs run it as a class with winners awards and a year end point champion.
Junior Sportsman or Cadet classes are offered for kids ages 8-12. In these classes the engines range from stock 5hp Briggs to 60cc Shifters to KT100 Yamaha Junior Sportsman Can Engines. Local rules and classes offered should be checked into before deciding on a package.
The Junior classes are open to kids 12-15 years old. Junior classes are faster than the cadet and rookie classes and some classes are as fast as the senior classes. Once again classes can range from Yamaha Junior Can to 80cc Shifters to Briggs Junior Restricted, check local rules and classes offered in your area.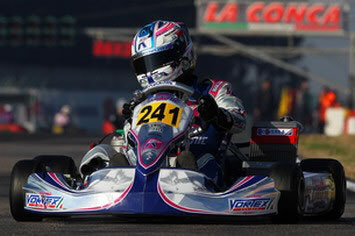 Senior classes are for drivers 15 and up. Senior classes are offered in a wide range of classes including a "Masters" class at some tracks for drivers aged 35 and up. There are usually a lot of senior classes offered in every region. From Yamaha Pipe classes that put out 18-20 hp, to Yamaha Can that have 14hp to 45 hp Shifter Kart and ICC Shifter Engines with front wheel brakes.
One class that has taken off in the last couple years are the TaG classes which stands for Touch and Go because of the onboard starter. TaG is a 125cc water cooled 2 cycle with an onboard starter and a signle speed clutch, it is not a shifter engine. The TaG class has been very popular with recreational karters and at the club and national level.
As with any sport, karting has a wide variety of choices. New vs. pre-owned, oval vs. sprint vs. enduro, 2 cycle vs. 4 cycle. Sometimes the choices can be overwhelming to new karters.
New vs. pre-owned is hardest of the choices to make. The saying "You get what you pay for" does apply in this instance. The most important question you ask yourself is how long and how hard are you going to work, how commited you are and plan to commit to kart racing? Answer is obvious, is it?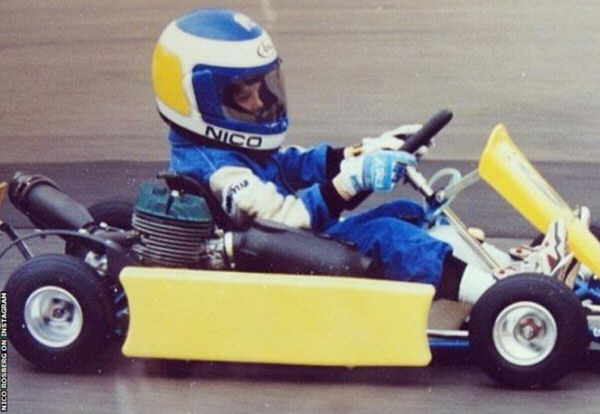 Niko Rosberg, Mercedes AMG Formula 1 team driver and Formula 1 world champion, as many other F1 drivers started his career with kart racing at early ages

But anyway, karting takes time and money. Like any motorsport it can take all you want to throw at it. Fortunately that's your choice. It's crucial to set your limits to how much you can really afford for this passion and plan your racing season accordingly. If cost is no object nothing beats nice shiny new race equipment. If there are budget constraints there is good and bad used equipment on the market.
Typical Karting Costs:
Safety Gear: Helmet – 130$ / Neck Collar – 15$ / Suit - $88.00 to $158.00 / Gloves – from 20$ / Shoes - $300+
New Rotax Kart - Engine/Chassis/Spares/Gears/ - $7000
* Used Rotax Kart - Engine/Chassis/Spares/Gears/ - cca $3000
New Stock Moto Kart - Engine/Chassis/Spares/Gears/ - $9000
* Used Stock Moto Kart - Engine/Chassis/Spares/Gears/ - cca $3500
Trailer - (Don't forget the tow vehicle!) $500+
Support Gear - Tools/Fuel Bottle/Kart Stand - $500
Annual Club Membership / Track Practice Use - cca $300
Club Race Entry Fee - cca $40
Regional Race Entry Fee - cca $80
National Race Entry Fee - cca $100
Set of Tires - $180
New Piston Set (parts only) - $100
New Bottom End (Parts only) - $300
* In both used kart examples, add $1000 for fresh engine and new chassis parts
Karting will teach you how to handle a vehicle and yourself in competition. You will learn the politics of racing. The younger you are, the more valuable the lessons of karting will be. No matter how many races you win, don't expect someone to offer you a ride on their racing team. It does happen, but very rarely. If you really want to make racing a career it simply takes a lot of money, like seven figures.
For most of us, however, karting is simply the best way to spend an afternoon, be competitive, have fun and a great thrill, all at the same time. Most people perform at their best when they're enjoying what they do, so don't "overthink" your driving – go out, enjoy it, learn from your mistakes, improve your driving one step at a time and your speed and improvement in technique will come to you naturally.
And what about safety equipment? You'll need comfortable and correctly fitted racegear to focus on your driving with no distractions – and most importantly to keep you safe.
The most necessary piece of safety equipment is a good helmet. It is very important to find a good fitting helmet. It would be best to go to a store that specializes in helmets, and where the sales person actually knows what he is talking about and how to test for good fit. A motorcycle helmet usually will do fine, since just as with motorcycles, no fire resistant materials are needed.
When choosing your driver fire protective clothing there are two major types of fabrics that you will need to consider, Nomex® and Proban®. Each of these brands has a different manufacturing process and a variety of different properties. And prices.
For a Karting an abrasion resistant karting suit is needed. An overall is preferred, rather than separate pants and jacket, since the jacket can 'roll up' and expose some skin in case one slides over the asphalt at full speed. For a begining an Proban racing suit will be enugh.
Next, you will need gloves and shoes. You can get specialized karting gloves and boots, which also provide for a certain amount of abrasion resistance. However, since hands and feet most likely will not have heavy and prolonged contact to the road-surface in case of an accident, abrasion resistance is somewhat less important here. So, some people simply wear sneakers. However, sneakers tend to have relatively thick soles, which do not really give you enough feel.
Some karting organizations require you to wear a neck brace or neck support. This is a stiff foam ring, which you put around your neck and on top of which the bottom of the helmet loosely rests.
Also usually not mandated, but very highly recommended, is a rib protector. These are stiff vests, often with special plastic plates or ribs worked into the material, which are worn under the karting suit.