Loading
Adrian Newey,
Formula One designer set to make history
Q: You are the most successful Formula One designer of recent years. Lately cars have mainly been evolutions of the previous year's design, but 2014 brings with it massive changes. How do you go about that? Do you really start with a clean sheet of paper as legend suggests?
Adrian Newey: The first thing that you do is to read the regulations - very, very carefully. You try to read what they actually say, rather than what they intend to say, as this is not always the same thing. After that I'm actually breaking it down into bite-size chunks. Then you try to understand from the regulations the aerodynamic and mechanical packaging that appears to be the best solutions for those different areas. You go away and research them and at some point try to bring it all back together again. For me that is the important bit: the end product should be a whole and not pieces thrown together into one cluster. 
---
This Monday sees the launch of the RB8: the car that will lead Red Bull Racing's 2012 challenge for the third Formula One world championships.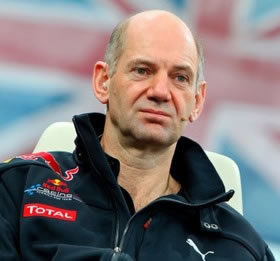 It's again the brainchild of the team's Chief Technical Officer Adrian Newey, a man with 15 F1 world titles to his name, making him most successful designers in F1 history. Designer who consider the chassis as a whole, magician of aero design who start working and collecting his experience designing in junior series and other categories across a wide range of racing car formulae.
When the Red Bull energy drink manufacturer bought the flailing Jaguar team, many F1 pundits had no idea what to make of it. No one could guess whether they were a serious outfit or just in F1 for the publicity – Red Bull Racing is, after all, essentially a marketing company. Come their first race, however, they surprised the entire field with the help of a stunning drive from a resurgent David Coulthard – finishing fourth. Red Bull made even clearer how serious they really were by making two sensational announcements during the course of 2005: First that they had bought the Minardi Formula 1 team to run as a second team and then the absolute surprise: they had signed, as of the '06 season, best designer in the field, Adrian Newey. Not even McLaren could match the salary offered by Red Bull Racing and there had been talk that Newey wanted a change for some time – including a very nearly signed deal with Jaguar Racing a few years before.
So, if your aim is for your Formula One team to win the World Championship, what would you do? Do you invest $25 million and sign Lewis Hamilton, Sebastian Vettel or Fernando Alonso, or do you pay significantly less, and wave it in Adrian Newey's direction? Indeed, Christian Horner, Red Bull's Red Bull Racing team principal proclaimed that they would rather have Newey than Michael Schumacher on their strength. "It was a massive recruitment for us," he said. "Given the choice of Adrian
Newey or Michael Schumacher, I'd go for Adrian every time. It's of that kind of magnitude. I think that it sends out exactly the right message in that we are totally serious about what we want to do and what we want to achieve." "Adrian is quite unique," Christian Horner once said. "He's a little bit of a dinosaur, because he's about the only person I know in Red Bull Racing who can't operate his own computer! He still works on a drawing board, which is the only drawing board we have in the factory." It's probably both the cheapest and the most valuable piece of equipment at Red Bull's Milton Keynes base in the UK.
Red Bull became good because of Adrian and the energy that he creates in the team. Once you have a good car and you know the designer will deliver one every year, you get the encouragement to go beyond the limits.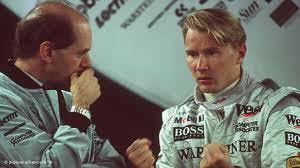 Newey and Mika Hakkinen at McLaren 1998
The 46-year-old Newey has built a reputation as one of the most imaginative and innovative formula one engineers of the past two decades. As chief designer at Williams his work carried Nigel Mansell (1992), Alain Prost (1993) and Damon Hill (1996) to world. After that, he headed the McLaren design team when Mika Hakkinen took back-to-back championships in 1998 and 1999, and then Red Bull Racing Sebastian Vettel took again back-to-back championships in 2010, 2011, 2012 and 2013.
2011 Red Bull's Adrian Newey surpassed Colin Chapman and Rory Byrne/Ross Brown combination with his tenth constructor title as designer of:

Together with Mercedes's Ross Brawn, Newey is the only technician to have won titles with three teams. Three of the top five designers in F1 history are British, and two hails from South Africa.

Chapman was the founder of Lotus Cars. Under Chapman, Team Lotus won seven Formula One Constructors' titles (1963 Lotus Climax, 1965 Lotus Climax, 1968 Lotus Ford, 1970 Lotus Ford, 1972 Lotus Ford, 1973 Lotus Ford and 1978 Lotus Ford). His cars also won six Drivers' Championships in the hands of Jim Clark (2), Graham Hill, Jochen Rindt and Emerson Fittipaldi (2). Chapman died of a heart attack in 1982. Chapman's most basic philosophy was: "Simplify, then add lightness"

Rory Byrne/Ross Brown combo was the designer team of the Benetton B195 which won the constructors title in 1995 at which point Byrne went into retirement, having achieved his primary goal. Two years later Michael Schumacher lured Byrne out of retirement and Brown from Benetton, and Byrne/Brown penned the cars for Ferrari which took constructors titles in 1999 (F399), 2000 (F1-2000), 2001 (F2001), 2002, (F2002), 2003 (F2003) and 2004 (F2004). Michael Schumacher drove Byrne's cars to seven driver's titles. Byrne's cars have won 99 Grands Prix, mostly in the hands of Schumacher. Ross Brown managed another constructor/driver world championship with his own team, BrownGP Mercedes, and driver Jenson Button.
Brawn is the only technical boss to have won Grands Prix with four different F1 teams.

Fourth on the all-time designers list is Professor Gordon Murray whose cars won 22 Grand Prix for Braham between 1973 and 1985, then four consecutive Constructors' and Drivers' Championships for McLaren. Gordon Murray is now designing road cars
That other-worldly talent has made Newey the hottest property of them all, and his cars the subject of microscopic scrutiny by all of Red Bull's envious rivals as they try to unlock the myriad of secrets. Michael Schumacher has won 91 Formula One races (so far) behind the wheel, Newey-inspired designs have won over 120 Grand Prix, dominating much of the 1990s and early-2010s.
By my reckoning, that makes Newey the clear F1 designer of all time, and he's unlikely to be challenged any time soon as Gordon Murray is now designing road cars and Rory Byrne is in retirement. Ross Brown is still there, but somehow lacking success after Mercedes bayed his Brown F1 team. History, stats, facts and circumstances you see, all point straight towards him. From 1992 to 2004 the cars of three designers won every single Formula 1 drivers and constructors world championship – the Brit Adrian Newey and the South African Rory Byrne with Ross Brown. Ross Brown still has a chance to do something with Mercedes, but something telling me that this is unlikely. But never say never. If Leyton House F1 team know what we know now, F1 history will probably be different.
More than anything, that is the measure of the balding, self-effacing engineer, whose creations have won World Championships for Williams, McLaren and Red Bull since 1992, the man who makes the world's fastest cars, the genius who actually "sees" airflow, and the man who has placed Red Bull at the front row of every grid during the season 2011. If you want to define genius in Formula One terms, Newey is as good a way to do it as any driver's greatest performance. Hi is the boffins' boffin, a middle-aged man with paper and pencil who is running rings around a generation of new designers with their computers and on-screen CAD/CAM, CFD and FEA technology's. In a sport dominated by super-computers, electronic design and wind tunnel testing, Red Bull's basic shapes and concepts still hail from a fine sharpened pencil in Newey's left hand. Of course he has a team of hundreds of developers underneath him as Red Bull Racing's Chief Technical Officer, but the general design direction still comes from Newey.
"Adrian is always about a month down the road to where we are," RBR team boss Christian Horner said. "So he's always thinking a month in advance and then the rest of the factory is trying to keep up with him!"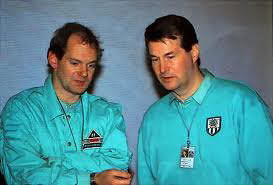 Adrian Newey and Robin Herd consultations at Leyton House
"I think I am unique – or the last dinosaur, if you like," the 51-year-old Newey says. "I've been lucky. I'm one of the last generations of engineers who were involved when motor sport was somewhat smaller and you could, and have to be involved in all its different areas. In my early days at March I was a race engineer at weekends, a draughtsman in the drawing office during the week and an analyst down at the wind tunnel at some other time. So I got involved in everything. Unfortunately now, though you try to move people around as much as possible, the teams have gone from being five or 10 engineers – when I started – to being more like 200 engineers in a top Formula One team. So it becomes difficult for people to get involved in everything".
Newey excels at redefining rather than refining, and many of his best cars have been the result of considerable changes to F1's rules and regulations.
"I do enjoy regulation changes such as those we had in 2009," Newey said of the first year when he built a consistent race-winning car for Red Bull. "They allow you to sit back with a clean sheet of paper and from first principals try to work out the best solutions to those regulations. 11 years since a big change and four years since any change meant F1 had become quite repetitive. Nobody was coming up with new ideas." "I enjoy design, I enjoy regulation changes because it gives the opportunity to take a blue-sky approach,"
Born in Stratford-Upon-Avon, England, United Kingdom, son of a veterinary surgeon, he attended Repton public school. Newey gained a First Class honors degree in Aeronautics and Astronautics from the University of Southampton in 1980, and his thesis on ground-effect aerodynamics secured him a job with Fittipaldi Automotive Fittipaldi Formula One team under technical director Harvey Postlethwaite.
Newey was 13 or 14 when his father first took him to a local kart race. "He made the observation that most of the kids were racing because their dad wanted them to, rather than them wanting to do it. He said: 'Look, you have to show your determination.' And every pound I put in he matched me.
"So I got this rather tired old go-kart, which together with my driving was hopelessly uncompetitive. But the interest in modifying it and trying to make it go quicker overcame my driving aspirations and cemented my career choice." World Champions Nigel Mansell, Alain Prost, Damon Hill, Jacques Villeneuve, Mika Häkkinen and Sebastian Vettel must all be very, very happy that he did.
He joined March 1981, where he was involved in a number of projects including GTP, Indycar and Formula 2 as designer and race engineer and where he designed one fairly successful GP2 car, one very successful GTP sportscar (which won two consecutive IMSA titles). In 1983 Newey moved to the March IndyCar project and began to work on the 1984 car. Again, his design proved highly competitive, taking seven victories including the coveted Indy 500. Newey's 85C chassis took the CART title the following year in the hands of Al Unser, and his reputation as an outstanding designer was sealed when Bobby Rahal repeated this success in 1986, when Newey was working in the dual roles of designer and race engineer.
His F1 debut came in '86 when he was requested to help improve the FORCE car. The car improved but the team faltered and in '87 Newey briefly went to the CART series to work as Race Engineer for Mario Andretti. March then rehired him to design their 881 Formula 1, this time to work as chief designer.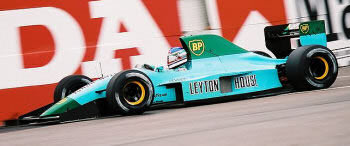 Leyton House F1 car designed by Newey. USA GP 1991, and Ivan Capelli behind the wheel
In a period when Formula One car aerodynamics was still poorly understood, Newey was able to innovate. The car showed promise even leading the Japanese Grand Prix briefly, although critics suggested his quest for aerodynamic perfection had compromised the team in other areas. The 1990 car was considered a complete flop
Newey at Leyton House consulting with Ivan Capelli 1989
and when the team was taken over by Leyton House he became technical director, although inconsistent results saw him fired in the summer of 1990. Two weeks prior to the race at the Paul Ricard circuit, both of Leyton House's cars had failed to qualify for the Mexican Grand Prix - clocking times almost four seconds off the leaders' pace. Newey had already been sacked from the imploding team, but they were still bolting upgrades and improvements of his design onto the car - including a new undertray and a stiffer chassis for the race at Paul Ricard. And in France, their new package worked wonders. The Leyton House cars ran first and second for a period late in the race, and probably would have both finished on the podium but for their woeful reliability. Without these engine woes, Ferrari's Alain Prost might never have passed Capelli for the lead in the latter stages.
His reputation as a man with a natural feel for aerodynamics earned him a new job at Williams alongside long-serving-part-owner-and-Technical Director Patrick Head - an old-fashioned mechanical engineer who had made no secret of his disdain for the growing air-flow based aspect of car design. After a period of teething troubles, between them, Newey and Head designed cars which dominated most of the nineties, winning titles with Mansell, Alain Prost, Hill and Villeneuve. Williams became the car to beat between 1992 and 1997 - winning four out of six drivers' titles and five of six constructors' titles in that period. Only Michael Schumacher beat them and without the 1994 death of Ayrton Senna, maybe even he might not have managed it. His first car for the team, the FW14, made huge strides in performance throughout the 1991 season, almost allowing Nigel Mansell to nick the title from Ayrton Senna's McLaren. In 1992 the 'B' version of Newey's design, now with computer-controlled active suspension, was so much quicker than the opposition the team didn't need to press its successor into service. Mansell won the title with a then-record nine wins (Riccardo Patrese took one) and the following year Alain Prost and Damon Hill took another ten between them.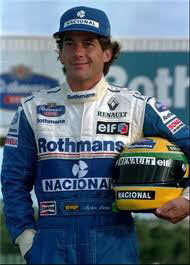 The most painful point of his career came when Ayrton Senna was killed in a Newey-designed Williams at Imola in 1994. In a wide-ranging interview with the Guardian, Newey revealed how badly he was affected when Senna was killed while leading the San Marino Grand Prix in a Williams car.
"The little hair I had all fell out in the aftermath," Newey said. "So it changed me physically. It was dreadful. Both Patrick Head (Williams's technical director) and myself separately asked ourselves whether we wanted to continue in racing. Did we want to be involved in a sport where people can die in something we've created? Secondly, was the accident caused by something that broke through poor or negligent design? And then the court case started." Newey and Head were charged with manslaughter in Italy – but his soul-searching was the reason he considered leaving Formula One.
"The court case was a depressing annoyance, and extra pressure, but it did not make me question whether I wanted to be involved in F1. It's the self-searching rather than the accusations that really matter."
Asked if he came close to walking away permanently, Newey replied: "Yes. For the whole team it was incredibly difficult. I remember the day after the race was a bank holiday Monday and some of us came in to try and trawl though the data and work out what happened. They were dark weeks. The honest truth is that no one will ever know exactly what happened. There's no doubt the steering column failed and the big question was whether it failed in the accident or did it cause the accident? There is no doubt it was cracked. It had fatigue cracks and would have failed at some point. There is no question that its design was very poor. However, all the evidence suggests the car did not go off the track as a result of steering column failure."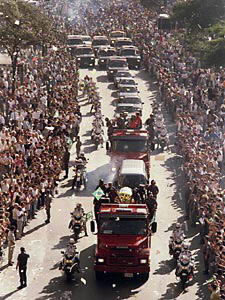 Ayrton Senna funeral at Sao Paolo 1994
Newey admits that he has considered the causes of the crash repeatedly over the past 17 years. "If you look at the camera shots, especially from Michael Schumacher's following car, the car didn't understeer off the track. It oversteered which is not consistent with a steering column failure. The rear of the car stepped out and all the data suggests that happened. Ayrton then corrected that by going to 50% throttle which would be consistent with trying to reduce the rear stepping out and then, half-a-second later, he went hard on the brakes. But the first thing that happened was oversteer, in much the same way as you will sometimes see on a superspeedway in the States - the car will lose the rear, the driver will correct, and then it will go straight and hit the outside wall, which doesn't appear to be consistent with a steering-column failure.
The question then is why did the rear step out? The car bottomed much harder on that second lap which again appears to be unusual because the tire pressure should have come up by then – which leaves you expecting that the right rear tire probably picked up a puncture from debris on the track. If I was pushed into picking out a single most likely cause that would be it." His cars have won 119 races, but Newey admits that Senna's death still haunts him. Asked if he has seen the acclaimed documentary, Senna, the 52-year-old said: "No. It would not be an easy thing to do."
"I guess one of the things that will always haunt me is that he joined Williams because we had managed to build a decent car for the previous three years and he wanted to be in the team he thought built the best car - and unfortunately that '94 car at the start of the season wasn't a good car.
"Ayrton's raw talent and determination... he tried to carry that car and make it do things it really wasn't capable of. And it just seems such a shame and so unfair he was in that position. And then, of course, by the time we did get the car sorted, he wasn't with us any longer."
Newey was again on the move, however, switching to McLaren for 1998. His final Williams design, the FW19, proved more than adequate for Jacques Villeneuve to beat Schumacher to the title despite an often lackluster campaign. Newey left when team boss Frank Williams and Patrick Head refused him a share in the company, a move Patric Williams has since described as "my biggest mistake." Williams, once statistically the most successful team ever to grace the pinnacle of motor sport, has not won a championship since. "Losing someone as good as Adrian is only half the story. The other half is that in future he will be working against you", was Frank Williams' comment on Newey's departure. Very well did he know then, what he was losing. Patrick Head, then technical director of Williams, says: "Adrian is a very astute and clever designer. Having him contributing to Williams was a plus, and having him contribute to another team was a minus. So if you add the two together, it is a big loss."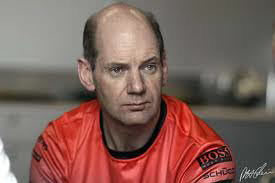 By 1997, McLaren had lured Newey away from Williams just in time for a sweeping set of changes to the regulations in the sport, after spending most of 1997 on gardening leave from Williams. His arrival at McLaren was early enough for his influence to show in their 1998 car and this resulted in a double world championship for the team in the first Newey-influenced McLaren. The 1998 season brought a radical change in the regulations as grooved tires replaced slicks and the cars were made 20cm narrower. Newey's Mercedes-powered MP4-13 was vastly quicker than the opposition at the first race, and although Ferrari clawed back much of that advantage throughout the season, Mika Hakkinen took Newey's car to the title.
His first ever McLaren Mercedes, the MP4/13, finished first and second at the Melbourne curtain-raiser of 1998. Mika Häkkinen and David Coulthard rolled in nose-to-tail - they both lapped the entire field.
Häkkinen was the top driver and McLaren the top team in 1998 and 1999, and 1999 saw Mika Hakkinen take the drivers title for McLaren once more but the Byrne era had begun and Ferrari, who had lured the South African out of retirement in 1996, saw their efforts pay off as they took the first of six consecutive constructors titles in Rory Byrne/Ross Brown designed cars. Michael Schumacher's subsequent era of dominance with Ferrari and Newey's arch backroom rivals Rory Byrne and Ross Brawn brought an abrupt end to McLaren's success. Five consecutive drivers titles were won in parallel but Newey's cars were never far behind.
Tires had become a decisive factor in the battle and McLaren failed to reproduce the kind of performance with their Michelins that Ferrari could get from their Bridgestones. In a desperate attempt to make up for lost ground Newey conceived the ultra-radical MP4-18 for 2003, which failed several crash tests and was never raced. It eventually spawned the disastrous MP4-19, which took Newey most of 2004 to transform into a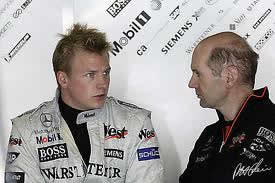 race-winning car.
An illustration of how crucial tires had become came in 2005, when a late change in the regulations swung the balance of power towards Michelin, and Ferrari only won the farce of a race at Indianapolis. Despite ten wins for Newey's MP4-20, more reliability problems played a decisive role in holding Kimi Raikkonen back from the championship.
In 2000, their last year as Stewart Ford F1 Team, Sir Jackie Stewart's privately owned team finished fourth in the constructor's world championship with Rubens Barrichello and the talented but unlucky Johnny Herbert as drivers. They scored 36 points that year. The Ford Motor Company bought Stewart Ford in 2000 and fielded the team as Jaguar Racing from 2001. Many speculated that the cash injection brought by the new Ford ownership to such an inherently strong team should prove a worrying factor to the dominant teams but the 2001 season saw Jaguar score only 9 championship points, 2002 saw them score 8 points, 2003 18 points and 2004 10 points.
In the summer of 2001 came one of the most significant moves of the season when Bobby Rahal, by then retired from driving and managing the Jaguar team, tried to steal Newey away from McLaren in an attempt to leap Jaguar Racing to the front of the field. Despite having a signed contract, Rahal was unable to complete the deal when McLaren boss Ron Dennis persuaded Newey to stay. His change of mind effectively destroyed Rahal's credibility with Jaguar owners Ford, and he was fired from the team several months later. Newey almost joined Jaguar, but stayed with McLaren until Ford sold the British racing marque to Red Bull in 2006. Obviously the departure of Jackie Stewart - the team's strong former leader, who was with Jaguar only involved in a consulting role, had a massive effect on the team and they were never to recover. Red Bull purchased an essentially bankrupt team and renamed it Red Bull Racing for the 2005 season. The team set out to race with a development of the non-performing 2004 car and, against all the odds, scored 34 points.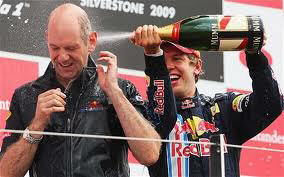 McLaren dropped out of a bidding battle to retain the services of Adrian Newey and highly rated formula one technical director switched to Red Bull, because they were not prepared to match his salary demands. Newey reputedly demanded a salary hike from $6m (£3.5m) to $10m a year to stay with the team whose cars won 10 of the 19 grand prix in 2005. But according to insiders, one of the reasons that Adrian Newey left McLaren is that for a time, a year or so ago, Newey felt that he was being ignored. The cars were not working and Newey reckoned that he knew how to fix them. It turns out that he did and the MP4-20 is, depending on who you talk to, evidence that Newey is someone who makes the difference. It boggles the mind that McLaren would ignore such a huge talent like Adrian. But then again, Ron Dennis is a greater believer in business processes than in maverick individuals. I suppose it's what any management consultant would advise their clients. Rely less on individuals and let the process produce the end product. McLaren source hinted that it was felt the formula one design process had grown to the point that no individual was bigger than the team and consequently they were prepared to let Newey go. Again, according to sources close to McLaren, their chairman Ron Dennis and chief executive Martin Whitmarsh did not feel such an investment could be justified and have been prepared for Newey's decision to leave for some time. Red Bull's billionaire owner Dietrich Mateschitz, though, was prepared to meet the British engineer's requirements.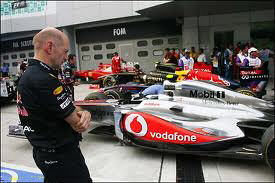 Red Bull Racing announced on 8 November 2005 that Newey would join the team from February 2006. The Guardian reported that Newey would be getting around $10 million a year.
Newey could hardly influence the design of the 2006 car and Red Bull's season (Mark Smith designed RB2), which was plagued by cooling issues during the pre-season. Newey instead developed the RB2, until early development of the RB3. Season started with poor results, having scored only 2 points from 6 races. However, the team's lead driver, David Coulthard, who had successfully driven Newey-designed cars for years for both Williams and McLaren, managed to secure 3rd place and 6 points in the Monaco Grand Prix.
2007 was set to be the breakthrough. His design RB3 was powered by the Renault RS26 engine as the Ferrari 056 contract of last year was transferred to Scuderia Toro Rosso, Red Bull Racing's "B team". With an Adrian Newey designed car, the combination of Coulthard and Newey, the arrival of Aussie Mark Webber after a dismal season at Williams. The car was reasonably fast but rather unreliable, with each driver retiring 7 times in a season of 17 races. With fourteen retirements throughout the entire season, RB3 was only surpassed by sister car Toro Rosso's STR2 which was also Adrian Newey designed with seventeen retirements. Nevertheless, with the disqualification of McLaren-Mercedes, Red Bull achieved fifth place in the 2007 Constructors' Championship as targeted. The team finished fifth in the constructor's championship.
For 2008, the team hired Geoff Willis, who had prior worked with Newey at Leyton House and Williams in the early 90's. Together they produced the RB4, an evolution of the RB3. The RB4 proved to be ever so reliable with only one mechanical retirement in the season. The car proved to be fast and reliable, evidence of Willis's touch to the RB4.
Though the 2008 season was a disappointment, 2009 RB5 proved a real breakthrough with five victories and 14 podiums, including a back-to-back one-two finishes for Mark Webber and Sebastian Vettel at the British and German Grand Prix in July.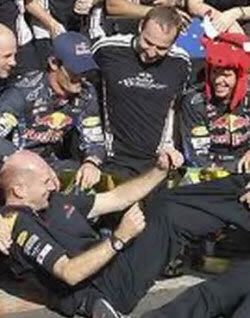 In 2010 Red Bull (the RB6) went one step further and swept to both drivers' and constructors' championship with by far the fastest car. So quick was the RB6 that it took 15 pole positions and its rivals complained on several occasions that it was illegal - although no proof was found to back their theories. On 14 November 2010, Newey became the most successful F1 designer ever when Red Bull won the World Drivers' Championship with Sebastian Vettel.
2011 didn't see the Red Bull dominance relent either as the RB7 saw reliability added to awesome speed. While Vettel said that the car wasn't as dominant as its predecessor, a record of 36 finishes from 38 starts meant that it didn't need to be. Vettel guided it to his second drivers' championship as the car delivered 12 wins and 18 poles from the 19 races. On 9 October 2011, Red Bull won the World Drivers' Championship, making Sebastian Vettel the youngest double champion in the history of F1. Red Bull followed up this title with securing the constructors championship on 16 October 2011 in Korea.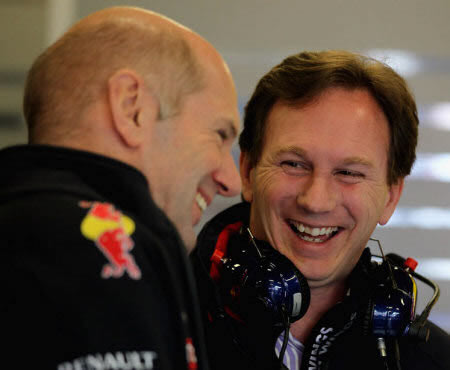 Newey and Christian Horner happy talk
During his career Newey was involved in some great technological, very advanced stuff. Some of his ideas are nothing new, but used in right way with car prepared to work as whole. In Layton House and Indycar he was working on unerbody air flow and rigidity of the body. In Williams he employed advanced aerodynamics with electronic body control (active suspension). McLaren was again aero, and experimenting (again) with blown diffuser, thing he start to experiment with some years ago, on MARCH-911b Formula 1 car. Sometimes in McLaren he was drawn in extreme with design, and this lead to reliability problems. But his solutions of the problems were always superb.
Red Bull Racing RB6 and RB7 were again deployed with some extreme aerodynamic solutions with blown diffuser, and flexible front wings, to name only some. And his bravery you can see in 2012 RB8, after FIA banned blown diffuser. His use of all aero rules, logic and knowledge how to use gray areas in rule book. Using boundary layer air streams and Coanda effect to maximum, he was able to use exhaust gasses to blow RB8 diffuser again. In different way, in way FIA bowfins can never imagine.
Away from the F1 track, Newey is a passionate racer - competing in several endurance, sprint and classic race series when his timetable allows. His son Harrison also races go-karts, which is how it all began for his father. An avid sports car collector, Newey has participated in the historic Le Mans event several times and in 2006 destroyed his Ford GT40, escaping with just a cut finger. On 2 July 2010 he was gifted a Red Bull RB5 car as a present of the Red Bull Racing F1 team at the Goodwood Festival of Speed. In 2007 he made the move to modern racing, becoming part of the driver lineup in the AF Corse Ferrari F430 (picture left in AF corse driver suit) for the 24 Hours of Le Mans. Newey and codriver Ben Aucott and Joe Macari managed to finish 22nd outright, and fourth in class. On 8 August 2010, Newey was involved in an accident whilst taking part in the Ginetta G50 Cup at the Snetterton circuit as a guest driver. He was spun into the path of Tony Hughes, and his car sustained a heavy side-on impact. He was taken to hospital for precautionary checks, but sustained no serious injuries.
At February 2012 Adrian Newey, was honoured, becoming one of the latest inductees to Motor Sport magazine's hall of fame. Newey was recognized for winning world championships with three different teams throughout his Formula One career so far. Motor Sport's magazine editor-in-chief Nigel Roebuck went further, describing Newey as "the best designer ever to have graced the Formula One paddock".
He joins such names as Ayrton Senna, Michael Schumacher, Enzo Ferrari, Jim Clark, Sir Jackie Stewart, Juan Manuel Fangio and Sir Stirling Moss. Also inducted into the Hall of Fame was driver and rider John Surtees. He won the 500cc motorbike world championship in 1956, 1958, 1959 and 1960 then the F1 championship with Ferrari in 1964. He remains the only man to have won world titles in motorcycling and Formula One. Also honoured was Italian motorcycle great Giacomo Agostini, who has won 15 world championships.
"Manufacturing Digital" takes a look at the designers, inventors and engineers who have made the biggest impact in the 21st century so far, picking best 10 of them, Adrian Newey was on seventh place.
On Sunday's Canadian GP at 8 June 2014, Red Bull Racing announced that Newey, the star designer of his age, has signed a new multi-year agreement for the next few seasons but added that he will step back from F1 in order to work on new projects for "Red Bull Technology" and will have only 'a small say' in next year's car and act as an adviser thereafter and will remain on hand.
Until that was announced, there had been rumours that Ferrari was trying to lure him to Maranello and in this way, Red Bull fought off a £20m contract offer by Scuderia Ferrari. With the new arrangement, even if Newey is not completely focused on designing Red Bull's cars, at least he is not focused on designing someone else's. He is remaining part of the Red Bull family.
The exact nature of their plans for Red Bull Technology will only be revealed later this year, but Newey's involvement in America's Cup yachting is something that he and Sir Ben Ainslie, the country's finest sailor, both welcome.
Adrian Newey's Influence at McLaren and Williams
Team
Win % With Newey
Win % Since Newey
Titles With Newey
Titles Since Newey
Williams
51.8%
3.8%
10
0
McLaren
26.6%
25.0%
3
1

In 16 seasons as a designer for Williams and McLaren, his cars won seven Drivers' Championships and six Constructors'. Since he left, those teams have combined for one title: Lewis Hamilton's 2008 Drivers' Championship for McLaren.
Adrian was employed with 7 chassis manufacturers:
Fittipaldi Automotive,

March (first time)
Adrian's March sportscar prototypes won 2 IMSA GTP championships with 18 victories

Newey-designed March Indycar chassis won 3 [+1] Indy 500s, 2 CART titles and 32 [+2] victories
Haas/FORCE
Hired in June 1986. No success!
March (second time, 1987)

Leyton House (1989)
Williams (1990 – 1997)
51 (+1) [+8] victories

60 (+1) [+7] other podium finishes

66 (+1) [+11] pole positions

54 (+4) [+9] fastest laps

Drivers' Championships: 3 [+1997]

Constructors' Championships: 4 [+1997]
McLaren
41 (+2) victories

75 (+2) other podium finishes

42 (+1) pole positions

55 (+1) fastest laps

Drivers' Championships: 2

Constructors' Championships: 1
Red Bull (still runing)
_ victories

_ other podium finishes

_ pole positions

_ fastest laps

Drivers' Championships: 4

so far

Constructors' Championships: 4

so far
- Statistics till the end of 2012.
- Figures in brackets: statistics accrued while Newey was employed by the company but early in his employment using cars into which he had little or no input.
- Figures in square brackets: statistics accrued after Newey left the company but leaving a legacy of cars in which he had been heavily involved.