Loading
F1 drivers deceased behind racing car steering wheel between 1966 and 1970
Max Mosley, when President of the FIA:
"We're doing everything to reduce the probability of injury on the understanding it can never be zero."

Denny Hulme, Formula 1 driver:
"We didn't know any better in the old days. Now we've got the most incredibly hygenic circuits you have ever seen. Some people criticise them. They say it's terribly boring motor racing. Yes, compared to the old Nürburgring it is… but it's better than going to a funeral every Tuesday morning."
Drivers with their names marked in red died at an official Formula One Championship race.
On this list are only the drivers who competed on Indianapolis 500 plus at least one FIA World Championship race.
To know more about safety in Formula 1, development in safety after incidents and tragedies, check article about safety.
1966 - Walt Hansgen (USA)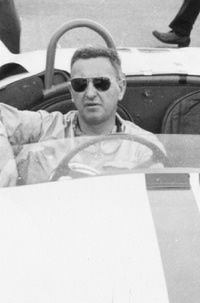 A four time SCCA Road Racing Champ, he participated in 2 Formula One Grands Prix with Lotus and Cooper, debuting on October 8, 1961. In addition to Formula One, Walt Hansgen was a dominant road racer from the early 1950's and 1960's winning numerous races at VIR (Virginia International Raceway), the famed course at Bridgehampton and Watkins Glen.
He participated in several runnings of the 24 hours of Daytona and Le Mans as well as the 12 hours of Sebring endurance races. He was notable for introducing Mark Donohue to professional road racing.
He was killed when he crashed a 7-liter Ford Mk2 sports car at the 24 hours of Le Mans tests during the spring of 1966.
Grand Prix Starts 2
Grand Prix Wins 0
Pole Positions 0
Grand Prix Points 2
1966 - John Taylor (GB)

He participated in 5 World Championship Formula One Grands Prix, debuting on July 11, 1964. He scored 1 championship point. He also participated in several non-championship Formula One races.
He raced for Bob Gerard Racing (privateer Cooper) and for privateer Brabham.
Taylor died following an accident at the 1966 German Gran Prix, when his Brabham collided with Jacky Ickx's Matra on the first lap of the race. He emerged from the wreckage badly burned, and died from his injuries four weeks later.
Grand Prix Starts 5
Grand Prix Wins 0
Pole Positions 0
Grand Prix Points 1
1967 - Lorenzo Bandini (I)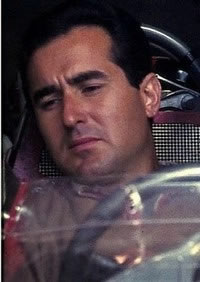 He was driver who raced in Formula One for the Scuderia Centro Sud and Ferrari team. He started racing cars in 1957 in a borrowed Fiat 1100. In 1961 Bandini became disappointed when Giancarlo Baghetti, also of Italy, was selected to drive a sponsored Ferrari by the association of Italian motor clubs FISA. However he had the attention of Mimo Dei, the team patron of Scuderia Centro Sud. He was invited to join the Scuderia Centro Sud in Formula One. At a non-championship race, he finished third at Pau. Bandini drove his first world championship race at Spa later in 1961. He retired with engine failure. After Bandini was hired by Ferrari for the 1962 and 1963 seasons, he did fairly well. His debut in a Ferrari was good one at the Monaco Grand Prix. He placed third. During his career he win one race, Austria GP 1964.

Bandini, along with Ludovico Scarfiotti, won the Le Mans 24 Hours race for Ferrari in 1963. He again became the number one driver for Ferrari, replacing John Surtees who left in mid-season of 1966. He returned for the Italian Grand Prix.
On 7 May 1967 Bandini was racing at the Monaco Grand Prix, running second to Denny Hulme on the 82nd lap, when he lost control of his car at the Harbour chicane. His Ferrari's left rear wheel hit the guard rail, sending him into an erratic skid. It impacted a light pole and overturned rupturing the fuel tank, and sparks ignited the fuel as the car rolled over, with Bandini trapped beneath it, a situation made worse by the fact that the track was surrounded by hay bales, which went up in flames too (hay bales were thereafter banned from Grand Prix racing). Bandini's burns were extensive, with third degree burns covering more than 70% of his body. He also sustained a chest wound and ten chest fractures. Three days later, 10 May 1967, Balndini died of his injuries. He died at Princess Grace Polyclinic Hospital in Monte Carlo.
Grand Prix Starts 42
Grand Prix Wins 1
Pole Positions 1
Grand Prix Points 58
1967 - Giacomo 'Geki' Russo (I)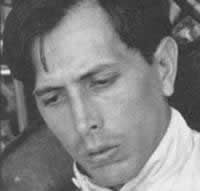 He was a four-time Italian F3 series champion, winning consecutive championships from 1961 to 1964. He also participated in 3 Formula One Italian Grands Prix from 1964-66, failing to qualify for the 1964 race, driving a Brabham for Rob Walker. For his two Grand Prix starts, he drove for Team Lotus. He scored no championship points.
He was killed in a horrific accident in an Italian Formula 3 race at Caserta in 1967. After a multiple accident involving Ernesto Brambilla, Clay Regazzoni, Jurg Dubler, Romano "Tiger" Perdomi and Corrado Manfredini; another driver, Beat Fehr, stopped his car, got out and ran down the track to warn the oncoming racers of the damaged cars on the track ahead.
The next group of cars included Geki, who was unable to avoid colliding with and killing Fehr. Geki's Matra then crashed into a wall and he died in the subsequent fire. Perdomi was also killed.
Grand Prix Starts 3
Grand Prix Wins 0
Pole Positions 0
Grand Prix Points 0
1967 - Bob Andersen (GB)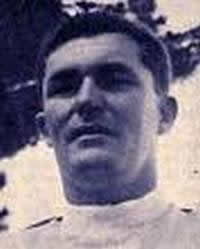 Robert Hugh Fearon 'Bob' Anderson was a Grand Prix motorcycle road racer and racecar driver from England. Bob competed in Grand Prix motorcycle racing from 1958 to 1960. He began his racing career on motorcycles in 1953, turning professional in 1956, he won his first pro-ride at the North West 200 on a Norton, which were to become his principal bikes. Between 1958 and 1960 he raced in the Isle of Man TT Races rarely finishing below 8th place, and three times finishing in the runners-up position.
He entered Formula One in 1963 with his own Lola Mk4 car, under the guise of DW Racing Enterprises, a small team compared to other private outfits.
DW was actually only composed of Bob and a small team of mechanics. Despite this hindrance he took the flexible little Lola to victory in the non-Championship Rome Grand Prix in that first year. In later years he ran private Brabham cars under the same banner.
In 1967 he was considering retirement but a 5th in the South African GP and a win in Rhodesia convinced him to continue with out-dated machinery. Same year he suffered an accident while testing at Silverstone, in which he slid off the track in wet conditions and hit a marshal's post. Anderson suffered serious chest and neck injuries and died later in Northampton General Hospital.
Grand Prix Starts 13
Grand Prix Wins 0
Pole Positions 0
Grand Prix Points 35
1967 - Georges Berger (B)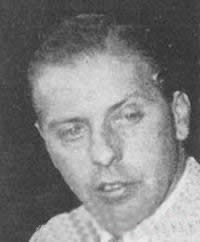 Georges Berger was a racing driver who raced a Gordini in his two World Championship Formula One Grands Prix. In 1953 he raced for the Simca-Gordini team and finished fifth. He entered the same car in the Belgian Grand Prix but retired after only three laps. The following year he raced a Gordini with nothing more than a fourth position at Rouen. He eventually disappeared from single-seater racing. Later in his career he shared the winning Ferrari at the 1960 Tour de France automobile.
He was killed racing a Porsche 911 in the 1967 Marathon de la Route at Nürburgring.
Grand Prix Starts 2
Grand Prix Wins 0
Pole Positions 0
Grand Prix Points 0
1967 - Ian Raby (GB)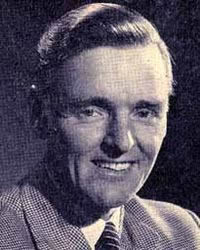 He participated in 7 World Championship Formula One Grands Prix, debuting on July 20, 1963.
He scored no championship points.
Raby crashed heavily with his Brabham Lotus during an F2 event at Zandvoort at the end of July. He died from his injuries at the beginning of November.
Grand Prix Starts 3
Grand Prix Wins 0
Pole Positions 0
Grand Prix Points 0
1968 - Jim Clark (GB)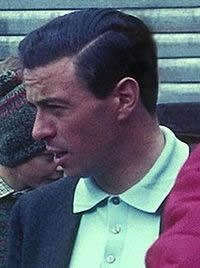 He was the dominant driver of his era, winning two World Championships (1963 and 1965). He raced for Lotus team.
At the time of his death, he had won more Grand Prix races (25) and achieved more Grand Prix pole positions (33) than any other driver. He also competed in the Indianapolis 500 five times, and won it once, in 1965.
Early in his career, Jim Clark was involved in one of the worst accidents in the history of Formula 1 racing. In the 1961 Italian Grand Prix on September 10 at Monza, Wolfgang Graf Berghe von Trips in his Ferrari collided with Jim Clark's Lotus. Trips' car became airborne and crashed into a side barrier, fatally throwing von Trips out of the car, killing fifteen spectators.
On 7 April 1968, Jim Clark's life tragically ended in a crash.
On the fifth lap of the Formula Two race in  Hockenheim, Germany, his Lotus 48 veered off the track and crashed into the trees. He suffered a broken neck and skull fracture, and died before reaching the hospital. The cause of the crash was never definitively identified, but investigators concluded it was most likely due to a deflating rear tire.
Colin Chapman said he lost his best friend. Graham Hill said what he would miss most was Jim Clark's smile.
Clark's Lotus team-mate Graham Hill went on to take the 1968 F1 Drivers' Championship, and although Hill has many admirers, most of them would probably admit that Clark was the better out-and-out driver. The previous year, their first in the same team, Clark had scored 41 points to Hill's 15. Graham Hill later dedicated his championship win to Clark.
World Championships 2
Grand Prix Starts 72
Grand Prix Wins 25
Pole Positions 33
Grand Prix Points 255
1968 - Mike Spence (GB)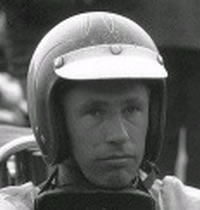 He participated in 37 Formula One World Championship Grands Prix, debuting on September 8, 1963. He also participated in numerous non-Championship Formula One races, as well as sports car racing. He also raced for Team Lotus, BRM and Reg Parnell Racing.
Following Jim Clark's death in early 1968, Colin Chapman invited Spence back to Lotus as part of their Indianapolis 500 race team.
Spence was due to race the (literally) revolutionary Lotus 56 gas turbine car. However, during practice at the Indianapolis Motor Speedway three weeks before the race, at May 7, Spence misjudged his entry to turn one and collided heavily with the concrete wall.
The right-front wheel of the Lotus swiveled backwards into the cockpit and struck Spence on the helmet. Mike Spence died in the hospital, from massive head injuries, a few hours after the accident.
Grand Prix Starts 36
Grand Prix Wins 0
Pole Positions 0
Grand Prix Points 27
1968 - Ludovico Scarfiotti (I)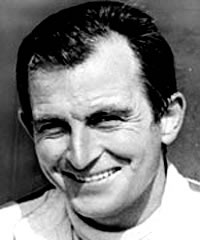 Formula One and sports car driver from Italy. Just prior to entering Formula One, he won the 1963 24 Hours of Le Mans for Ferrari. He was proclaimed Italy's best driver in both 1962 and 1965, and who was viewed more as a sports-car specialist. He raced for Ferrari, Cooper, Anglo American Racers teams. He win one Formula 1 race in his career, 1966 Italian Grand Prix at Monza driving for Ferrari. It was the only victory of Scarfiotti's brief F1 career, he only started ten GPs.
Ludovico Scarfiotti died in Jun 8 1968 at a hillclimbing event on the Roßfeldhöhenringstraße near Berchtesgaden, Germany, in the German Alps. He became the third Grand Prix driver to die in 1968, following Jim Clark and Mike Spence. Scarfiotti wrecked his Porsche 910 during trials when the car veered abruptly off the Rossfeldstrasse track and catapulted ten yards down a tree-covered slope.
The Porsche hung in the trees and Scarfiotti was thrown from the cockpit. His body was discovered 45 meters away. He died in an ambulance of numerous fractures. 55 m of burned rubber braking indicated that Scarfiotti had slammed on his brakes at the final moment.
Grand Prix Starts 10
Grand Prix Wins 1
Pole Positions 0
Grand Prix Points 17
1968 - Jo Schlesser (F)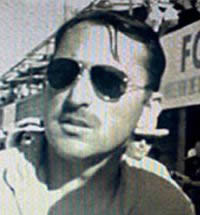 Joseph Schlesser was a Formula One and sports car racing driver from France. He participated in three World Championship Grands Prix, including the 1968 French Grand Prix in which he was killed. He scored no championship points.
A Formula One opportunity came in 1968 with Honda. The Honda team had completed an experimental air-cooled F1 car (RA302) which was tested by their works driver John Surtees. Surtees pronounced it as not ready for racing, and a potential deathtrap. Undaunted, with the financial help of Honda France, Honda entered it for the French Grand Prix at Rouen-Les-Essarts at July 7. Being the local hero, Schlesser was hired to drive it.
After two laps, the car slid wide at the Six Freres corner and crashed sideways into a bank. The magnesium-bodied Honda and 58 laps worth of fuel ignited instantly, leaving Schlesser no chance of survival. As a result, Honda withdrew from Formula One at the end of the 1968 season. A friend of Jo Schlesser's, future Formula One constructor Guy Ligier always gave his cars type numbers beginning with 'JS' as a tribute to Schlesser.
BTW, in 1983 the Honda board decided to return to F1 as an engine supplier and over the next nine seasons won a string of F1 titles with Williams and then McLaren, the company enjoying unprecedented success.

Grand Prix Starts 3
Grand Prix Wins 0
Pole Positions 0

1969 - Lucien Bianchi (B)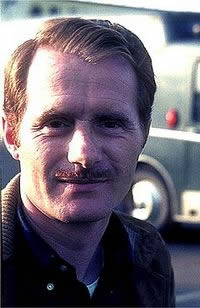 Lucien Bianchi was a Belgian racing driver born in Italy, who raced for the Cooper, ENB, UDT Laystall and Scuderia Centro Sud teams in Formula One. 1946 when he was still a child, with his father who was a race mechanic working, before the war, in the Alfa Romeo competition department. Lucien Bianchi's first race event was at the Alpine Rally in 1951. He won the 1957, 1958 and 1959 Tour de France as well as the Paris 1000 sports car race in the latter two years. He entered Formula One in 1959, although only with sporadic appearances at first. He drove various cars under the banner of the ENB team, including a Cooper T51, a Lotus 18 and an Emeryson. After a couple of races for the UDT Laystall team in 1961, driving another Lotus, he returned to ENB for whom he drove their ENB-Maserati. He finally secured a more regular drive in Formula One in 1968, with the Cooper-BRM team, although success was elusive despite a bright start.
His biggest victories coming in the 1968 Le Mans 24 Hours, behind the wheel of a Ford GT40.
He was killed when his Alfa Romeo T33 spun into a telegraph pole during Le Mans testing in 1969.
His brother Mauro was also a noted racer and Jules Bianchi, a 2013 addition to the Marussia F1 team is actually the nephew of Lucien.
Grand Prix Starts 17
Grand Prix Wins 0
Pole Positions 0
Grand Prix Points 7

5 October 2014, 25 year old Marusia driver Jules Bianchi suffered a "severe" head injury during Sunday's Japanese GP, when in heavy rain his car aquaplaned, left the track and ploughed into a CAT tractor recovery vehicle removing Adrian Sutil's Sauber, which had gone off at Turn 7 of the Suzuka circuit a lap earlier.
A statement from the FIA said that Sutil had spun and hit the tire barrier and "marshals displayed double waved yellow flags before the corner to warn drivers of the incident. A recovery vehicle was dispatched in order to lift the car and take it to a place of safety behind the guardrail. While this was being done the driver of car 17, Jules Bianchi, lost control of his car, travelled across the run-off area and hit the back of the tractor."
Bianchi, who was unconscious, was transported by ambulance to the Mie Prefectural General Medical Centre in Yokkaichi, 10 kilometers from the track.
A CT scan revealed that he had suffered a "severe" head injury and he underwent emergency surgery before being moved to ICU. He remains in ICU at the Mie Prefectural General Medical Centre having undergone surgery, and is in a "critical but stable" condition .
FIA head of communication Matteo Bonciani revealed that the Frenchman is in a "critical but stable" condition.
Few days later family of Jules Bianchi have issued an update on his condition and revealed that he suffered a diffuse axonal injury and is regarded as "critical but stable". A diffuse axonal injury is not the result of a blow to the head, but rather is caused by the brain moving back and forth within the skull as a result of extreme acceleration or deceleration. The injury is very common in automobile accidents. The movement of the brain within the skull causes lesions to the brain tissues, which cause permanent damage to the brain.
French Formula One driver Jules Bianchi has died July 18 2015 at the Centre Hospitalier Universitaire in his hometown of Nice.
My thoughts are with Jules and his family.

1969 - Paul Hawkins (AUS)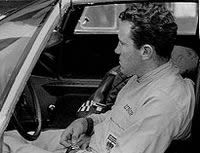 This tough Australian was a capable single seater driver but really made his mark as an outstanding sports car competitor driving Ford GT40s and Lola T70s. He participated in three Formula One World Championship Grands Prix, debuting on January 1, 1965 at the South African Grand Prix in a pushrod Ford 1500cc-engined Brabham Formula Two car. He scored no championship points, as his best finish was ninth on his debut. He is one of only two Formula One drivers, along with Italian Alberto Ascari, to have crashed into the harbour in Monaco during a Grand Prix.
He did so during the 1965 race, when he spun at the chicane after 79 of the 100 laps. He escaped from the crash unhurt.
He was killed when his Lola T70GT crashed and burned at Island Bend during the 1969 Tourist Trophy race at Oulton Park.
Grand Prix Starts 3
Grand Prix Wins 0
Pole Positions 0
Grand Prix Points 0
1969 - Moisés Solana (MEX)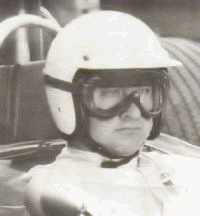 He participated in 8 Formula One World Championship Grands Prix, debuting on October 27, 1963. He scored no championship points. He raced for Cooper, Lotus and Scuderia Centro Sud teams. He is the only driver in the history of the Formula One World Championship to race in a Number 13 car, something he did for BRM on his Formula One debut, the 1963 Mexican Grand Prix.
Solana was killed in a hillclimbing accident after he lost control of his McLaren and hit a bridge.
Grand Prix Starts 8
Grand Prix Wins 0
Pole Positions 0
Grand Prix Points 0
1969 - Gerhard Mitter (D)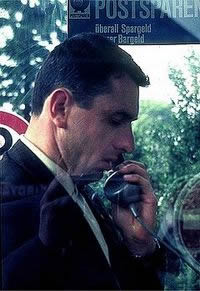 Mitter participated in seven Grands Prix, debuting on 23 June 1963. He scored a total of three championship points in his home 1963 German Grand Prix with an old Porsche 718 from 1961. Impressed by this, Team Lotus gave him a chance in the following years. In sports car racing and hillclimbing for Porsche, he scored many wins, eg. The 1966-1968 European Hillclimb Championships against Ferrari, the 1968 24 Hours of Daytona (Porsche 907) and the 1969 Targa Florio (Porsche 908) as his final major win.
Due to the long Nürburgring track, it was possible to take part in the German Grand Prix with Formula 2 cars that were classified in their own contest. Mitter was killed there at Schwedenkreuz while practicing for the 1969 German Grand Prix with BMW's 269 F2 project.
As a suspension or steering failure was suspected, the BMW team with Hubert Hahne and Dieter Quester withdrew from the race, as did Mitter's teammate at Porsche, Hans Herrmann.
Grand Prix Starts 5
Grand Prix Wins 0
Pole Positions 0
Grand Prix Points 3
1970 - Bruce McLaren (NZ)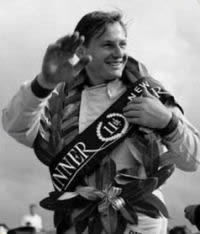 As an eleven-year-old, Bruce McLaren contracted Perthes disease in his hip which left his left leg shorter than the right. He spent two years in traction, but later often had a slight limp. Race-car designer, driver, engineer and inventor. His name lives on in Team McLaren which has been one of the most successful in Formula One championship history, with McLaren cars and drivers winning a total of 20 world championships. McLaren cars totally dominated CanAm sports car racing with 56 wins, domination never witnessed before or since in world motorsport, a considerable number of them with him behind the wheel, between 1967 and 1972 (and five constructors' championships), and have won three Indianapolis 500 races, as well as 24 Hours of Le Mans and 12 Hours of Sebring.
1959 McLaren went to Cooper factory F1 team alongside Jack Brabham and stayed seven years. He raced in F2 and was entered in the German Grand Prix at the Nürburgring in which F2 and F1 cars competed together. He astounded the motor racing fraternity by being first F2, and fifth overall, in a field of the best drivers in the world. McLaren left Cooper at the end of 1965, and announced his own GP racing team, with co-driver and fellow Kiwi Chris Amon. Amon left in 1967 to drive for Ferrari. In 1968, McLaren was joined by another fellow Kiwi Denny Hulme, who had become world champion in 1967 with Brabham. McLaren took his fourth career win racing his own McLaren car at Spa in 1968, achieving the team's first Grand Prix win. Hulme won twice in the McLaren-Ford. The 1969 championship was also a success, with McLaren finishing 3rd in the standings despite taking no wins. In tribute to his homeland, McLaren's cars featured the "speedy Kiwi" logo.
Goodwood was a dangerous circuit in this days and ended Moss's F1 career in 1962 as well as taking the life of Bruce McLaren during a Can-Am test in on June 2 1970. Bruce McLaren died (aged 32) when his M8D Can-Am car crashed on the Lavant Straight just before Woodcote corner at Goodwood. He had been testing his new M8D when the rear body work came adrift at speed at the last lap of planed test day. The loss of aerodynamic downforce destabilized the car, which spun, left the track and hit a bunker used as a flag station. He was only 32 years old.
His record as yungest Grand Prix winner stood for 44 years.
Grand Prix Starts 100
Grand Prix Wins 4
Pole Positions 0
Grand Prix Points 196.5

1970 - Piers Courage (GB)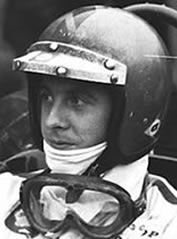 Piers Raymond Courage participated in 29 World Championship Formula One Grands Prix, debuting on 2 January 1967. He achieved 2 podiums, and scored a total of 20 championship points and raced for Lotus, BRM, Brabham and De Tomaso teams. A string of good results, including four high-profile wins, encouraged Colin Chapman to offer Courage a seat in a Lotus 41 for the 1966 F3 season. This car was inferior to the dominant Brabhams but Courage still managed to outperform them on occasion, earning him a step up to the F2 category for the 1968 German Grand Prix, where he crashed out.
At the Dutch Grand Prix Zandvoort circuit on June 21, 1970, in the car Frank Williams run in partnership with Alejandro de Tomaso with a Giampaolo Dallara-designed de Tomaso F1 chassis, Courage qualifying in 9th place.
Running in the middle of the field Courage inexplicably slid wide on a bend, rode up an embankment and rolled upside-down, bursting into flames. To make his De Tomaso lighter, magnesium was used in its chassis and bodywork. The magnesium burned so intensely that nearby trees were set alight. Investigations revealed that Courage probably died before the flames started; his helmet was found at the point of impact with a large smear of rubber on the front, most likely from a wheel detached on impact. Just three years later Roger Williamson crashed fatally at the same corner.
Grand Prix Starts 27
Grand Prix Wins 0
Pole Positions 0
Grand Prix Points 20

1970 - Jochen Rindt (A)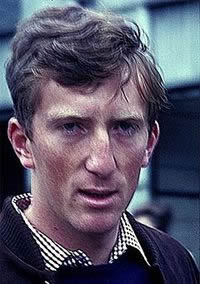 Austrian Karl Jochen Rindt is the only driver to posthumously win the Formula One World Drivers' Championship in 1970, after being killed in practice for the Italian Grand Prix. Rindt remains the only posthumous F1 world champion.
Ecclestone was the manager of this promising Austrian F1 driver .
Away from Formula One Rindt was highly successful in other single-seat formulae, as well as sports car racing. In 1965 he won the 24 Hours of Le Mans race, driving a Ferrari 250LM in partnership with American Masten Gregory. Rindt kept on choosing the wrong F1 cars. He made his Formula One debut for Rob Walker Racing Team in the 1964 Austrian Grand Prix. It was to be his only Grand Prix of the year. From 1965 to 1967, Rindt raced for Cooper Car Company, scoring 32 points in 29 races. In 1968, Rindt raced for Brabham as the Jack Brabham teammate, but his season wasn't what he had hoped for, due to technical problems.
Rindt also raced in the Indianapolis 500 in both 1967 and 1968, but finished no better than 24th. 1969 when Rindt moved to Lotus and it was with Lotus that Rindt's career took off. Rindt clinched the first Grand Prix victory of his career in the Grand Prix of the USA in Watkins Glen. 1970 Rindt was paired with perhaps the greatest Formula one car of all time, the Lotus 72.
During practice for the 1970 Italian Grand Prix in Monza at September 8, Chapman and Rindt agreed to follow the lead of Jackie Stewart (Tyrrell) and Denny Hulme (McLaren) and run without wings in an attempt to reduce drag and gain a higher top speed. The more powerful Ferraris had been up to 16 km/h faster than the Lotus at the previous race in Austria. Rindt's team mate John Miles was unhappy with the wingless setup in Friday practice, reporting that the car 'wouldn't run straight'. Rindt reported no such problems, and Chapman recalled that Rindt reported the car to be 'almost 800 rpm faster on the straight' without wings. On the following day, Rindt ran with higher gear ratios fitted to his car to take advantage of the reduced drag, increasing the cars' potential top speed to 330 km/h. On Rindt's fifth lap of the final practice session, Hulme, who was following, reported that under braking for the Parabolica corner: 'Jochen's car weaved slightly and then swerved sharp left into the crash barrier.' A joint in the crash barrier parted, the suspension dug in under the barrier and the car hit a stanchion head on. The front end of the car was destroyed. Although Rindt was rushed to hospital, he was pronounced dead. One of the first man to openly questioned a safety of the sport was death at the age of 28.
Rindt, who didn't use crotch straps on his safety belt had slid underneath and into the cockpit where the belt buckle cut his throat. He was the second Lotus team leader to be killed in two years, as Jim Clark had been killed in 1968. An Italian court later found that the accident was initiated by a failure of the car's right front brakeshaft, but that Rindt's death was caused by poorly installed crash barriers.
One of the first on the scene was his good friend Bernie Ecclestone.
Because of legal problems with the Italian authorities relating to the death of Jochen Rindt, during 1971 and 1972 race in Monza, the team raced as "World Wide Racing" Formula 1 team (WWR) as official team name. It brought just one car in 1972. The driver was Emerson Fittipaldi.
World Championships 1
Grand Prix Starts 62
Grand Prix Wins 6
Pole Positions 10
Grand Prix Points 107

Sorted by the year:
1950 - 1955, 10 drivers died
1956 - 1960, 20 drivers died
1961 - 1965, 6 drivers died
1966 - 1970, 18 drivers died
1971 - 1975, 10 drivers died
1976 - 1980, 3 drivers died
1981 - 1985, 5 drivers died
1986 - 1990, 2 drivers died
1991 - 1995, 3 drivers died
1996 - Today, 4 drivers died

To know more about safety in Formula 1, development in safety after incidents and tragedies, check article about safety.