Loading
Sir Jack Brabham
" . . . the driver is alone in the cockpit but it's a team effort which puts him there"
(Sir Jack Brabham)

Motor racing legend Sir Jack Brabham, a three-time F1 World Champion, the oldest living Formula 1 champion, has quietly passed away. He died at his home on the Gold Coast, Australia, on 19 May 2014, aged 88, following a lengthy battle with liver disease. He was eating breakfast with his wife, Margaret, when he passed away. He was a towering figure of his era, becoming a triple World Champion in Formula 1, the first motor racing knight of the modern era. In a career spanning 15 years, Brabham competed in a total of 128 Grands Prix, won 14 races and drivers' titles in 1959, 1960 and 1966, with the latter achieved at the age of 40. His first two titles in the Cooper Climax marked the end for front-engined Formula 1 cars. The third made him the only driver in history to win a World Championship in a car of his own making, the Brabham BT19 – a thing unlikely to ever be repeated.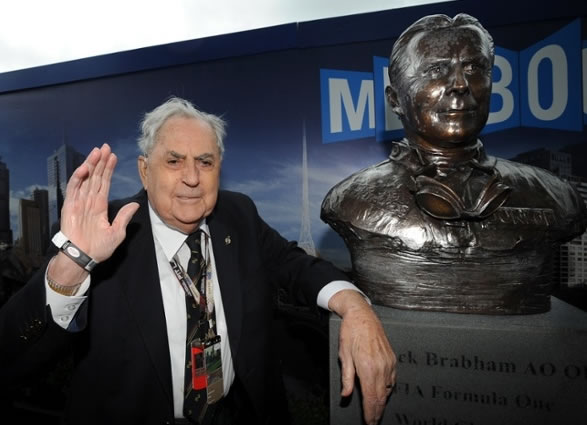 Sir Jack Brabham (aka Black Jack, bestowed because of both his dark hair and his propensity for maintaining a shadowy silence) was a pretty damned good, albeit sometimes under-rated driver, but it was the engineering challenge which gave him the real satisfaction.
The grandson of a Londoner from the Cockney area of East London, who emigrated to Australia in 1885 and opened a grocer's shop in Adelaide, John Arthur Brabham, nicknamed "Black Jack", was born on 2 April 1926 in Hurstville, a southern suburb of Sydney, Australia. His father who owned a grocery store just outside of Sydney was a keen motorist who taught Brabham how to drive a car at the age of 12. At 15 Brabham left school and got a job in a local garage while spending his evenings studying engineering technical college at Kogarah Tech, preferring basic metalwork, carpentry and technical drawing. Soon he started his own business selling motorbikes, which he bought and repaired for sale, using his parents' back veranda as his workshop.
On May 19, 1944 - just one month after turning 18 - Brabham enlisted with the Royal Australian Air Force. His final posting was No. 5 Operational Training Unit, based at Williamtown and operating a number of aircraft including the Beaufighter and Mosquito. Brabham was then discharged from the RAAF on April 2, 1946 - his 20th birthday - with the rank of Leading Aircraftman.
| | |
| --- | --- |
| Sir Jack Brabham in one of his midget cars 1948 | In 1946 after two years duty in the Air Force Brabham opened a small repair business. He soon made the acquaintance of an ex-patriot American by the name of Johnny Schonberg who raced midget cars. Brabham records that he was not taken with the idea of driving, being convinced that the drivers "were all lunatics" but he agreed |
to build a car with Schonberg. At first Schonberg drove the homemade car, powered by a modified JAP motorcycle engine built by Brabham in his workshop. When Schonberg decided to stop, after his wife forced him to quit racing, Brabham thought he might try himself and after some sketchy instructions he took part in his first race at the Paramattta Speedway in the suburbs of Sydney, winning on his third night's racing. He was soon winning races and in the years that followed he became one of the stars of the midget racing scene in Australia until his original engine blew itself up. In his first season he won the New South Wales Championship. During this time he would form a partnership with Ron Tauranac that would continue into Formula One and Europe. This friendship resulted in a switch to hill climbing in 1951 and from there he moved into road racing with a Cooper-Bristol which had been shipped for him out from Europe. He found sponsorship to run the car but the Confederation of Australian Motor Sport forced him to remove the name of his sponsor from the car and Brabham decided that he would go racing in New Zealand instead. During this time, he picked up the nickname "Black Jack", which has been variously attributed to his dark hair and stubble, to his "ruthless" approach on the track.

McLaren and Brabham dicing late in the race

Having seen that he could be competitive with some of the best international racers, 1955 Brabham headed off to England, financing the trip by selling virtually every piece of motor racing hardware he owned. He later regretted selling his lathe and other workshop machinery. Ones in Europe, he send a letter of introduction to Maserati and Ferrari, and went by train to Moderna, first the Maserati factory and then to Ferrari. Ferrari turned him down. Jack will later say:
"Ferrari later turned me down and I had great pleasure in beating them."
Brabham briefly and unsuccessfully campaigned his own private second hand Formula One Maserati 250F during 1956, but his season was saved by drives for Cooper in sports cars and Formula Two, the junior category to Formula One.
There he raced a Cooper-Alta without much success. It was not until he switched to a Bristol engine that thing begun to improve and he was soon working at the Cooper Car Company in Surbiton where in lieu of payment, he was allowed to build a car which he raced and then sold. Back in the late 1950s, the UK and Europe were the global centers of motor sport; they probably still are. Arrivals from the colonies were viewed with some amusement and, tolerated. When Jack arrived at the Cooper Car Company to take up their offer of a car, he was shown a pile of tubes in a rack and told to start building, and before too long, the Coopers understood what they had on hands.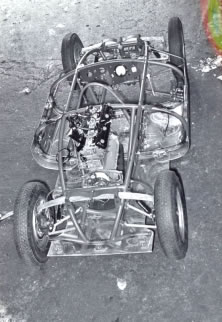 Bobtail - Cooper - Bristol without panels prepared for British GP 1955. Note the chassis.
He made his Grand Prix debut at the age of 29 driving the car at the 1955 British Grand Prix with Bobtail mid-engined sports car, intended for Formula One. It had a 2-litre engine, half a liter less than permitted, and ran slowly with a broken clutch before retiring.
Jack also competed in the US at Indianapolis, qualifying the first modern mid-engined car at the 500 and finished ninth.
Jack's engineering knowledge helped in the development of the Coopers, the first serious rear-engined grand prix cars, with which he won his 1959 and 1960 world titles. 1959 Cooper obtained 2.5-litre Coventry Climax engine for the first time and Brabham put the extra power to good use by winning his first world championship race at the season-opening Monaco Grand Prix after Jean Behra's Ferrari and Stirling Moss's Cooper failed. He took his first F1 crown in spectacular fashion at the United States Grand Prix, pushing his Cooper Climax across the finishing line after it ran out of fuel two corners before, to finish fourth and become Australia's first Formula 1 World Champion.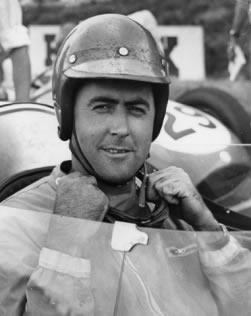 Brabham preparing for Brands Hatch race 1957
This year at the Portuguese Grand Prix at Monsanto Park, Brabham was chasing race leader Moss when a backmarker moved over on him and launched the Cooper into the air. The airborne car hit a telegraph pole, throwing Brabham onto the track, where he narrowly avoided being hit by one of his teammates but escaped with no serious injury. On the end, Brabham won the World Championship.
In 1960 he repeated this feat with a new low-line model, which included a streak of five straight victories. Brabham helped design the more advanced, low-line Cooper T53, including advice from Tauranac. Brabham spun the new car out of the next championship race, the Monaco Grand Prix, but then embarked on a series of five straight victories. He won from the front at the Dutch, French and Belgian Grands Prix, where title rival Moss was badly injured in a practice accident that put him out for two months. Two other drivers were killed during the race.
Unable to have greater input in car building, he went out on his own, forming Motor Racing Developments Ltd. (MRD) in 1961 in partnership with an old friend from Australia, Ron Tauranac. MRD initially produced cars for Formula Junior, with the first one appearing in mid-1961. Soon, Jack and Brabham cars were competing in what was then the 1.5 liter Formula One. A newly introduced engine limit in Formula One of 1500 cc did not suit Brabham and he did not win a single race with a 1500 cc car. It was left to American Dan Gurney to take the team's maiden victory at Rouen.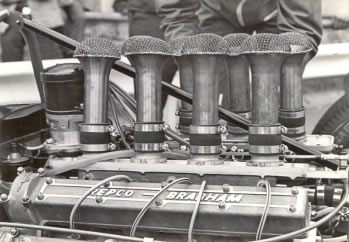 For 1966 and 1967, Repco and Brabham had been on top of the world.
For 1966 a new 3 liter formula came into existence. With the traditional engine companies all talking big V12 powerhouses, Jack reasoned that they'd probably have a hell of a time getting them sorted and reliable. In the meantime, something a little smaller and reliable might just do the trick. Brabham found an engine in his own backyard, he persuaded Australian engineering company Repco to develop a new 3-litre eight-cylinder engine for him.
"When Leonard Lee announced that his Coventry Climax company would not build racing engines for the new 3-litre F1 of 1966, we had to look elsewhere for motive power. Ron (Tauranac) and I contacted Repco in Australia. I believed the new Formula's opening races would see the big teams in development trouble with over-sophisticated new engines.
Repco of Melbourne had taken over the old Climax 4-cylinder FPF engine stock and its servicing for Tasman racing. By 1964-1965 they were keen to defend their market with a replacement engine. I pointed them towards a V8, perhaps based on a production cylinder block. A cast-iron "stock block" would have been too heavy so I hunted down a suitable aluminium one."
From that thought came the relationship with Repco, and a
ground-up V8 engine designed and built in Australia. Repco had no experience in designing complete engines and Brabham had find a supply of suitable engine blocks obtained from Oldsmobile's twin-cam F85 light-alloy block engine and persuaded the company that an engine could be designed around the block, largely using existing components. It was light and reliable, not as powerful as some of the ferocious V12s would be, but it was just the right thing at the right time. About finding the right engine block supply Jack was righting:
"In Japan in 1964, I inspected an alloy V8 Prince block - but with wet cylinder liners it looked too fragile. I then examined an alloy GM Buick block in a GM distributorship near Los Angeles Airport. Someone there suggested a near-sister unit, developed for a stillborn Oldsmobile project. It had one extra stud retaining each cylinder head. That offered greater potential. One cost pennies and I took it back to Melbourne and outlined a program to Repco's boss, Charles McGrath. The Oldsmobile block could provide a 2-1/2-litre V8 for Tasman racing and a 3-litre F1 V8 for us. It'd be a modest unit with chain-driven single overhead camshafts and two valves per cylinder but it should provide decent torque and drivability - we might just get lucky! Repco's consulting engineer was Phil Irving - an Australian of enormous experience, particularly with Phil Vincent on his world-famous motorcycles. Phil began drawing in Australia, and then came to Britain for 1965 taking a flat near Croydon where we spent hours in the evenings looking over his shoulder as he drew the first engine. Ron advised on location of ancillaries etc so this new V8 would fit our cars ideally.
"The first Repco V8 racing engines used original Oldsmobile blocks modified in Melbourne. We stiffened the bottom end with a steel plate with apertures allowing the con-rods to pass through and to which the big-end bearing caps were bolted. It produced a rigid, reliable, yet lightweight unit which was powerful enough!"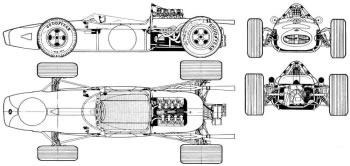 The combination of the Repco engine and the Brabham BT19 chassis designed by Tauranac worked. The Repco-Brabham would provide Brabham a car with which he won the French, British, Dutch and German Grands Prix and that year World Championship. Jack stated that the BT19 was "beautifully balanced" and he loved its readiness to "drift" through fast curves. Jack Brabham took his first Formula One world championship win since 1960 and became the first man to win championship in a car of his own construction. Only his two former team mates, Bruce McLaren (Belgium GP in 1968, McLaren-Ford) and Dan Gurney (1967 Belgian Grand Prix, Eagle-Weslake), have win the race in a car of his own construction. The unthinkable had been achieved – a driver from Australia had not only won his third world title, this one was in a car he'd built himself. Imagine the logistics alone – engines being built on the opposite side of the world, and flown backwards and forwards during development.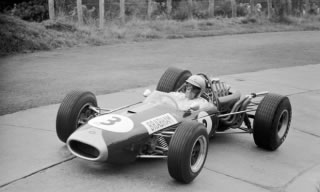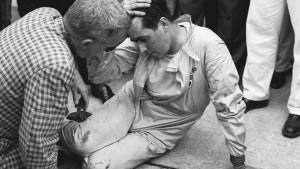 1966 Nurburgring, Germany, "the most satisfying" victory. on the top during the race, and exhausted after the race.
Perhaps his most famous race was at the extremely demanding Nürburgring, and one of his most satisfying of victories in 1966. Conditions at Nurburgring were variable all round the 14-mile (20-km) circuit. Some sections were almost dry, others merely wet and several "absolutely swimming", he commented.
The next year, 1968 season, would follow with another championship for the team, this time the title went to his teammate Denis Hulme. Jack suffered from the unreliability that comes with trying new things 'on the run'. He retired from the first seven races, before scoring two points for fifth place at the German Grand Prix. He retired from the remaining four races.
Eventually, the rest – particularly with the arrival of the brilliant Ford Cosworth engine – caught up and the Repco program came to its end. Brabham's cars switched to the ubiquitous Ford and remained among the most competitive cars for some years. 1968 belonged to Lotus and Ford-Cosworth despite the tragic death of Jimmy Clark. For 1969 Jack Brabham also had a Ford-Cosworth engine deal but a broken ankle during a test crash ruined his title chances.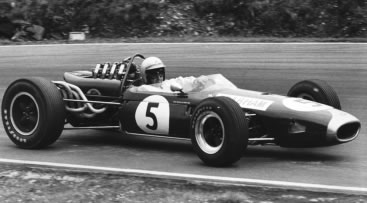 Following serious injuries to his foot in a testing accident in the 1969 season and under pressure from his wife, Brabham intended to retire in 1970 but he find impossible to hire top driver, he raced for one more year, Rather than going through the motions he won the season opener at the South African Grand Prix and led the always difficult Monaco Grand Prix until the final corner of the last lap while under pressure of the onrushing Jochen Rindt. The Mexican Grand Prix would be his last race but even at 44 his fires still burned strong.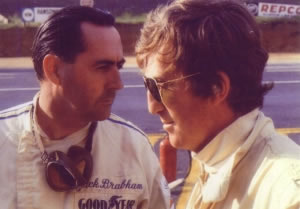 Jack Brabham and Jochen Rindt 1968, big friends
But during the qualifying for the Italian Grand Prix Jochen Rindt was killed in a needless crash driving a Lotus. This time Jack listened to his wife and at the end of the year hung up his white and gold helmet and walked away.
After retiring from driving he sold his interest in the team to his partner Ron Tauranac and returned to his native Australia to live on a farm and set up garage and car businesses, to the relief of his wife who had been "scared stiff" each time he drove. Later in his life Brabham would regret making such a clean break from Formula One. In an interview to Motor Sport Jack say:
"I felt very sad, [...] I didn't feel I was giving up racing because I couldn't do the job. I felt I was just as competitive then as at any other time, and I really should have won the championship in 1970. [...] I'd have been a lot better off if I'd stayed, but sometimes family pressures don't allow you to make the decisions you'd like to."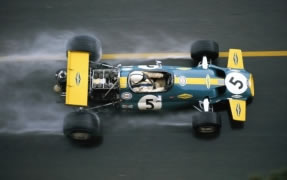 Brabhams last Formula 1 race car
Besides maintaining his garage business he still makes appearances at the various vintage races that seem to be springing up everywhere. Despite a large accident at the 2000 Revival, the first racing accident to put him in hospital overnight, he continued to drive until at least 2004. He also set up Engine Developments Ltd. (originally marketed as Jack Brabham Conversions) in 1971 with former Repco engineer John Judd, who had worked for Brabham on the Repco engine project in the mid 1960s. The company builds engines for many racing applications.
The Brabham team continued in Formula One, winning two further drivers' championships in the early 1980s under Bernie Ecclestone's ownership. Although the original organization went into administration in 1992, the name was attached to a German company selling cars and accessories in 2008, and an unsuccessful attempt to set up a new Formula One team the following year. On both occasions the Brabham family, which was not interested in the ventures, announced its intention to take legal advice. Brabham is a shareholder in Jack Brabham Engines Pty Ltd., an Australian company marketing Jack Brabham memorabilia.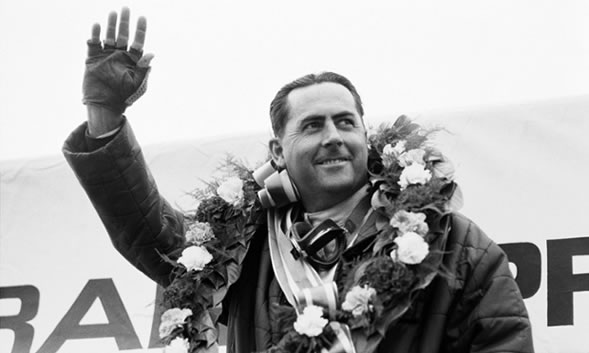 Brabham was the first post-war racing driver to be knighted when he received the honor in 1978 for services to motorsport.
By the late 2000s, ill-health was preventing him from driving in competition. In addition to the deafness caused by years of motor racing, his eyesight was reduced due to macular degeneration and he has kidney disease for which by 2009 he was receiving dialysis three times a week. Nonetheless, that year he attended a celebration of the 50th anniversary of his first world championship at the Phillip Island Classic festival of motorsport,  and in 2010 flew to Bahrain with most of the other surviving Formula One world drivers' champions for a celebration of 60 years of the Formula One world championship. Brabham was the oldest surviving F1 champion.
Brabham and his first wife Betty had three sons together: Geoff, Gary and David. All three became involved in motorsport with varying degrees of success, with support from Jack in their early years. Jack and Betty divorced in 1994 after 43 years. 1995 he married his second wife, Lady Margaret and they lived on the Gold Coast, Queensland, Australia.
Brabham made his last public appearance on 18 May 2014, appearing with one of the cars he built. In Australia he was one of the greatest sporting legends, while in the wider world he was one of the few whose name became synonymous with the sport.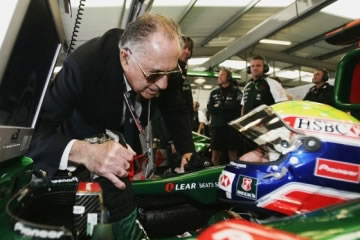 Brabham greets another Australian F1 driver, Mark Webber, in 2004
Given the enormity of the modern Formula One, Jack's achievement – winning in a car bearing his own name (and with an Australian-built engine) – simply cannot be repeated. He owns a unique spot in motor sport history and Australia should be very, very proud. He lived an incredible life, achieving more than anyone would ever dream of and he will continue to live on through the astounding legacy he leaves behind. He was one of only 4 Australians to win Formula 1 race. He won 14 between 1959 (the year he won the first of his three world championships) and 1970. Alan Jones, the 1980 world champion, won 12 GPs between 1977 and 1981, Mark Webber won nine between 2009 and 2012 and 2014 in Kanada was first win of Red Bull rocky Daniel Ricciardo.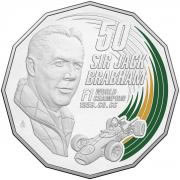 To show appreciation to Australia's most successful racing driver, country recognised all this through a commemorative 50cent coin by an iconic national institution, the Royal Australian Mint. The Coloured 50c uncirculated coin serves to pay tribute to his legacy of achievements and will be a collectors item among motorsport fans around the world and coin collectors alike. Just 30,000 coins will be minted, and are available from the Royal Australian Mint for $23.50 including receipted delivery.

Sir Jack Brabham, OBE - "The Legend" from jack-brabham-engines.com
Formula One World Drivers' Champion 1959, 1960 and 1966
Formula One World Constructors' Champion 1966 and 1967
Only driver in Formula One history to win the championship in a car of his own construction
British Saloon Car Championship 1965
Australian of the Year 1966
Awarded Order of the British Empire in 1976
Knighted for services to motor sport in 1979
Contested 126 Grand Prix from 1955 to 1970
Winner of both the Australian and New Zealand Grand Prix three times
Four time winner of the European Formula Two Championship
Fourteen Grand Prix wins
Thirteen Formula One Pole positions
Ten second and seven third place finishes
2006 recipient of Gregor Grant Award, AutoSport, UK
Voted "Australia's greatest driver" by panel of 16 judges "Auto Action"
Order of Australia 2008