Loading
Castor or Caster angle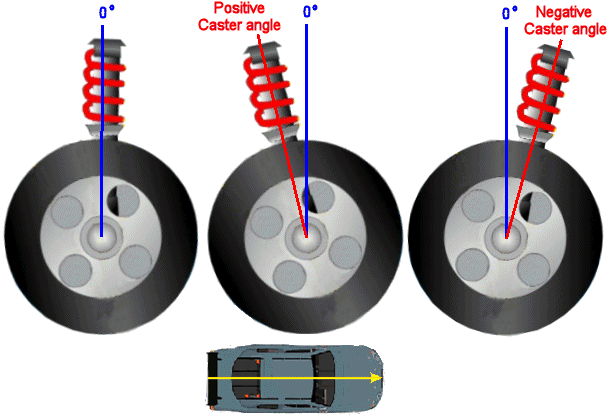 Simply, caster angle is the steering axis' angle of inclination to the the vertical. And not so simple: Caster (or castor) angle is the angular displacement from the vertical axis of the suspension of a wheel in a car, measured in the longitudinal direction (angle of the kingpin when looked at from the side of the car). This can be relatively easy to spot on a single seater racing car as the push/pull rod is exposed and can be clearly seen the angle between the upper and lower wishbone pickup points on the wheel hub. The angle at which it is leant back or forward provides a rough indicator of how much caster angle the car has, as it has to squeeze through the gaps in the wishbones from the base of the hub to reach the chassis.
It is the angle between the pivot line (in a car - an imaginary line that runs through the center of the upper ball joint to the center of the lower ball joint) and vertical. Caster angle can be adjusted to optimize a car's handling characteristics for particular driving situations.
The pivot points of the steering are angled in a way that a line drawn through them intersects the road surface slightly ahead of the contact point of the wheel. The purpose of this is to provide a degree of self-centering for the steering - the wheel casters around so as to trail behind the axis of steering. This makes a car easier to drive and improves its straight line stability (reducing its tendency to wander).
Improper adjustment will result in steering inputs required both into and out of a corners, resulting in a car which is difficult to keep on a straight line.  Too much caster (positive caster) and the front of the car will understeer more, too little (negative caster) and you will get oversteer handling characteristics. A large positive camber setting (wheel facing forward of axis) is good for high speed stability but can make it more difficult for turning the steering, excessive amounts will increase tire wear.
Excessive caster angle will make the steering heavier and less responsive, although, in off-road racing, large caster angles are used to improve camber gain in cornering.
All F1 cars run with at least a few degrees of positive caster angle – as far as I am aware there is no need to use a negative angle – and in some cases it can be over 10 degrees. The reason for this is, as I explained before, that it has a strong self-centering effect on the steering as torque is applied. The higher the angle the more self-centering the steering feels.