Loading
Aquaplaning
Aquaplaning is loss of road holding (traction and steering capabilities) caused by tires skimming over the surface of a wet track. When you aquaplane during the race, there is no question of skill. Before your internal gyros register that something is wrong, you are already in trouble.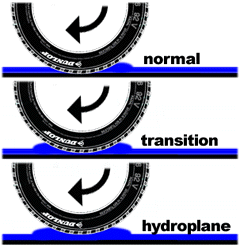 It occurs when a tire's tread pattern is unable to disperse sufficient water from the road surface. Levels of traction (and therefore control) decrease as the size of the contact patch decreases. Aquaplaning causes the tire(s) to lose contact with the road, making the vehicle uncontrollable.
Aquaplaning is the effect of a loss of steering control and traction caused by a film of water building between the tire and road surface.
Most drivers will, at some stage, experience this effect to varying degrees. As the tire travels in a forward direction it relies mainly on the tread pattern to "evacuate" water from the road surface to enable a contact with the tires tread pattern. Several factors can affect the resistance of a tire to aquaplaning such as vehicle speed, depth of water, tire pressures and, most importantly, the tread depth of the tires.
In wet weather, the racing tires that have been properly designed and are in good running condition can cut through the water and maintain contact with the road at high speeds. In cases where the wet racing tires are excessively worn (bald tires) or under inflated, or the water is very deep, you may still aquaplane at slower speeds.
Water depth: 5mm, new tires
Diving speed
20 km/h
60 km/h
80 km/h

100 km/h

Ground contact surface photo

Tire fully in contact with ground

Tire almost fully in contact with ground

Tire is partially floating up

Almost all tire is floating on water layer
Speed: 80 km/h, Water depth: 5mm
Tire Groove depth
New - 7.5 mm
3,2 mm
1.6 mm
Ground contact surface photo

Tire is partially floating up

Much of the tire is floating up

Almost all tire is floating on water layer
At higher speeds, the wedge of water in front of the tires may pass under the tires and the tires will ride on a cushion of water resulting in possible complete loss of traction.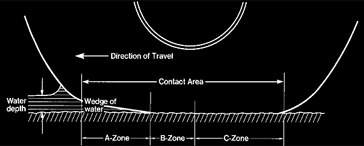 A) Sinkage zone: water forms a wedge that lifts the tread - no contact
B) Transition zone - partial contact
C) Contact zone - the tread is in contact with the ground

In the F1 racing, there is a specific tire used for a very wet track during heavy rain, intermediate tires are made for wet track or light rain, compared to a dry one with no groves.
Rain tires are very heavily grooved and the angle of these grooves is set to give the best water evacuation and the best wet performance possible at very high speeds. Cuts in their surface can clear 60 litres of water per second at full speed. But even with this ability to clear huge amounts of water, aquaplaning can occur either through sheer voume of torrential rain, or isolated puddles or rivers of water across the track.
Unlike aquaplaning in road cars, problem with an F1 car is that the water can build up both between the tires and track, and if there is really to much water, between the car's underbody and the track. In either case the grip between the tires and track is lost as the car runs on a film of water rather grippy asphalt - and there is no way to regain control once you start aquaplaning.
Bridgestone Potenza slick tires for dry track

Bridgestone Potenza Intermediate tires for light rain

Bridgestone Potenza full wet tires

The other risk from aquaplaning in Formula 1 car can happen when the car is literally lifted off the track by the barrier of water between the track and its underbody. Teams want to run plank as close to the ground as possible for aerodynamic reasons, and with such little ground clearance the risk of aquaplaning increases. In the wet conditions teams want to increase ride height even more to lessen the risk of plank aquaplaning. That's what is called "wet setup". This will, of course, come at the expense of downforce generation under the car, but in the wet aerodynamics become far less of a concern.