Loading
Understeer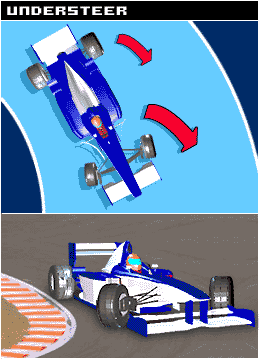 Understeering is the lack of responsiveness of the car's front in turning into a corner. That is, the car doesn't want to turn. Generally, Forward Wheel Drive and 4WD cars exhibit understeering characteristics.
Our aim is to get rid of understeer and oversteer as much as possible, since it ruins lap times and add to tire wear. Although in real life, a slightly understeering car (very slight) is always faster than an oversteering car. Adjusting more front wings on F1 car, born with to much understeer can reduce it to minimum, but adding drag value. Same, reducing rear wing angle can reduce understeer, but reducing drivability and downforce of the car.
Understeer an oversteer problems can be best fixed with fine tuning of suspension elements or changing the ballast position.

Oversteer and understeer are vital to understanding the way a car corners.
Understeer is inherently stable - once the car reduces speed sufficiently grip will be restored, which is why almost all road cars are set up to understeer at the limit of adhesion. But it also slows down a car, which is why Formula One chassis engineers try to avoid it. Oversteer is, by contrast, highly unstable. Unless a driver acts to correct it quickly with skilful use of steering and throttle it can result in a spin. But an 'oversteery' chassis helps the driver to turn into a corner and, at the limit of adhesion, it enables a skilled driver to carry far more speed through a corner than understeer. Which is why, to a greater or lesser extent, all Formula One cars are set up with an oversteer characteristic.