Loading
Helmet
Apart from inventing an aerodynamic device and becoming the last man to win a Grand Prix in a car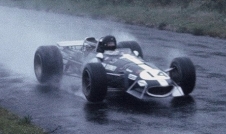 of his own design, Dan Gurney introduced the full-face helmet to F1 in 1968. Although he wasn't the first to wear a full-face helmet in a racing car — his protege Swede Savage, - an ex-biker, beat him to it in 1967 — Gurney it was one who brought the design to everyone's notice when he wore it for the first time at the Indy 500 in 1968 and, in F1, at the Nurburgring that same year.
The first full face motor racing helmet was developed by Dan Gurney in the 1960s. Gurney first wore the helmet at Indianapolis in 1968, and then became the first driverever to use a full face helmet in Grand Prix racing, at the 1968 German Grand Prix (picture on right). Dan experimented with various helmet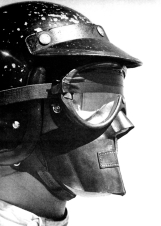 versions in his early racing days. This photo on left is probably taken as early as 1958 when he built a leather mask to cover his face. The mask was designed after he was "repeatedly hit by small stones bouncing off the surface of the track" that came at you like "bullets". His words: "I wasn't the shortest guy in racing, so I normally caught my share of things in the face. The full-face helmet was just so much better — like you were driving a coupe instead of an open roadster. I didn't know if it would work in the rain but, with anti-fog treatment on the visor, it turned out to be better in the wet, too. It was such a big leap forward it was sensational."
He first tested the mask at some open wheel races in 1962 but wasn't comfortable until it was refined. During the years that followed, he worked with Bell Helmets in California where he helped to develop the first full face helmet, first Bell "Star". He had seen motorcycle racers wear similar ones at dirt-track motorcycle racing at Ascot Speedway in Los Angeles. That was a complete solution already in use. In dirt-track racing the problem of flying stones was even worse — "like a fire-hose full of them" — and the bikers had an altogether superior defence against it: the full-face helmet, introduced by Bell Helmets, which extended the protection under the eyes, over the nose and mouth and down to below the chin.
Dan wore the first full face helmet at Indianapolis in 1968 and then also introduced it to Formula 1 racing at the British and German Grand Prix in 1968. He was at first a bit ridiculed but within months other drivers adopted the full face helmet and now we cannot imagine how they ever raced without them. Back on that cold August day in 1968, few would have guessed that Formula One would one day become a non-lethal sport.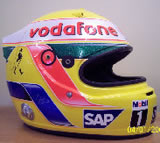 Today in Formula 1 and every high level class, every helmet is a uniquely tailored to the respective driver. Driver's head is scanned to create a life-size model, and in the next step the model head is wrapped, layer by layer, with 120 mats of the high performance carbon fiber T 800, where every thread consists of about 12,000 microthreads, each of which is about 15 times thinner than a human hair. The total length of all the threads processed in one helmet is approximately 16,000km.

Schuberth develops and manufactures high-tech helmets that are also preferred by many Formula 1 teams and drivers. Michael Schumacher, Rubens Barrichello, Felipe Massa and many other drivers rely on the individual and tailor-made helmets.

Scanning Barichelo head for new helmet
For tailor-made manufacturing, the 3D digitizing system records the shape of the racing driver's head. The result: A polygonal network which completely describes the shape of the head in detail. Then, using CAD, the helmet is constructed around the digitalized head.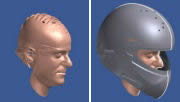 In case of suggestions regarding optimization - e.g. from the wind tunnel - it is possible to immediately check, if all minimum distances between helmet and head are met. Due to the Schuberth technology and the GOM measuring system, Rubens Barrichello's helmet just weighs 1050 grams and thus is about 500 g lighter than his old helmet. That way, during a race, the muscles of the neck are essentially relieved. The slender form of the helmet results in less air resistance and better streaming to the air box. Therefore, an increased power of about 10 HP is available.
The exact composition of the about 20 layers is a well-guarded secret for every manufacturer. Only three main substances are known: carbon fiber for the rigidity, fire-resistant aramide and polyethylene, known as Kevlar, which is also used for bullet-proof vests and is intended to make the helmet impenetrable. Helmet has an outside shell of carbon composite and a very cleverly designed inside part of the shell, which spreads the loads. Added to these three are aluminium, magnesium and, as a binding agent, epoxy resin. The helmets are extremely durable, but with a weight of about 1 - 1,5kg they are still relatively light and so reduce the strain on the neck and shoulder muscles of the drivers on tracks with particularly high g-force loads.

In the autoclave, the individual layers are bonded to one another and hardened under high pressure and at a constant temperature of 132°C. Parts subject to exceptional loads, such as the underside and the visor cut-out, are additionally reinforced using aluminium and titanium. The interior padding consists of two layers of fireproof Nomex.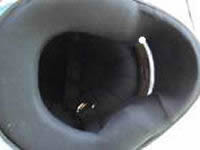 Interior padding of Massa Schubert 2007 helmet
The ventilation system is designed to allow about 10 liters of fresh air to flow into the helmets interior. A filter cleans the air of even the finest motor oil, carbon and brake dust particles.
The three millimeter thick helmet visor made of fire-resistant polycarbonate ensures that the driver can always see clearly. The visor's tint, on some more advanced helmets, adjusts in fractions of a second to changes in the lighting conditions, such as in the famous tunnel in Monaco.
Given all this high technology, it is hardly surprising that the visor is heated.
On the visor, drivers always apply 4 to 5 tin transparent plastic of tear-off layers. When first layer start to be dirty, driver simply tear off this layer to regain clear vision again.
As with all aspects of the sport's safety, the FIA sets the standard, and the governing body's most recent evolution of their helmet regulations, FIA 8860-2004, was developed over an eight-year period. Drafted by UK testing facility, Transport Research Laboratory (TRL), the new criteria were adopted by the three main Formula One helmet manufacturers, Arai, Bell and Schuberth, and the resulting homologated helmets were made compulsory by the World Motor Sport Council in 2004.
Before the FIA grants its approval for a helmet to be used by an F1 driver, it has to pass a number of different crash tests. During the so-called 'penetration test' a 3kg, pointed metal object is dropped from a height of three meters onto the helmet, which must remain unruptured. Subjected to a load of 38kg, the chin strap may not stretch by more than 30mm. The visor is bombarded with projectiles traveling at approximately 500km/h. The points of impact may be no deeper than 2.5mm. Helmet is then subjected to an 800°C flame for 45 seconds in the fire test. During this time, temperatures inside the helmet may not exceed 70°C.
Helmet is the most important part in driver's safety, and plays an important role in the car's aerodynamics. The helmet area is one of the most turbulent places of an F1 car, and it is the aim of helmet designers like SCOTT, Schubert, Arei and Bell to decrease that unwanted side-effect. Modern helmet is designed with spoilers that guides more air into the airbox above the driver's head, and in this way it may increase engine power, and overall speed. If helmet is not designed properly, it can create real problems for driver during the race. Because of its round design, helmet can develop uplift and start to pull driver head with force. That's what happened to Massa during race in Suzuka 2002, because one of helmet spoilers was broken and fall off.
Helmet designers should not forget to incorporate helmet ventilation change possibilities, space and opening to allow a straw reach the driver's mouth for drinking during the race.
The following illustration shows all important parts of what may become a standard F1 helmet. The mouthpiece is similar to that of a fighter pilot and will enable driver to breathe as the helmet will be sealed in order to muffle the noise.
Helmet is designed by Schubert for Michael Schumacher. Still in prototype faze, and was never used in race.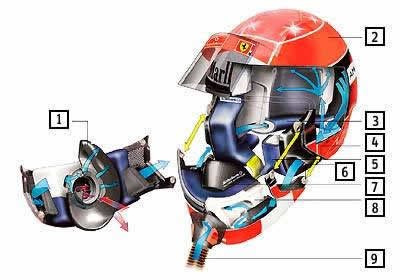 1. Interior Mask
2. Helmet Shell With
Interior Battery
3. Silencer Element
4. Bolting Device
5. Titanium Locking Pin
6. Titanium Locking Pin
7. Interior Mask
8. Resonance Muffler
9. Ventilation Connector
Heated Fog Free Visor
Sebastian Vettel wearing an Arai helmet was seen in the wet Jerez tests with this heated Visor. Not new to F1, as Schuberth Helmet wearers raced a similar solution a few years ago. The wires leading into the visor, pass a current to a heated film inside the visor to prevent fogging in the cold and wet conditions.
Quote from my 2008 Monaco GP technical review on Autosport.com
"One feature not seen in a race before was a novel anti-fog visor used by the Schuberth-helmeted drivers (including the Ferrari drivers and Nico Rosberg). We have seen drivers struggling to stop the inside of the visor from misting during previous wet races, as the hot breath from the drivers' exertion condenses on the cold visor.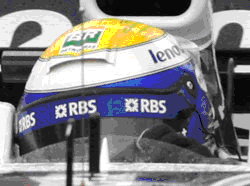 Some drivers prop open the visor a little to let air pass inside, or use a double-glazing like inner visor. Schuberth's solution was to place an electric element inside the visor, to heat the visor slightly.
Much like the demisting element in car windscreen, this prevents the breath forming a mist inside the visor. At the moment the visor is an add-on to the standard RF1 helmet, so the electric cable feeding the element runs exposed down the side of the driver's element to connect via a plug into the car's electrical loom."
Super Visor - Formula One helmets become even safer, 30 Mar 2011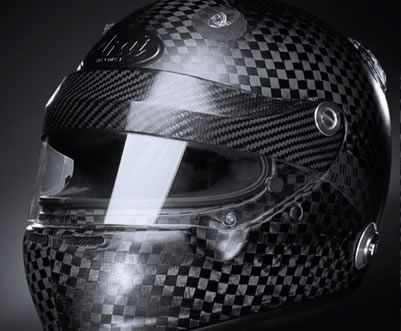 Black, mean and no-nonsense - the helmet pictured here is the zenith of driver head protection. A mere 1,200 gram carbon-fibre shell that can withstand the crushing force of a 55-tonne tank without deforming, and an 800 degree Celsius fire for 45 seconds without its interior rising above 70 degrees Celsius. This FIA-prescribed 8860 racing helmet reached such a peak after years of research and development led by the FIA Institute and leading helmet manufacturers.
And this season all 8860 helmets will feature a new refinement, a Zylon strip across the top of the visor (also indicated on picture but in prototype carbon-fibre form) that will significantly enhance protection in one of its unavoidably weaker areas - the visor, a polycarbonate medium that of necessity isn't as strong as the overall shell.

The vulnerability of the visor area was exposed at the 2009 Hungarian Grand Prix, when the helmet of Ferrari driver Felipe Massa was struck by 750gram spring that had become detached from the Rubens Barrichello Brown Racing car ahead. The spring hit Massa's helmet at precisely the point where visor and helmet shell meet at speed of 260 km/h (160 mph). Massa suffered a serious head injury and, while he has made a full recovery, the incident prompted drivers to ask whether further safety enhancements to the visor area could be made.

The Zylon strip, 50mm tall across the full width of the visor, is the answer. It overlaps the top 25mm of the visor itself and extends 25mm above the helmet shell edge - dimensions that ensure extra protection without further restricting driver vision. It's a neat arrangement, occupying as it does the area currently covered by advertising strips, so there's no commercial downside to improved driver protection.

Andy Mellor, the FIA Institute technical adviser, explains that Zylon is subtly different from the carbon fibre used elsewhere in the helmet shell: "In tests we found that Zylon was better than carbon fibre for this application as it offers better energy-absorbing qualities. Our goal for the visor was to get the best performance-to-weight ratio for whatever material we chose. We've added about 70 grams to the visor, but we have doubled its impact performance."

Zylon, a synthetic polymer, is already used widely in high-profile applications, such as ballistics-resistant body armor, snowmobile drive belts and the rigging on racing yachts. It is also a familiar material to motorsport engineers - since 2007 the cockpits of Formula One cars have been Zylon-clad and their wheel tethers are made from Zylon.

The introduction of the strip marks only the first phase of planned enhancements to visor safety. The FIA Institute and helmet manufacturers are currently researching the use of high-performance optical materials - transparent ceramics - as the main visor medium.
Keep in mind, if you purchase a "novelty" helmet without any of these safety ratings, you may look the coolest, however the degree of protection you'll receive in the event of a crash will be minimal. How cool will you look then?
So, if so many manufacturers claims they are "The Best", Why Aren't All Helmets Snell Certified?

Some helmet manufacturers do not believe that they need such certification to demonstrate that theirs is quality protective headgear.
Some are content with meeting the minimum requirements for helmet safety.
Some helmet manufacturers try to meet Snell guidelines and just can't make the grade.
Some helmet makers could care less about the consequences of making an inferior safety product. Instead, they opt for the best "look", or the cheapest price.
To read and find a helmet standards and year of manufacturing you have to look after some kind of sticker on the back on the helmet, label in the crown of the helmet, label sewn onto the chin strap or padding liner. Each standard or certification regulate specific positioning of the sticker. Snell and ECE standards in a lot of cases do not have dates of manufacture but these can be identified by the standard numbers.
If you own a helmet and it does not have a date of manufacturing or can't find a standards number etc, what you can do?
Remember that it is your responsibility to prove the authenticity of the helmet standard. If you are not sure go back to the supplier of the helmet and request documentation.
Still not sure – give your National Steward organization a call or e-mail them. You won't be the first.
The Snell Memorial Foundation (SMF) is a non-profit organization dedicated to the research, education, testing, and development of helmet safety standards.
Each segment of racing vehicles has its own Snell Standard Rating. The standards you will encounter are related to automotive, kart (K2005), and motorcycle racing (M2005).
Ratings are determined by a battery of tests conducted in SMF's state-of-the-art testing facility. Included are test for Impact, Positional Stability, Dynamic Retention, Face shield Penetration, Flame Resistance, etc. Snell certification test require a chin impact test as well (just like ECE although at different speeds I believe) for helmets that are certified as such. Snell 2010 test is now a closer match to the ECE test speeds and impact criteria.
The Snell rating is a more stringent rating, and is completely voluntary, meaning that helmet manufacturers can choose whether or not they wish to meet Snell's advanced safety guidelines. Snell standards are set to levels that only the best, most protective headgear will meet. List of Snell certified helmets in USA can be find here.
What does this mean to you, the consumer? It means that you have a way to differentiate between quality-assured products and untested products. A driver helmet that is certified to meet Snell standards has been laboratory tested and has passed the requirements of the tests. Those manufacturers who certify their products as Snell approved demonstrate their commitment to providing the highest levels of safety for their customers. Depending on the manufacturer some helmets will have the certification label on either the back of the helmet or on the inside liner.
TÜV SÜD AG is a leading technical service company active in the Industry, Product and Transport sectors. Its range of services encompasses consultancy, inspections, tests and expert opinions, as well as, certification and training. Its objectives are reliability, safety and quality, as well as environmental protection and cost. Newton Laboratory is the best known lab for TUV testing of helmets for auto, motto and bike racing use, and has been accredited since 2004 by FIA to complete the certification tests according FIA8860 on helmets and according FIA8858 on head restraint device. Since 2009 Newton has been recognized by SFI-USA to complete the certification tests of helmet for car races and by SNELL–USA to complete the certification tests according the Snell/FIA Helmet Standards For Use in Children's Motorsport.
The TUV partners with leading industry manufacturers in numerous areas related to safety, internal manufacturing processes and product quality, and codes/standards development. They perform research, testing and certification for nearly every part of a vehicle imaginable, from tires to electronics to glass, plastics, fabrics and engines.
Products sporting the "TUV Homologated" stamp ensure that you, the consumer, will receive and experience premium performance via quality and safety.
FIA Homologation:
Since its birth in 1904, the Fédération Internationale de l'Automobile (FIA), has been dedicated to representing the interests of motoring organizations and motor car users throughout the world. It is also the governing body of motorsports worldwide.
This combination of road and track gives the FIA a unique responsibility as an independent world body concerned with a wide range of automotive, motoring and mobility issues.
The FIA is a non-profit association which brings together 222 national motoring organizations from 130 countries on five continents. Its member clubs represent over 100 million motorists and their families. This is a powerful mandate which the FIA is proud to defend. On issues such as safety, mobility, the environment and consumer law the FIA actively promotes the interests of motorists at the United Nations, within the European Union and other international bodies.
Products sporting the "FIA Homologated" stamp ensure that you, the consumer, will receive and experience the premium performance, quality, and safety afforded by contributions from FIA's global network of interested and pro-active members to affiliated manufacturers.
In order for a protective helmet to be considered for approval to this specification, it must be shown to be certified to one of the FIA standards listed in the Technical list No: 25 that are approved at the time of submission. This specification has been developed to be complimentary to the test methods and criteria specified by Snell SA2000. Homologation procedure for helmet can be find here.
The standard commonly referred to as "ECE 22.05" should probably more accurately be called "Regulation No. 22" because over 2 hours of searching while researching this article came up empty on any search results for "ECE 22.05". Here is the direct link for the .pdf file of Regulation No. 22 "Protective Helmets and their visors for drivers and passengers of motor cycles and mopeds", which actually doesn't use the phrase "ECE 22.05", so I wonder where the term came from?
The CE mark certifies that a product has met European Union health, safety, and environmental requirements, which ensure consumer safety. By affixing the CE marking, the manufacturer, its authorized representative, or person placing the product on the market or putting it into service asserts that the item meets all the essential requirements of the relevant European Directive(s).
ECE test require a chin impact test as well (just like Snell although at different speeds I believe) for helmets that are certified as such.
So, if you happen to live in Europe, you may rest assured that any product stamped with this mark is deemed safe according to your governing region's standards and requirements for public health and safety.
The ECE standard requires that the helmet has a label sewn onto the chin strap or padding with the ECE test number on it. The date of manufacturing can sometimes be found on the back of the helmet. This is the only way of having a ECE approved helmet in Europe. So the sticker on the back of the helmets sold in the USA/Canada that says ECE & DOT means nothing as far as acceptance in Europe is concerned if it doesn't also have the sewn sticker. This is important for people buying one of these helmets and thinking of taking it to Europe for vacation. Fines in countries that only accept ECE helmets are very high. Particularly in Italy. The only labeling on some helmets maybe E3 (any number between E1 and E16) in a circle. The E is the homologation mark for ECE 22. The number following represents the country granting the homologation.
More and more products are required to bear the CE Marking for gaining access to the EFTA & European Union market. However, many non-EU exporters are still unaware of or unsure about this fact and its impact on their business.
The DOT rating (U.S. Department of Transportation), Federal Motor Carrier Safety Administration, Part 571, which contains the 571.218: Standard No. 218; Motorcycle Helmets that is colloquially known as the "DOT helmet safety standard" simply indicates that a manufacturer believes that its helmet meets the basic DOT standards, without any actual testing on the helmets themselves. In that sense, DOT ratings are fairly easy to come by, and virtually anybody can make and sell a helmet with a DOT sticker. DOT standard was first time published under section 103 of the National Traffic and Motor Vehicle Safety Act of 1966, and was amended several times since then, with the last revision having been published way back in 1988, April 15th, to be exact. The 1988 version is still in effect but there is an updated version stuck in some drawer in the Office of the General Counsel at NHTSA, and should be out any week/month/year now.
Much has changed in the world since then, with technology, traffic and vehicle differences and in motorcycling and motorcycle helmets, so I'll leave it up to you to decide the merits of using a safety standard that hasn't changed in 22 years. Although I suppose we can look at the bright side and imagine that the standard is so good that it doesn't need to be changed, right?
Fortunately, DOT personnel periodically buys helmets and sends them to independent labs for testing to assure that they actually do meet the standard. The results are posted on the NHTSA website in a pass/fail form. You might be surprised to learn that more than half of all helmets recently tested with the DOT sticker on them actually failed DOT's lab tests. Check it here!
---
Helmet paintwork
Best known helmet paintwork design company is British "JLF Design" Established In 1991 by Jason Fowler, JLF Designs have become the leading helmet paintwork specialists, with an enviable reputation for innovation and high quality artwork. Customer list includes some of the biggest names in Formula 1, GP2, DTM, MotoGP and Karting.


Another well known helmet paintwork design company is Italian "Lucky Designe" Established by Luca Dalia. After years of experience as an art designer in ceramic firms, decides in 1992 to build up a flourishing business, where he concentrates all his passion for the design and for colors, that through the aerograph bring on the driver helmets. Again, customer list includes some of the biggest names in Formula 1, GP2, DTM, MotoGP and Karting.
2012, after 20 years of high level karting and Sport-cars competition, Valentin Belgy took over "BS Designs" with the clear idea to better serve drivers by listening and understanding their needs. This approach pushes Valentin Belgy to develop narrow relationship with drivers and riders. All "BS Designs" energy is put to obtain an unique helmet, reflecting the personality of each customer. Highly recommended by numerous drivers, "BS Designs" gained a good notoriety in the world of Karting and Sport-cars by offering unique products to the one s who wish to stand out from the mass. Whell known design was Nicky Hayden tribute helmet for Romain Grosjean 2017 US GP.

---
At the beginning of 2015, FIA has published new helmet livery regulation intended "to have stability so people can identify who is in the car", and to make the drivers more recognizable.
Article 21.1 of the F1 Sporting Regulations now states: "In order for drivers to be easily distinguished from one another whilst they are on the track, the crash helmet of each driver must be presented in substantially the same livery at every event during a Championship season."
Drivers will now be restricted in the number of changes they can make to their helmet design during each season. The rule was voted through in January 2015, and has now been formally adopted in the FIA's 2015 F1 Sporting Regulations.
That FIA move has not gone down well with some drivers. Button, Weber, Vettel and some others are not happy. Vettel who usually changes his helmet every race, added: "I think it's a joke to be honest. There are more important things to decide for the future of Formula 1 and that seems to be the only one they can conclude on." I can't argue with him about that!
Drivers initially accepted the situation but more recently have begun lobbying the FIA to allow a little leeway.
That came ahead of the Monaco Grand Prix 2016, with the FIA agreeing that each driver would be allowed one special livery each season. An FIA spokesman said: "We have given each driver one 'joker' which will allow them to use a different helmet design at one race, e.g. his home race."
---
Helmet trough history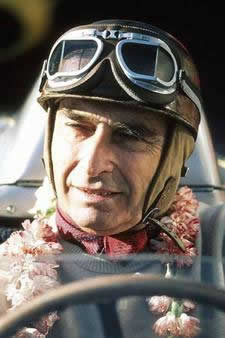 Juan Manuel Fangio helmet made of pressed animal skin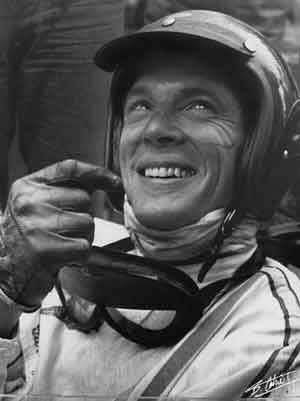 Dan Gurney, 1964, GP of France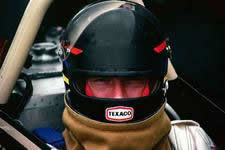 James Hunt (GBR) Wolf WR7 Brazilian Grand Prix, Interlagos, Brazil, 4 February 1979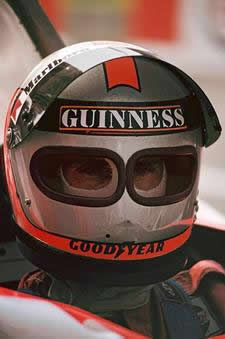 John Watson (GBR) McLaren M29, wears a distinctive Bell
twin window helmet. Italian Grand Prix, Monza, Italy, 9 September 1979
| | | |
| --- | --- | --- |
| | | |
| Schumacher 2004 Schuberth helmet with HANS and drinking tube attached | Jenson Button Silverstone 2008 helmet, Designed by fan's - Bell | Fisichella 200 race anniversary helmet - Arai |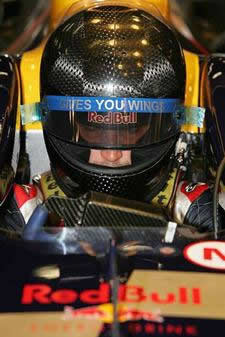 Vitantonio Liuzzi helmet in carbon fiber color