Loading
F1 drivers deceased behind racing car wheel between 1986 and 1990
Max Mosley, when President of the FIA:
"We're doing everything to reduce the probability of injury on the understanding it can never be zero."

Denny Hulme, Formula 1 driver:
"We didn't know any better in the old days. Now we've got the most incredibly hygenic circuits you have ever seen. Some people criticise them. They say it's terribly boring motor racing. Yes, compared to the old Nürburgring it is… but it's better than going to a funeral every Tuesday morning."
Drivers with their names marked in red died at an official Formula One Championship race.
On this list are only the drivers who competed on Indianapolis 500 plus at least one FIA World Championship race.
To know more about safety in Formula 1, development in safety after incidents and tragedies, check article about safety.
1986 - Elio De Angelis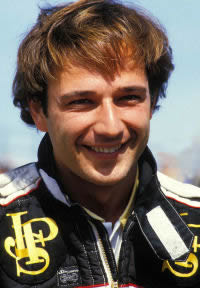 Elio de Angelis was an Italian racing driver who participated in Formula One between 1979 and 1986, racing for the Shadow, Lotus and Brabham teams, and is sometimes referred to as Formula One's "last gentleman player".
His debut F1 season was in 1979 with Shadow. He finished 7th in his maiden Grand Prix in Argentina and closed 15th in the championship with 3 points. In 1980 he switched to Lotus and - at the age of 21 - nearly became the youngest Grand Prix winner of all time when he finished a tantalizing second at the 1980 Brazilian Grand Prix at Interlagos. His first victory came in the 1982 Austrian Grand Prix at the Osterreichring, only 0.05 seconds ahead of Keke Rosberg. The win was hailed by Colin Chapman's famous act of throwing his cloth cap into the air.
1986 was with BMW powered Brabham BT55 as a replacement for twice World Champion Nelson Piquet.
During tests at the Paul Ricard circuit at Le Castellet 1986 in France, the rear wing of the BT55 came off at high speed, making the car lose downforce on the rear wheels, cartwheel over a barrier and catch fire. The impact did not kill de Angelis but, tragically, he could not get out of the car unassisted. The situation was exacerbated by the lack of marshals on the French circuit, or indeed anyone who could have assisted. He died 29 hours later in the hospital in Marseille to which he had been taken, from injuries caused by the smoke inhaled during the accident. His only other injuries were a broken collar bone and light burns on his back.
De Angelis was the last driver to die in an F1 car until Roland Ratzenberger at Imola eight years later.
Grand Prix Starts 108
Grand Prix Wins 2
Pole Positions 3
Grand Prix Points 122
1986 - Jo Gartner (A)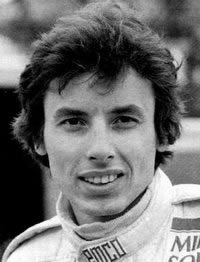 Jo Gartner was a Formula One and sports car endurance driver from Austria. He participated in eight Formula One Grands Prix for Osella, debuting on 6 May 1984, scoring no points. Despite finishing fifth at the 1984 Italian Grand Prix, he was awarded no points because Osella had officially entered only one car for the season, and Gartner was driving a second car. He came fourth in the 1984 24 Hours of Le Mans in a Porsche 962C along with teammates David Hobbs and Guy Edwards, finishing on three wheels.
He caused quite a stir after winning the 1986 12 Hours of Sebring, along with teammates Bob Akin and Hans-Joachim Stuck.
Whilst contesting the 1986 24 Hours of Le Mans at 2:10 am on the Sunday, Gartner's car suffered a mechanical failure and turned hard left into the barriers on the Mulsanne Straight at 260 kmh. The car somersaulted down the track and caught fire resting on the barriers on the opposite side of the track. Gartner was killed on impact.
Grand Prix Starts 8
Grand Prix Wins 0
Pole Positions 0
Grand Prix Points 0
Sorted by the year:
1950 - 1955, 10 drivers died
1956 - 1960, 20 drivers died
1961 - 1965, 6 drivers died
1966 - 1970, 18 drivers died
1971 - 1975, 10 drivers died
1976 - 1980, 3 drivers died
1981 - 1985, 5 drivers died
1986 - 1990, 2 drivers died
1991 - 1995, 3 drivers died
1996 - Today, 4 drivers died

To know more about safety in Formula 1, development in safety after incidents and tragedies, check article about safety.