Loading
F1 drivers deceased behind racing car wheel between 1991 and 1995
Max Mosley, when President of the FIA:
"We're doing everything to reduce the probability of injury on the understanding it can never be zero."

Denny Hulme, Formula 1 driver:
"We didn't know any better in the old days. Now we've got the most incredibly hygenic circuits you have ever seen. Some people criticise them. They say it's terribly boring motor racing. Yes, compared to the old Nürburgring it is… but it's better than going to a funeral every Tuesday morning."
Drivers with their names marked in red died at an official Formula One Championship race.
On this list are only the drivers who competed on Indianapolis 500 plus at least one FIA World Championship race.
To know more about safety in Formula 1, development in safety after incidents and tragedies, check article about safety.
1992 - Dennis Danny Hulme (NZ)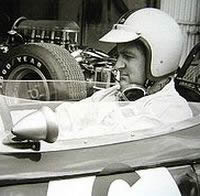 Denis Clive "Denny" Hulme was a car racer from New Zealand and the 1967 Formula One World Champion for the Brabham team.
Before 1960 he was known for his preference for driving barefoot and it was not until 1960 that people convinced him to start racing with shoes on. His nickname at the time was "The Barefoot Boy From Te Puke". His nickname in his later racing life was "The Bear" due to the fact he could be irascible and even rude with those who rubbed him up the wrong way. Hulme later went on to race for McLaren in Formula One.
He enjoyed competing in historic events and was also successful in saloon and truck racing. After leaving the sport, Hulme led the GPDA (Grand Prix Drivers' Association) for a brief period, but continued to race Australian Touring Cars.
His favorite event was Australia's Bathurst 1000km touring car race. During the 1992 edition of that race the Denny Hulme-driven BMW M3 suddenly coasted to a halt along one of the straights, bumping gently up against the barriers. Marshals ran to the car and inside it found the 1967 World Champion dead from a heart attack.He was 56 years old.
Grand Prix Starts 112
Grand Prix Wins 8
Pole Positions 1
Grand Prix Points 248
1994 - Roland Ratzenberger (A)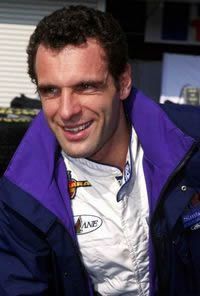 Roland was an Austrian racing driver who died during qualifying for the 1994 San Marino Grand Prix, the same event that saw the death of three-time Formula One world champion Ayrton Senna.
Ratzenberger often claimed 1962 (rather than 1960) as his birth year, wanting to appear younger to extend his racing career. He began racing in German Formula Ford in 1983 and in 1985 won both the Austrian and Central European Formula Ford championships. Two years in British F3 yielded two twelfth places in the championship with West Surrey Racing and Madgwick Motorsport. He also raced in other formulae than single seaters, once finishing second in the 1987 World Touring Car Championship driving a Team Schnitzer BMW M3. In 1988 he entered the final few rounds of the British Touring Car Championship in a class B BMW M3 for the Demon Tweeks team.
In 1989 he entered the British Formula 3000 series, finishing third overall. In the nineties Ratzenberger switched to Japanese racing. He won one race each in 1990 and 1991 in the Japanese Sports Prototype Championship with the same SARD team he drove for at Le Mans. He also returned to touring car racing in the Japanese Touring Car Championship, finishing seventh in 1990 and 1991 in a BMW M3. In 1994 he finally achieved his ambition of becoming a Formula One driver, signing a five-race deal with the new Simtek team run by Nick Wirth. His campaign got off to a poor start at the Brazilian Grand Prix in Interlagos where he failed to qualify. But he got onto the grid for the next round at the TI Circuit in Aida, Japan, as his experience of the track from his touring car days meant he was the only driver in the race who had driven at the venue before. He finished eleventh.
Ratzenberger was 33 years old when was killed during qualifying for the San Marino Grand Prix at the Imola circuit on Saturday 30 April 1994. He went off-track on the previous lap, damaging his front wing, but rather than come into the pits he continued since he was competing for the final grid spot. Subsequently, the high speed on the backstraight, and therefore high downforce pressure on the front wing, finally broke the wing off, sending it under Ratzenberger's car. He lost the steering capabilities and his car failed to turn into the Villeneuve Corner and struck the outside wall at 314.9 km/h. After the car carried on down the track, spinning around and stopping at the next corner, Ratzenberger's lolling head was revealed.
The cause of death was a basal skull fracture. A gathering of 250 mourners attend Ratzenberger's cremation ceremony in his native Austria. Among them are Berger and Wendlinger, as well as Niki Lauda and Frentzen. FIA president Max Mosely attends the Austrian's funeral instead of Senna's.
Grand Prix Starts 1
Grand Prix Wins 0
Pole Positions 0
Grand Prix Points 0

1994 - Ayrton Senna (BR)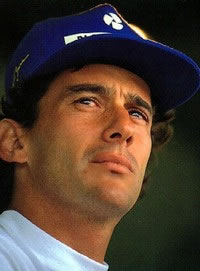 Ayrton Senna da Silva, was a Brazilian race car driver and three-time Formula One world champion. He was killed in a crash while leading the 1994 San Marino Grand Prix, and remains the most recent Grand Prix driver to die at the wheel of a Formula One car.
Senna began his motorsport career in karting and moved up the ranks to win the British Formula 3 championship in 1983. Making his Formula One debut with Toleman in 1984, he moved to Lotus-Renault the following year, and won six Grands Prix over the next three seasons. In 1988 he joined Frenchman Alain Prost at McLaren-Honda. Between them, Senna and Prost won fifteen out of the sixteen Grands Prix which took place that season, with Senna winning his first World Championship, a title he would go on to win again in 1990 and 1991.

McLaren's performance declined in 1992, as the Williams-Renault combination began to dominate the sport, although Senna won five races to finish as runner-up in 1993. He moved to Williams in 1994.
Senna is regarded as one of the greatest drivers in the history of Formula One. He was recognized for his qualifying speed over one lap and held the record for most pole positions from 1989 to 2006 until this record was broken by German driver Michael Schumacher. He was among the most talented drivers in extremely rain-affected conditions, as show by his performances in the 1984 Monaco Grand Prix, the 1985 Portuguese Grand Prix, and the 1993 European Grand Prix. He also holds the record for most victories at the prestigious Monaco Grand Prix (6) and is the third most successful driver of all time in terms of race wins.
However, Senna courted controversy throughout his career, particularly during his turbulent rivalry with Alain Prost, which was marked by two championship-deciding collisions at the 1989 and 1990 Japanese Grands Prix.
On May 1, 1994, in the San Marino Grand Prix, Senna again placed the car on pole for the 65th and final time, but he was particularly upset by two events. On Friday, during the afternoon qualifying session, Senna's protégé, then F1 newcomer Rubens Barrichello was involved in a serious accident that prevented him from competing in the race. The next day Austrian driver Roland Ratzenberger was killed in qualifying. Senna spent his final morning meeting fellow drivers, determined after Ratzenberger's accident to take on a new responsibility to re-create a Drivers' Safety group (i.e. Grand Prix Drivers' Association) to increase safety in Formula One. As the most senior driver, he offered to take the role of leader in this effort. Senna and the other drivers all opted to start the Grand Prix, but the race was interrupted by a huge accident at the start line. A safety car was deployed and the drivers followed it for several laps. On the restart Senna immediately set a quick pace with the third quickest lap of the race, followed by Michael Schumacher. As Senna entered the high-speed Tamburello corner on the next lap, the car left the track at high speed, hitting the concrete retaining wall at around 217 km/h.
Senna was removed from the car by Sid Watkins and his medical team and treated by the side of the car before being airlifted to Bologna hospital where 34 year old Senna was later declared dead.
What had likely happened was that the right front wheel had shot up after impact violated the cockpit area. It impacted the right frontal area of his helmet, and the violence of the wheel's impact pushed his head back against the headrest, causing fatal skull fractures. A piece of upright attached to the wheel had partially penetrated his helmet and made a big indent in his forehead. In addition, it appeared that a jagged piece of the upright assembly had penetrated the helmet visor just above his right eye. Any one of the three injuries would probably have killed him. As track officials examined the wreckage of his racing car they found a furled Austrian flag, a victory flag that he was going to raise in honor of Austrian Roland Ratzenberger, who had died on that track the day before.
To this day, the cause of the accident has still not been fully determined with theories ranging from a steering column failure to the car simply bottoming out over the bumps on the Tamburello corner.
 A state funeral is held in Sao Paulo for Ayrton Senna. An estimated three million people line a 20 mile route as his coffin is escorted from the airport to the city. Several drivers attend as pallbearers, including  Emerson Fittipaldi, Alain Prost, Christian Fittipaldi, Jackie Stewart, Roberto Moreno, Johnny Herbert, Wilson Fittipaldi, Gerhard Berger, Rubens Barrichello, Thierry Boutsen, Raul Boesel, Michele Alboreto, Pedro Lamy, Damon Hill and Derek Warwick.
World Championships 3
Grand Prix Starts 161
Grand Prix Wins 41
Pole Positions 65
Grand Prix Points 610
Sorted by the year:
1950 - 1955, 10 drivers died
1956 - 1960, 20 drivers died
1961 - 1965, 6 drivers died
1966 - 1970, 18 drivers died
1971 - 1975, 10 drivers died
1976 - 1980, 3 drivers died
1981 - 1985, 5 drivers died
1986 - 1990, 2 drivers died
1991 - 1995, 3 drivers died
1996 - Today, 4 drivers died

To know more about safety in Formula 1, development in safety after incidents and tragedies, check article about safety.