Loading
Wheel shrouds and
Static wheel fairing
For paddock insiders, when you say "wheel shrouds" you are thinking about rear wheel covers. When you say "Static wheel fairing" you are talking about front wheel static covers.
Let's start with wheel shrouds because they appeared first
At the start of the 2006 season Ferrari was seen to be using an outward extension of each of the carbon fibre drums enclosing its rear brakes, apparently encouraging air heated by brake operation to exit through the wheel spokes rather to interfere with the flow between wheel and car body. By Imola, round four, the Ferrari had a carbon fibre ring acting as lip flush with the outer circumference of the magnesium wheel rim: the first small step towards an Indy Car-style wheel cover.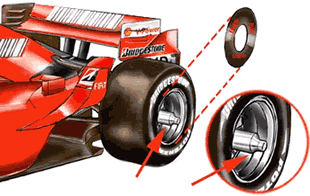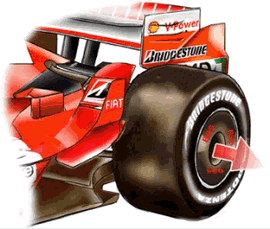 The device is apparently designed to increase brake cooling and is said by Ferrari to be a component of the brake duct system, rather than the wheel. Other teams have apparently pointed out that this seems a bit far fetched and regardless of whether or not it aids in brake cooling, that it is illegal anyway.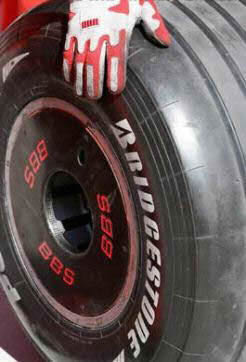 This images shows the new device, which according to sources are comprised of carbon fibre and are "glued" to the magnesium wheel itself. This is in contravention of Article 12.3 of Fia technical regulations:
12.3 Wheel material :
All wheels must be made from an homogeneous metallic material.
This element of the wheel, which it is an element of as it is firmly attached to the metallic structure, is not made of the same metal as the rim and is therefore against the Technical Regulations. McLaren's Ron Dennis has suggested that his team may lodge a formal complaint with the FIA over the usage of these brake duct aides.
If these devices are indeed illegal, which technically speaking as I have explained, they are, why then has Ferrari chosen to make use of a design which could be considered illegal?
The answer lies within the FIA's changes in the Technical regulations to allow greater levels of modifications to be done to the break duct system. Now this item is a part of the wheel, this is true, but Ferrari maintain that the device is part of the brake cooling system.
Problem with illegality of this device is not, as many fans think, that they are movable aero device. Problem is in different materials used, as article 12.3 dictate.
There have also been safety concerns as some mechanics have injured themselves on their sharp edges while struggling to fit their air guns through the narrow aperture to the wheel nut. Some cars have shed them during races, leaving sharp debris on the track, though many of the modern cars' small aerodynamic appendages are at just as much risk of that.
Prior to 1994 Indy Cars used wheel covers on Superspeedways, for on such tracks there was no issue of brake cooling. In 1993 Penske reported that such covers could reduce drag by 2.5% for a given level of downforce. They were subsequently banned.
In general, racecar brakes and wheel bearings are cooled by scoops on the inside of the wheel and the hot air exits through the spokes. The spill from the wheels creates drag and at the same time the pumping action of the wheels can pull air away from the underbody area, reducing downforce created by diffuser. But the whole airflow regime around each wheel is extremely complex.
At the Turkish Grand Prix 2006, round 14, Ferrari, Toyota and Toro Rosso all appeared with carbon fibre rear wheel shrouds, having just a small hole in the centre for the escape of hot air (also providing access to the wheel nut). This approach cleverly limited the wheel through flow to that just sufficient to provide adequate brake and bearing cooling and no more. The rest of the air that would otherwise have escaped through the spokes was now travelling inboard the wheel, presumably in such a way that it beneficially interacted with the rear airflow regime.
Rear wheel shrouds have become increasingly widespread. and almost all teams using them.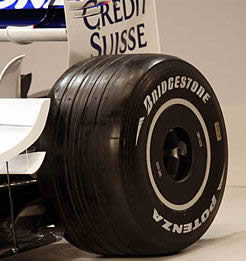 And now little more about Static wheel fairing
You can't hold a good engineer down. In spite of the increasingly tight limits imposed by F1 technical regulations, the innovations continue to appear.
One of the innovations from last few years, that slowly every team start to use is static wheel fairing. Invented by Ferrari and rim supplier BBS, and first time used 2007 at Silverstone GP.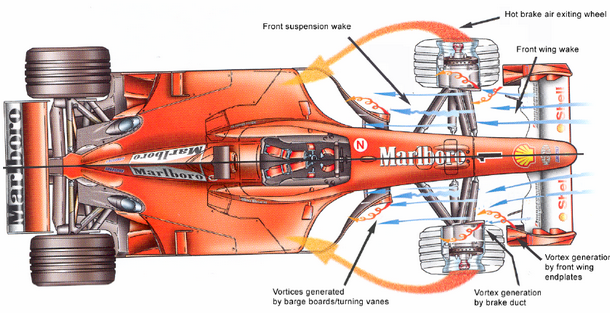 While this device is more beneficial to airflow around the wheels, it is presented from Ferrari side as brake cooling aid, and as this, approved by the FIA.
Such fairing is a lightweight carbon fiber disc which covers the wheel up without rotating with the wheel itself. The Ferrari team made a cut-out of one part of the disc at exactly 27° . This cut-out is used as exhaust to provide an efficient cooling for brakes. And not only this. Cut-out is positioned in this exact position in correlation with all the rest of car aero and vortex generators at front wing end plate, bargeboard and inside brake duct. Air blowing out from wheel is directed below the car, feeding in this way underbody and diffuser with more air. The fairings also streamline the front wheel outer side.
A lot of people from paddock and a lot of fans tough it was illegal and should be ruled as movable aerodynamic device, forbidden by FIA rules. But FIA think differently. They are allowed because their position means they are deemed part of the brake duct. Reasons are explained before.
Disc by itself is fitted in way that is not rotating, and if you going to declare it as illegal, same must be done with suspension arms (in modern F1 car they have a function to stabilize airflow toward side pods, if you don't believe check their shape). Same is with brake air scups. They move with tire during cornering and they have clear aerodynamic functionality diverting air flow toward disc brakes and out trough wheel.
Only three teams were able to get a grip on the impact of the fairings during the 2007 season and run them with more or less success. With changes needed to aero and front uprights, it was not easy task getting from concept to track. During the 2007 season, Ferrari and Toyota raced with these parts, while Williams were also seen testing their own versions in late season testing.
During Jerez testing on December 4th 2007, a closer look at the action shows just as much effort by the teams has been placed on front wheel fairings and their use aimed at season 2008. McLaren and Renault have joined the ranks of teams trying them out.
Their true function, though, is very complex, as Pascal Vasselon of Toyota told autosport.com.
"We call them 'Rim blankings', honestly the effect of the front wheel blanking is not something you can capture very simply. We have now some experience with it, very clearly it can have totally different effect according to the rest of the flow structure over the rest of the car. It's a powerful item, you can use it in different ways. Its not only a drag reduction item and really can change a lot of things in terms of front wheel wake. You are of course playing with the font wheel wake
It requires careful tuning according to the rest of the car, the first time we ran it on the TF108 concept it was not working, now it has started to work. That's just to illustrate that it is something which easily interacting with the rest of the car. Its not just something you put on the car and gain a couple of points of drag, its much more complex than that.
It affects the brake cooling, You need to step up the brake cooling, in our case its not been a problem because we were not really marginal on brake cooling and adding some brake cooling was not really detrimental in terms of aero efficiency. But yes it does affect the requirement in terms of brake cooling and it can have an effect in some cases on effect on yaw\steer sensitivity.
It requires a very interesting design in terms of the extension of the front hub, with of course the rotation of the wheel and not the rotation of the rim blanking. From the outside we are quite happy the way we have done it. "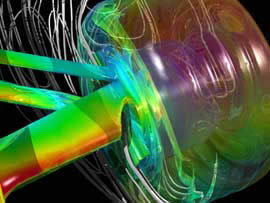 A Formula One car's open wheel creates a lot of drag, lift and turbulence. Teams have been working with CFD to understand how the air flows work around a spinning wheel, and these fairings are one solution to tackle the problem of open wheels.
The fairing on the front wheels calms the unsteady wake created by the wheel and this aids the flow along the rest of the car.
Williams, for example, had to make a big push to get their version on track. The team's technical director Sam Michael said:
"They very complicated actually, we were running them in testing last week at Barcelona. We did plan to take them to last couple of race, but we had problems, not with the aero side, but with the mechanical side. You can imagine its bit complicated to keep something still while everything around it is moving. We had problems with it before we could take it to the race. So we had a revised design at Barcelona last week.
From the aero side their pretty complex bit of kit, were still learning them to be honest.
The dimple at the top was there just for legality. That's why Ferraris looks like someone's done a messy job of trimming. Its controlled by the plus - minus 1600C heat overall on the brake ducts. The other thing is that you don't want the disc touching wheel because when carbon rubs on magnesium it will cut through it like butter, within a lap you wont have a wheel left. So you've got to be a bit careful you don't push for a bit extra and end up losing your wheel.
Of course they contribute to brake cooling, they're brake ducts…."
O.Z Racing developed a rear and front cover for use on the Renault's and BMW Sauber's and Eneki for McLarens.
As the teams, during Jerez test, are running versions of their 2008 suspension on 2007 cars, the changes to the front upright can be made. McLaren ran their revised front uprights and wheel nuts, but their final version will appear only during 2008 season. Renault's version features a much deeper inset wheel nut than those of rival teams.
All teams are using Ferrari original idea positioning disc cutout in lower part of wheel, behind wheel centre line. Mclaren changed this idea positioning cut out in the front of centre line.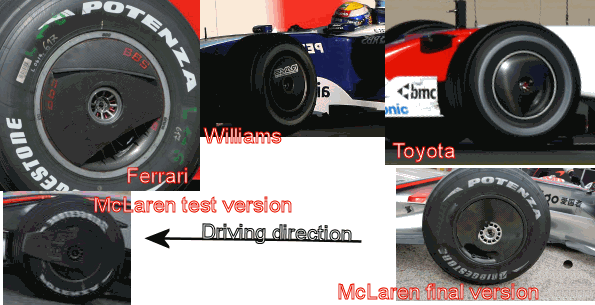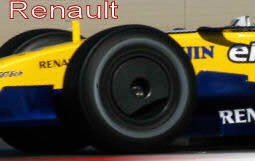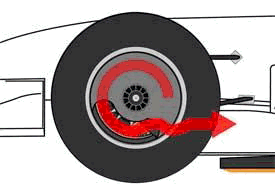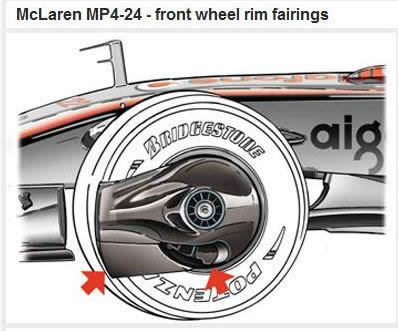 Because of 2009 regulation changes MP4-24's lower and wider 2009 front wing has modified the airflow around the car. During testing McLaren featured an evolution of the static rim fairings tested by the team last year, designed to take best advantage of the change. Whereas before the front wing endplate channelled airflow around both sides of the front tire, it now directs most of the air towards the outside of the tire. The revised fairing exploits this increased outer flow. The leading edge (left arrow) sends some of it into small ducts (right arrow) to help cool the brakes, while the rest is channelled away from the tire and towards the rear of the car.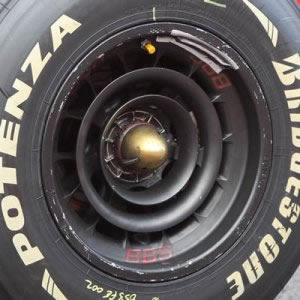 We witnessed significant rule change for 2010. The wheel shrouds have been banned after a couple of incidents last season where they came off at speed.
FIA have outlawed the carbon fibre wheel fairings that became so popular in 2009. In a move that may be seen as going against the spirit of the regulations (but which has been approved by the FIA), Ferrari have instead incorporated an integral aero device into the design of their wheel rim. The device is detachable, but to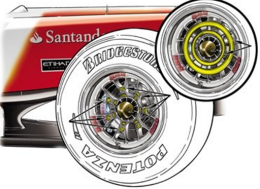 be legal it is made from the same material as the rim itself. As wheel rims have to be homologated and can't be changed during the season, Ferrari's rivals will be unable to copy this. The double concentric rings of different diameter  may be attached on  the wheel but  are considered to be part of the rim ,  so they are made of the same homogeneous metallic material to the wheel according to FIA regulation article 12.3. Ferrari's innovative rim design extracts hot air coming from brake components in such a way that effects less the outer cooler airflow towards  the rear, decreasing vortexes and improving aero performance of the car.

After the static front wheel fairings that abounded in 2009, were banned and the wheel design homologated, there must have been some surprise that Ferrari managed to create an aerodynamic wheel shape in 2010. This is partly limited now by the restriction on surface area for spokes and shaping. The limited only allows 13% of the wheel centre to be spoked, meaning that a ten spoke wheel has to have spokes just 16mm wide.
12.3 Wheel material :
Wheels must be made from AZ70 or AZ80 magnesium alloys.
12.4.5 No wheel material is permitted in the following exclusion zones :
- A concentric cylinder of diameter 305mm and length 115mm positioned with its inner face lying in the same plane as the inboard face of the front wheel ;
- A concentric cylinder of diameter 305mm and length 25mm positioned with its outer face lying in the same plane as the outboard face of the front wheel ;
- A concentric cylinder of diameter 305mm and length 100mm positioned with its inner face lying in the same plane as the inboard face of the rear wheel ;
- A concentric cylinder of diameter 305mm and length 30mm positioned with its outer face lying in the same plane as the outboard face of the rear wheel.
12.4.6 When viewed perpendicular to the plane formed by the outer face of the wheel and between the diameters of 120mm and 270mm the wheel may have an area of no greater than 24,000mm2."