Loading
F1 drivers deceased behind racing car wheel between 1971 and 1975
Max Mosley, when President of the FIA:
"We're doing everything to reduce the probability of injury on the understanding it can never be zero."

Denny Hulme, Formula 1 driver:
"We didn't know any better in the old days. Now we've got the most incredibly hygenic circuits you have ever seen. Some people criticise them. They say it's terribly boring motor racing. Yes, compared to the old Nürburgring it is… but it's better than going to a funeral every Tuesday morning."
Drivers with their names marked in red died at an official Formula One Championship race.
On this list are only the drivers who competed on Indianapolis 500 plus at least one FIA World Championship race.
To know more about safety in Formula 1, development in safety after incidents and tragedies, check article about safety.
1971 - Ignazio Giunti (I)

Ignazio Giunti made his name in saloon and Sports Car Racing in the late 1960s. In 1968, driving for Alfa Romeo, he was 2nd in the Targa Florio and 4th in the Le Mans 24 Hours race co-driving with Nanni Galli.
In 1970, Giunti was signed by Ferrari primarily for their sports-car team and won the Sebring 12hrs and the Targa Florio as well as achieving several other high placings. His success earned him a Formula One chance and he did splendidly to finish 4th on his debut in the Belgian GP at Spa and raced three more times that year.
Tragedy struck in 1971 whilst racing in the 1000 km Buenos Aires race, when his Ferrari 312PB prototype ploughed into the back of the Matra 660 of Jean-Pierre Beltoise, who was pushing the car along the track after it had run out of fuel. The impact and the subsequent fire gave the popular Italian no chance of survival.
Grand Prix Starts 4
Grand Prix Wins 0
Pole Positions 0
Grand Prix Points 3
1971 - Pedro Rodriguez (MEX)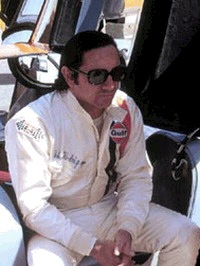 Pedro was Mexican national champion in 1953 and 1954 in motorcycles.
He made his international debut in cars at Nassau in 1957 in a Ferrari, along with his brother Ricardo in a Porsche. In 1962, his brother Ricardo died in a horrific accident while practicing for the Mexican Grand Prix and Pedro considered retiring from racing. However, in 1963 he won at Daytona International Speedway and took part in his first Grand Prix for Lotus in the USA and Mexico.
He competed in F1 sporadically through 1966 with Ferrari and Lotus. Rodriguez won in only his ninth GP, in South Africa in 1967, and became a permanent fixture in F1, racing for Cooper-Maserati in 1967, BRM in 1968, the private Parnell BRM team, Ferrari in 1969, and BRM in 1970 and 1971, achieving his second victory in the Belgian Grand Prix at Spa in 1970.
He was considered the best driver of his era in the wet.
Rodríguez was killed in an Interserie sports car race at Norisring in Nuremberg, Germany, on 11 July 1971, at the wheel of a Ferrari 512M of Herbert Müller Racing, his Swiss friend and partner at the Targa Florio in 1971. Interesting fact was that this same Ferrari 512M was one of three Ferraris 512M buyed by Steve McQueen for filming his great film "Le Mans".
Grand Prix Starts 54
Grand Prix Wins 2
Pole Positions 0
Grand Prix Points 71
1971 - Jo Siffert (CH)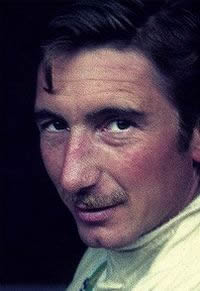 Joseph Siffert started in Formula One as a privateer in 1962, with a four-cylinder Lotus-Climax. In 1968, Siffert drove into the F1 history books by winning the 1968 British Grand Prix at Brands Hatch in Rob Walker Racing Team's Lotus 49B, beating Chris Amon's Ferrari into second place after a race-long battle. This is regarded as the last GP victory by a genuine privateer.
Jo Siffert won the 1971 Austrian Grand Prix, but then was killed in the non-championship World Championship Victory Race at Brands Hatch, the scene of his first and greatest victory in 1968. The suspension of his BRM had been damaged in a lap 1 incident with Ronnie Peterson, and broke later. This was not admitted by BRM until much later when this fact was accidentally divulged by a BRM ex-mechanic. The BRM crashed and immediately caught fire. Siffert could not free himself from the burning car.
Grand Prix Starts 96
Grand Prix Wins 2
Pole Positions 2
Grand Prix Points 68
1972 - Joakim Bonnier (S)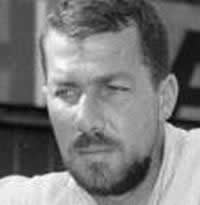 Joakim "Jo" Bonnier was a Swedish sports car racing and Formula One driver who raced for various teams. He entered Formula 1 in 1956 with a Maserati.
During his career he raced for Scuderia Centro Sud, Joakim Bonnier Racing Team, BRM, Porsche, Rob Walker Racing Team, Lotus, Brabham, Anglo-Suisse Racing/Ecurie Bonnier and Honda. During his career he won one official Formula 1 race, Dutch GP 1959.
1972 he was busy managing his team, entering several cars in World Sportscar Championship events, and taking a backseat to driving. Nevertheless he was involved in an accident at Le Mans in 1972 when his Lola-Cosworth T280 collided with a Ferrari Daytona driven by a Swiss amateur driver Florian Vetsch. His car was catapulted into the trees and he was killed.
Grand Prix Starts 104
Grand Prix Wins 1
Pole Positions 1
Grand Prix Points 39
1973 - Roger Williamson (GB)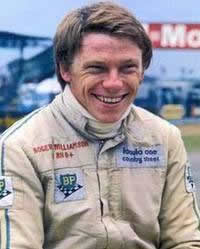 Williamson won the 1971 and 1972 British Formula Three Championship titles. In 1973, Williamson was offered a drive in the March Engineering works Formula One team.
For his second appearance in the car, F1 returned to Zandvoort for the Dutch Grand Prix, following a year's absence for extensive safety upgrades to the race track. During the race, Williamson suffered a sudden tire deflation, which pitched his car into the barriers at high speed and catapulted it 275 m across the track, eventually coming to rest upside down against the barriers on the other side, during which his petrol tank had ignited while being scraped along the track.
A fire began to take hold and Williamson was unable to extricate himself.
A rescue attempt by his friend David Purley was unsuccessful. Williamson had not been seriously injured by the impact, and was heard shouting to Purley to get him out of the car as Purley tried in vain to turn the car upright. It was some eight minutes before the first fire truck arrived on the scene. By the time the car was eventually righted, and the fire extinguished, Williamson had died of asphyxiation. A blanket was thrown over the burnt-out wreck with Williamson still inside and the race carried on. Check my aticle about Roger Williamson.
Grand Prix Starts 2
Grand Prix Wins 0
Pole Positions 0
Grand Prix Points 0
1973 - François Cevert (F)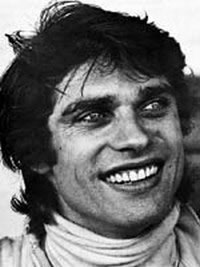 Albert François Cevert Goldenberg was a French racing driver, who took part in the Formula One World Championship. Cevert was brother-in-law of Grand Prix driver Jean-Pierre Beltoise. He raced for Tyrell. When Johnny Servoz-Gavin suddenly retired from the Tyrrell Formula One team three races into the 1970 season, Tyrrell called upon Cevert to be his number two driver, alongside defending World Champion Stewart. Over the next four seasons, Cevert became the veteran Stewart's devoted protégé.
After making his debut at the Dutch Grand Prix at Zandvoort in Tyrrell's second customer March-Ford, he increased his pace and closed the gap to Stewart with virtually every race.
He earned his first World Championship point by finishing sixth in the Italian Grand Prix at Monza. During his career he won one official Formula 1 race, USA GP 1971.
Cevert was killed during Saturday morning qualifying at 1973 United States Grand Prix at Watkins Glen in his Tyrrell 006, while battling for pole position with Ronnie Peterson. In the fast right-left uphill combination called "The Esses" Cevert's car was a little too much toward the left side, getting a bump from the kerbs. Due to the bump, Cevert's car swerved too much to the right-hand side of the track, where it touched the track's safety barriers causing the car to spin and crash into the barriers on the other side of the track at a near 90° angle, uprooting and lifting the barrier. Cevert died instantly of massive injuries inflicted by the barrier.
Grand Prix Starts 46
Grand Prix Wins 1
Pole Positions 0
Grand Prix Points 89
1973 - Nasif Estéfano (RA)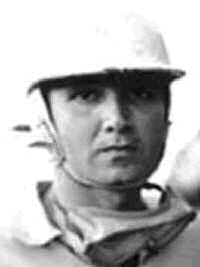 Nasif Moisés Estéfano was a racing driver from Argentina.
He participated in 2 World Championship Formula One Grands Prix, debuting on February 7, 1960.
Estéfano was killed contesting one of Argentina's domestic Turismo Carratera endurance events.
Grand Prix Starts 1
Grand Prix Wins 0
Pole Positions 0
Grand Prix Points 0
1974 - Peter Revson (USA)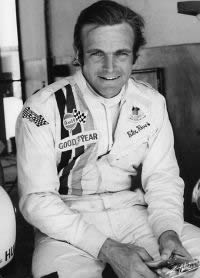 Peter Jeffrey Revson was a racecar driver from United States who had successes in Formula One and the Indianapolis 500. Revson family vas a rich family, owners of famous "Revlon Cosmetics".
In F1 he raced for non-official Lotus, Tyrrell, McLaren and Shadow.
He was killed as a result of suspension failure on his Shadow Ford DN3 during a practice run for the 1974 South African Grand Prix in Kyalami.
Grand Prix Starts 30
Grand Prix Wins 2
Pole Positions 1
Grand Prix Points 61
1974 - Silvio Moser (CH)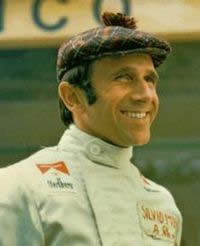 He built his reputation in Formula 2 and sports car racing before debuting in Formula One on July 15, 1967 with a privately-entered Brabham. Moser died from severe injuries without regaining consciousness, some time after being involved in an accident while driving his Lola-BMW in the 1,000 km sports car race at Monza.
Grand Prix Starts 12
Grand Prix Wins 0
Pole Positions 0
Grand Prix Points 3
1974 - Helmuth Koinigg (A)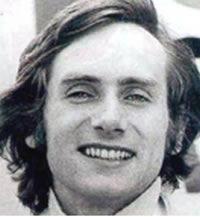 He raced in touring cars, Formula Vee and Formula Ford before a period in sports car racing. He subsequently found the finance to buy a seat with Scuderia Finotto driving their Brabham at his home grand prix in 1974, and although he failed to qualify, this led to a contract with Surtees for the last two races of the season.
At the 1974 United States Grand Prix at Watkins Glen running near the back, approaching the braking zone for the seventh turn, a suspension failure on his Surtees-Ford sent it crashing head-on into the outer Armco barrier. The speed at which Koinigg crashed was relatively minor, and he ought to have escaped the scene uninjured.
Unfortunately, as with a number of other circuits at that time, the Armco was insecurely installed and the bottom portion of it buckled as he struck it. The car passed underneath the top portion, which remained intact, decapitating the driver and killing him instantly.
Grand Prix Starts 3
Grand Prix Wins 0
Pole Positions 0
Grand Prix Points 0
1975 - Mark Donohue (USA)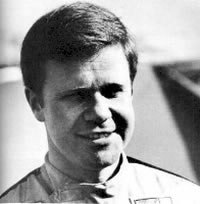 Mark Neary Donohue Jr. was known for his ability to set up his own race car and drive it consistently on the absolute limit.
Donohue is probably best-known as the driver of the 1500+ bhp "Can-Am Killer" Porsche 917-30. Donohue debuted in Formula One on September 19, 1971 with a Penske-sponsored McLaren at the Canadian Grand Prix at Mosport Park, finishing on the podium in third place.
Midway through the 1975 F1 season started using the March 751.
During a practice session for the race, Donohue lost control of his March after a tire failed sending him careening into the catch fencing.
A track marshal was killed by debris from the accident, but Donohue didn't appear to be injured significantly. However, a resulting headache worsened and after going to the hospital of Graz the next day, Donohue lapsed into a coma from a brain hemorrhage and died.
Grand Prix Starts 16
Grand Prix Wins 0
Pole Positions 0
Grand Prix Points 8
Sorted by the year:
1950 - 1955, 10 drivers died
1956 - 1960, 20 drivers died
1961 - 1965, 6 drivers died
1966 - 1970, 18 drivers died
1971 - 1975, 10 drivers died
1976 - 1980, 3 drivers died
1981 - 1985, 5 drivers died
1986 - 1990, 2 drivers died
1991 - 1995, 3 drivers died
1996 - Today, 4 drivers died

To know more about safety in Formula 1, development in safety after incidents and tragedies, check article about safety.