Loading
F1 drivers deceased behind racing car wheel between 1996 and Today
Max Mosley, when President of the FIA:
"We're doing everything to reduce the probability of injury on the understanding it can never be zero."

Denny Hulme, Formula 1 driver:
"We didn't know any better in the old days. Now we've got the most incredibly hygenic circuits you have ever seen. Some people criticise them. They say it's terribly boring motor racing. Yes, compared to the old Nürburgring it is… but it's better than going to a funeral every Tuesday morning."
Drivers with their names marked in red died at an official Formula One Championship race.
On this list are only the drivers who competed on Indianapolis 500 plus at least one FIA World Championship race.
To know more about safety in Formula 1, development in safety after incidents and tragedies, check article about safety.
2001 - Michele Alboreto (I)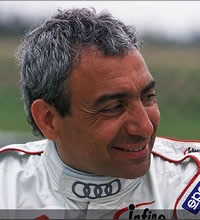 Michele Alboreto was an Italian racing driver. He is famous for finishing runner up to Alain Prost in the 1985 Formula One World Championship, as well as winning the 1997 24 Hours of Le Mans and 2001 12 Hours of Sebring sports car races. Alboreto competed in Formula One from 1981 until 1994, racing for a number of teams (Tyrrell, Ferrari, Larrousse, Arrows, Footwork, Scuderia Italia, and Minardi), most notably the Ferrari factory team.
European Formula Three Championship crown in 1980 paved the way for the Italian's entrance into Formula One with the Tyrrell team.
Two wins, the first in the final round of the 1982 season in Las Vegas, and the second a year later in Detroit, earned him a place with the Ferrari team.
Alboreto took three wins for the Italian team and challenged Alain Prost for the 1985 Championship, eventually losing out by 20 points.
Following a poor 1988 campaign, the Italian left Ferrari and re-signed with his former employers Tyrrell, where he stayed until joining Larrousse mid-way through 1989.
Further seasons with Footwork, Scuderia Italia and Minardi followed during the tail end of his F1 career. In 1995, Alboreto moved on to sports cars and a year later the American Indy Car series. He took his final major victories, the 1997 Le Mans 24 Hours and 2001 Sebring 12 Hours, with German manufacturers Porsche and Audi respectively.
In 2001, a month after his Sebring victory, he was killed testing an Audi R8 at the Lausitzring in Germany.
In April, 2001, Alboreto was performing straight-line speed tests in an Audi R8 LMP car at the Lausitzring, near Dresden, Germany. A tire blow-out caused his car to veer off track and crash into a wall, killing him. At the time, Audi gave no reason for his death, citing that the R8 had "already completed thousands of test kilometers on numerous circuits without any problems".
Grand Prix Starts 215
Grand Prix Wins 5
Pole Positions 2
Grand Prix Points 186,5
Maria De Villota (E)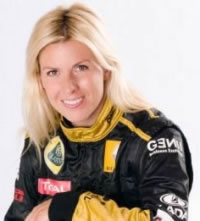 Maria de Villota, Lotus F1 test driver, has passed away, aged 33, on October 11th 2013. She has been found dead by emergency services in a hotel room in "Hotel Sevilla Congresos" in Seville, Spain. She was a daughter of ex-Formula One F1 driver Emilio de Villota, who made two grand prix starts (14 races, 12 DNQ) in the late 1970s. First reports confirmed that she passed away of natural causes, but later forensic investigation confirm that she had died "as a consequence of the neurological injuries she suffered she suffered 15 months earlier in the incident at July of 2012". Marussia test driver was involved in a horror accident during a straight-line aerodynamic test at Cambridgeshire Duxford Airfield at 3rd July 2012 that saw her car hit the tailgate of a stationary support truck. She was testing the car for the first time. The accident happened at the end of her run and involved an impact with the team's support truck. When Maria returned to pit, her car suddenly accelerated and hit lorry on helmet high in the tail-lift of a service truck. When questioned afterwards, De Villota said she thought she would miss the lorry and did not see the tail-lift. The tail-lift had been left in a position which "not only created the risk of injury, but was also protruding outwards at the level of the driver eye", the investigation document said.
After two successful runs in the F1 car, De Villota was returning to the marquee garage when her front wheels locked when braking. As the gears were engaged and the car was fitted with engine idle control, designed to maintain revs at about 4,100 rpm to avoid damage, it was essentially "fighting" De Villota and she was "pushed" along the runway into the lorry, the report said.
The Spaniard had remained involved in the sport after accident that resulted in the loss of her right eye as well as massive head injuries. She was a member and Ambassador for Women in Motorsport with Formula One racing's governing body, the FIA.
She didn't compete in any FIA World Championship race, but I think she deserve to be on thist list of Formula 1 drivers.
Grand Prix Starts 0
Grand Prix Wins 0
Pole Positions 0
Grand Prix Points 0
Jules Bianchi (F)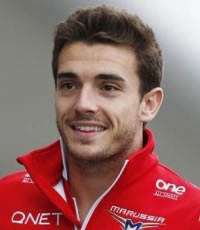 The first loss of a grand prix driver from a injury sustained in a Grand Prix race in more than 20 years has hit hard. French Formula One driver Jules Bianchi has died July 17 2015 at the Centre Hospitalier Universitaire in his hometown of Nice from a diffuse axonal head injury sustained in a crash at October 5 2014 Japanese Grand Prix. Bianchi, 25, had been in a coma since the accident, in which he collided at high speed with a mobile crane that was being used to pick up another crashed car. Jules becomes the first Formula One driver to be killed due to injuries sustained during an event since Ayrton Senna was killed at Imola in 1994.
Bianchi raced two Formula 1 seasons for Marussia in 2013 and 2014 after rising through the open-wheel ranks in Europe. He served also as a test driver for Ferrari and Force India before moving to Marussia, and scored his first career points at the Monaco Grand Prix in 2014. Jules impressed so much so that he was tipped as a future Ferrari driver. He competed in 34 races and collected 2 points.
Bianchi's accident occurred on lap 43 of the race at Suzuka, under intermittent heavy rainfall caused by the approaching Typhoon Phanfone. His car veered outside of the Dunlop Curve and ploughed into a back side of the crane picking up the Sauber of German driver Adrian Sutil, who had crashed out at the same spot one lap earlier. His helmet was lodged underneath a tractor crane when the car slid underneath it. FIA documents claimed that the Bianchi lost control of the Marussia he was travelling at 213 km/h and although the car slowed down before impact, it still struck the crane at 126 km/h. Car slipped under the crane's stem. This caused Bianchi's injuries as the car came to an abrupt halt with it's nose forced under the crane. Car impact force was around 59g, and sensors in Bianchi's ear plugs recorded a impact of 92g. The FIA believe however, that the ear plugs slipped and that the collision generated as much as 254g. This was as a result of the abrupt deceleration it endured. The section of the track where the accident occurred was subject to double yellow flags from race stewards, due to Sutil's crash. But they failed to prevent a second accident. A working group of the sport's governing body, the FIA, investigated the accident and found that as Bianchi went off track into the run-off area, he "applied both throttle and brake together, using both feet" and thus over-riding the failsafe mechanism. His front wheels had also locked. The findings of the working group prompted F1 to alter its rules, allowing a "virtual safety car" in which race stewards can neutralize a race, forcing all cars to proceed slowly into the pit lane.
Jules family was deep in racing tradition. His great-grandfather worked as a mechanic for the Alfa Romeo factory team. He was also the grandson of Mauro Bianchi, three-time World Champion in the GT category.
Jules was actually the grandnephew of a Belgian Formula 1 racing driver Lucien Bianchi who raced for the Cooper, ENB, UDT Laystall and Scuderia Centro Sud teams in Formula One. He was killed during a Le Mans testing accident in 1969. when his Alfa Romeo T33 spun into a telegraph pole, just a year after his brother Mauro suffered severe burns in a crash at the 1968. Le Mans race. Jules' father, Philippe, was never actively involved in motor racing, but he ran a kart track in France.
It should be remembered that this is the first death resulting from an accident in a Grand Prix since Ayrton Senna 21 years ago at San Marino Grand Prix in 1994.
Jules Bianchi has been laid to rest in his home town of Nice 21 July 2015 shortly after 10am local time at the Sainte Reparate Cathedral. Among those in attendance were all leading figures of F1 world. Number of senior figures from the sport like FIA president Jean Todt, Alain Prost, Toto Wolff, John Booth and Eric Boullier. Most of the leading and former drivers were there including Lewis Hamilton, Nico Rosberg, Sebastian Vettel, Jenson Button, Daniel Ricciardo,Romain Grosjean, Daniil Kvyat, Nico Hulkenberg, Roberto Mehri, Marcus Ericsson,Felipe Massa, Pastor Maldonado, Jean-Eric Vergne, Adrian Sutil and Max Chilton. Also there were GPDA leaders Alex Wurz and Pedro de la Rosa
Grand Prix Starts 34
Grand Prix Wins 0
Pole Positions 0
Grand Prix Points 2
Justin Wilson (GB)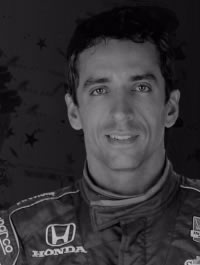 Justin Boyd Wilson, British professional open-wheel racing driver from Sheffield, England, was born 31 July 1978. He competed in Formula One in the 2003 season with Minardi and Jaguar and was also the winner of the 2001 International Formula 3000 championship. He competed in the Champ Car series from 2004 to 2007, scoring four wins. Wilson made 174 career starts in IndyCar and Champ Car. He earned eight career poles, 47 top-five finishes and 94 top-10s. Wilson also was part of the winning team at the 2012 Rolex 24 at Daytona, where he drove for Michael Shank Racing with AJ Allmendinger, Ozz Negri and John Pew.
 Wilson was known among drivers as a gentle giant, one of the most selfless drivers in the paddock, they called him "Badass" in the cockpit, but outside the car he was the most down-to-earth, mellow driver you could meet.
Wilson raced in Formula One during the 2003 season, starting the season with Minardi before switching to Jaguar. His 195 cm frame and lack of sponsorship hindered his chances of a long-term F1 career but he carved out a successful career in American open wheel racing.
Justin was competing part-time in the IndyCar Series, driving the No. 25 Honda for Andretti Autosport when he was fatally injured in an accident during the ABC Supply 500 at Pocono Raceway on 23 August 2015. Sage Karam's number 8 Chip Ganassi Racing Chevrolet spun out out of control on lap 179 of 200, hitting the outside wall. The loose nose cone from Karam's car bounced so violently and tragically towards Wilson and hiting him in the head. With Wilson unconscious, his car crashed at high speed into an angled wall protected by a SAFER barrier on the inside of the exit of Turn 1, near a gap in the wall where safety vehicles enter the track.
Wilson was extracted from his car and airlifted to Lehigh Valley Hospital in Allentown. He was subsequently reported to be in a coma, and died the following day, 24 August 2015, he was 37.
Wilson is survived by his wife, Julia, and children, Jane and Jessica. The world has not only lost a great driver, but a fantastic human being who will be missed badly by so many of us. The motorsport World comes to a standstill once again, what a dramatic year for racing. Wilson's death comes 38 days after Frenchman Jules Bianchi's death.
Grand Prix Starts 16
Grand Prix Wins 0
Pole Positions 0
Grand Prix Points 1
Sorted by the year:
1950 - 1955, 10 drivers died
1956 - 1960, 20 drivers died
1961 - 1965, 6 drivers died
1966 - 1970, 18 drivers died
1971 - 1975, 10 drivers died
1976 - 1980, 3 drivers died
1981 - 1985, 5 drivers died
1986 - 1990, 2 drivers died
1991 - 1995, 3 drivers died
1996 - Today, 4 drivers died


To know more about safety in Formula 1, development in safety after incidents and tragedies, check article about safety.