Loading
F1 drivers deceased behind racing car wheel between 1961 and 1965
Max Mosley, when President of the FIA:
"We're doing everything to reduce the probability of injury on the understanding it can never be zero."

Denny Hulme, Formula 1 driver:
"We didn't know any better in the old days. Now we've got the most incredibly hygenic circuits you have ever seen. Some people criticise them. They say it's terribly boring motor racing. Yes, compared to the old Nürburgring it is… but it's better than going to a funeral every Tuesday morning."
Drivers with their names marked in red died at an official Formula One Championship race.
On this list are only the drivers who competed on Indianapolis 500 plus at least one FIA World Championship race.
To know more about safety in Formula 1, development in safety after incidents and tragedies, check article about safety.
1961 - Giulio Cabianca (I)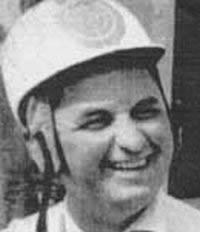 He participated in 4 World Championship Grands Prix, debuting on May 18, 1958. He scored a total of 3 championship points. He also participated in one non-Championship Formula One race.
Cabianca's death resulted from a bizarre incident at the Modena Autodrome test track in Italy. The Modena Autodrome was situated amongst regular public roads so when he suffered a suspected stuck throttle, unable to stop, his Cooper went off track and onto a road just outside the circuit - colliding with a taxi. Cabianca and three passengers inside the taxi were killed in the accident.
Grand Prix Starts 3
Grand Prix Wins 0
Pole Positions 0
Grand Prix Points 3
1961 - Wolfgang von Trips (D)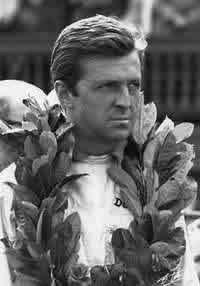 Count Wolfgang Alexander Albert Eduard Maximilian Reichsgraf Berghe von Trips or or "Taffy" to his racing mates and contemporaries, was the son of a noble Rhineland family. He participated in 29 Formula One World Championship Grands Prix, debuting on September 2, 1956. He won two races, secured one pole position, achieved six podiums, and scored a total of 56 championship points.
He raced for Ferrari, Porsche and Scuderia Centro Sud.
The 1961 Italian Grand Prix on September 10 would have been the culmination of von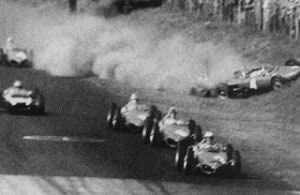 Trips' career, as a third place would have been sufficient to secure the Formula One World Drivers Championship that year. At the Italian Grand Prix at Monza, his Ferrari collided with Jim Clark's Lotus. At one point Von Trips shifted sideways so that Jim Clark's front wheels collided with his back wheels. It was the fatal moment. Von Trips' car spun twice and went into the guardrail along the inside of the track. Then it bounced back, struck Clark's car and bounced down into the crowd.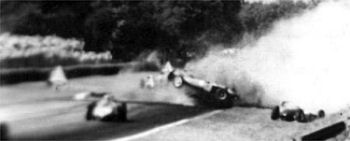 Car became airborne and crashed into a side barrier, fatally throwing von Trips from the car, and killing fifteen spectators.

Von Trips was on course to become the first German to win the Formula One World Championship. Von Trips probably only needed to finish ahead of his team-mate, the American Phil Hill, to secure the crown with a race to spare: instead a
sombre Hill won the race, and collected the title himself.

In 1961 von Trips established a go-kart race track in Kerpen, Germany. The track was later leased by Rolf Schumacher, whose sons, Michael and Ralf, made their first laps there.
Grand Prix Starts 27
Grand Prix Wins 2
Pole Positions 1
Grand Prix Points 56
1962 - Peter Ryan (USA)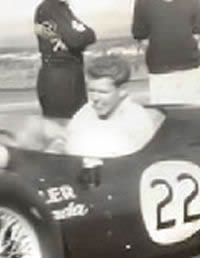 Ryan's successes came in sports cars racing in Canada, the US and Nassau. He was recognized as a star in the making and after winning numerous races in Canada was given a factory Lotus drive in the Formula Two race at Rheims where he died in a practice crash on July 2, 1962.
During a heat of the Formula 2 Coupe de Vitesse des Juniors at Reims, Peter's Lotus was involved in a collision with the Gemini of Bill Moss. Ryan was thrown from his car and died from internal injuries.
Peter Ryan was inducted into the Canadian Motorsport Hall of Fame in 1993. He was also the most recent Canadian winner of the Canadian Grand Prix, winning it in 1961, but this was a non-Championship race.
Grand Prix Starts 1
Grand Prix Wins 0
Pole Positions 0
Grand Prix Points 0
1962 - Ricardo Rodrigues (MEX)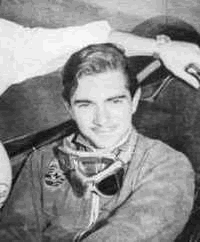 Rodríguez was given a guest drive by Ferrari for the 1961 Italian Grand Prix, qualifying a surprise second. In the race he exchanged the lead with Phil Hill and Richie Ginther many times, until a fuel pump failure ended his race. He was the youngest ever F1 driver at that time. Rodríguez was considered a potential future champion already, but was left without a drive when Ferrari opted not to enter the non-Championship 1962 Mexican Grand Prix.
He signed to drive Rob Walker's Lotus, but died during the first day of practice, when he inexplicably failed to brake for the fearsome Peraltada corner, and entered the banked turn far too fast, hitting the barriers at the exit. He was 20 years old and his death provoked national mourning in Mexico.
Grand Prix Starts 5
Grand Prix Wins 0
Pole Positions 0
Grand Prix Points 4
1964 - Timmy Mayer (USA)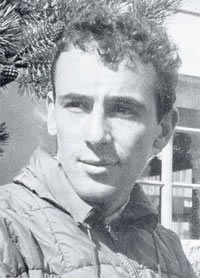 Timothy Mayer was a racecar driver from United States. He participated in one World Championship Formula One Grand Prix, on October 7, 1962. He retired with ignition failure and scored no championship points.
Mayer was killed in practice for a race in Tasmania.
Mayer's older brother Teddy was one of the founders of the McLaren team.
Grand Prix Starts 1
Grand Prix Wins 0
Pole Positions 0
Grand Prix Points 0
1964 - Carel Godin de Beaufort (NL)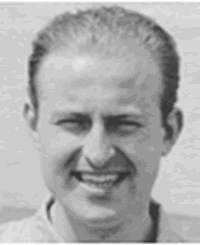 Jonkheer Carel Pieter Antoni Jan Hubertus Godin de Beaufort was a Dutch nobleman and motor racing driver from the Netherlands. He competed irregularly in Formula One between 1957 and 1964. He participated in 31 World Championship Grands Prix, becoming the first Dutchman ever to score points in the Formula One World Championship, and numerous non-Championship Formula One races.
He was one of the last truly amateur drivers in F1, and ran his own cars painted the vibrant orange Dutch racing color under the Ecurie Maarsbergen banner. He was anything but conventional driver, often driving without shoes and even using a Beatles-style wig rather than a helmet. Once at Reims he stopped during a practice session to give an attractive young lady a ride round the circuit, to the fury of officials.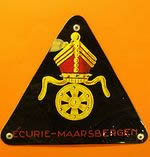 The team taking its name from de Beaufort's country estate. In early years he was considered something of a mobile chicane, and a danger to other drivers on the track. However, in later years he matured into a competent and popular competitor. He raced for Ecurie Maarsbergen (privateer Porsche and Cooper) and Scuderia Ugolini (privateer Maserati).

He died after an accident at the Nürburgring, during practice for the 1964 German Grand Prix.
Driving the Porsche 718, the car suddenly veered off the track at the infamous Bergwerk corner. Thrown out of the car and suffered massive injuries to his head, chest and legs. Initially de Beaufort was taken to a local hospital, but on the arrival of his family he was swiftly transferred to a major neurological hospital in Cologne. Sadly even they could not help him, and he died from his injuries three days after the accident.
Grand Prix Starts 28
Grand Prix Wins 0
Pole Positions 0
Grand Prix Points 4
Sorted by the year:
1950 - 1955, 10 drivers died
1956 - 1960, 20 drivers died
1961 - 1965, 6 drivers died
1966 - 1970, 18 drivers died
1971 - 1975, 10 drivers died
1976 - 1980, 3 drivers died
1981 - 1985, 5 drivers died
1986 - 1990, 2 drivers died
1991 - 1995, 3 drivers died
1996 - Today, 4 drivers died

To know more about safety in Formula 1, development in safety after incidents and tragedies, check article about safety.