Loading
Books to Read
I didn't want to do this. I didn't want to turn this site to a "product review" site, but one book pushed me to make recommendations to my visitors.
And when you think about it, what can go wrong if I recommend some good books for Formula 1 fans and professionals.

---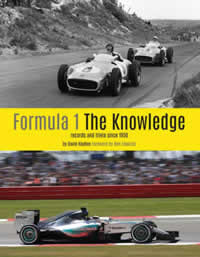 Few days ago I got my hands on the David Hayhoe book "Formula 1 The Knowledge". And what a mine of information, what an amazing work! I thought I had a "'reasonable understanding" of the history of Formula 1 since 1950, but it has managed to surprise me with quite a few facts I was not aware of. The author is well known to have a passion for both history and the current day (not easy) and it shows. David Hayhoe has been the statistician for "Autocourse", "The World's Leading Grand Prix Annual" since 1991, has been author of four editions of the "Grand Prix Data Book", and contributed to many other Formula 1 books and magazines, and displays sheer mastery of the subject in this substantial work.
As you might guess, this is not a book you're likely to read cover to cover in one sitting. But nor is it a dull listing of the race results. 434 pages hardcover book contain 1,035 sections, 32 pages of F1 photos since 1950 and 4 appendices on drivers, the cars, the engines, circuits and every other thinkable aspect of Formula 1, a summary of regulation changes since 1950 and a detailed history of the many qualifying formats which I believe has not been done before. It covers the basic information like "Most wins in the season" but also a lot of unusual information. For example: "Countries staging other country's race", "All race starting drivers", drivers who "Drove for two constructors in a (one) race" (unbelievable but true). The only statistic that isn't in here is how many F1 stats are in the book.
Foreword by Ben Edwards,  British motor racing commentator for television coverage of Formula One, Superleague Formula and the British Touring Car Championship.
You might find a book filled with pages of F1 data a bit dry in places. On the other hand, you're reading a website called "Formula 1 Dictionary", so probably you will be good.
If you are an F1 fan, you will not be able to put this book down. And you can use it for years to come. It's reasonably priced, especially for a motorsport book of this quality, and will solve any quiz about formula 1! David Hayhoe never disappoints!
Available from www.f1knowledge.com
Mail from David Hayhoe:
"Hi SEAS, Many thanks for reviewing and publicising the book. The website is ending tomorrow (27.02.2017). So it is now for people to send me an e-mail to djhayhoe@gmail.com. I can then send an order form to them. I only have a few left, and am pleased with the global interest.
Kind regards David"

---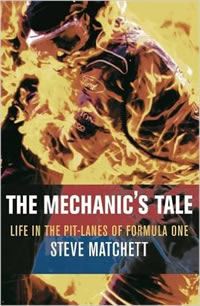 From the writer of Life in the Fast Lane, former Formula One chief mechanic – Steve Matchett's second book of his autobiographical trilogy – The Mechanic's Tale is a quite extraordinary work, in essence the memoires of a Grand Prix mechanic throughout his career with the Benetton Formula One team.
Covers his entire career with a strong emphasis on the 1994 season until his retirement in 1998, from his beginnings as a young apprentice, through his time at Ferrari and BMW to his later success with Benetton.
Matchett has seen it all, and took the time to write three books sharing some of his wisdom with us. The Mechanic's Tale is the second work in the F1 trilogy.
Machett's prose on the pressures and efforts of assembling a winning Formula One car makes a compelling read. Matchett was chief mechanic with the Benetton Formula One team and witnessed the arrivals of impeccable talents such as Nigel Mansell, Ayrton Senna, Alain Prost and Michael Schumacher. He gives an eye-witness views of all that great drivers.
He also explains how the team was transformed into a strong, competitive organisation, winning three World Championships.
This book is also very informative and is not your average racing book. I have also read his first book, which is also a classic, but I feel that this is the better of the two. I found myself not being able to put it down and anyone who loves racing will be in the same situation.
But if you are looking for a blow-by-blow account of a F1 season, you would be better served by Matchett's "Life in the Fast Lane", an inside account of Benneton's crazy 1994 season. If you want to learn more about F1 technology, then try "The Chariot Makers." However, if you want a very human and personal account of one man's journey from being a road car mechanic to mechanic for a Formula 1 world champion in a half decade, this is the book for you.
---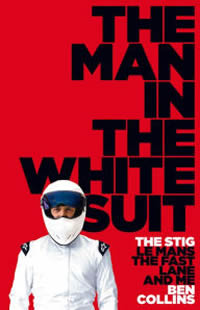 I was a huge fan of the BBC show Top Gear. Maybe it's for middle aged guys who fantasize about driving like Mario Andretti, but it is one of the few shows that makes me laugh. 
I will not explain who Stig is, if you dont know then ....
Anyway, The Man in the White Suit is the Stig, the famous, anonymous, tame race car driver. When the Black Stig disappeared off the end of an aircraft carrier in 2003 season, we were introduced to The White Stig. Faster. Stranger. Harder to keep clean. And ever since, millions have wondered – who is The Man in the White Suit? His identity has always been a mystery, and now Ben Collins has written an autobiography claiming to be the Stig. The BBC was not happy. Collins was outed after years of anonymity behind the white helmet, and then he wrote "The Man in the White Suit: The Stig, Le Mans, The Fast Lane and Me" about his experiences, a quick memoir that includes everything from his stint as an army reservist to his trials on the world's various race circuits. BBC tried to suppress it and not let the "secret" out. There's even a good bit on the man's time on Top Gear as the silent wheelman we all know and love. The Stig reveals how he came to be Top Gear's iconic racing driver and so much more - including what it's like to thrash an Aston Martin DBS.
As a fan of Top Gear and racing in general, I find the memoir very entertaining, it's an awesome story, told by an amazing man. Don't expect groundbreaking information...but as a TG fan, it was extremely enjoyable.
---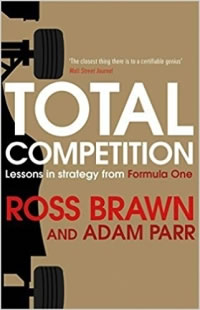 Publisher: Simon and Schuster
I thoroughly enjoyed this read. To say that Ross Brawn is a genius would be an understatement. Across four decades, Ross Brawn was one of the most innovative and successful technical directors and then team principals in Formula One.
This is the story how to achieve success in Formula One (and not only in Formula One) from Ross Brawn, whose cars and drivers have won 20 F1 world championships. Leading Benetton, Ferrari, Honda, Brawn and Mercedes, he worked with drivers such as Michael Schumacher, Jenson Button and Lewis Hamilton to make them world champions.
But this book is about more than just Ross Brawn and his success in Formula One. Co-authored by former Williams chief Adam Parr, Total Competition is billed as providing a unique insight into what it takes to reach the highest summit in motorsport. This is very engaging, interesting and accessible insights into the many dimension of strategy over two decades of incredible success in formula 1.
In the book, Brawn and Parr explore the unique pressures of Formula One, their battles with Bernie Ecclestone and FIA, and the cut-throat world they inhabited, where coming second is never good enough.
Adam Parr sought out Ross Brawn to help author this book so that he could dissect and document the principles that made Ross Brawn so successful. That being said, this book is about success, leadership, and the application of strategy to achieve total competition (hence the name). Adam Parr nails it; he leaves no stone unturned. I highly recommend this book for not just the Formula One fan, but for anyone looking for a remarkable success story they can apply to their lives. Some may feel that Adam Parr was never seemed to be a major player in the sport and it appears at times he may be trying to convince us that he was. I am grateful he brought this idea to Ross Brawn and did so much work to bring us a book that has the words from Ross' mouth, and it seems Ross has much respect for Adam, so that is something to say there.
It was a fun read, wish it was more of an autobiography of Ross Brawn, hope one day he writes one.
---