Loading
Monocoque - Survival Cell
Monocoque guarantees the safety of the driver in extreme situations. This carbon fiber safety cell is almost indestructible and plays a key role in the safety of Formula 1.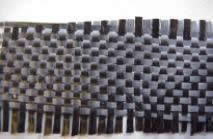 And safety standards in top-class motor racing have improved at a breathtaking rate in recent years. On the infinite safety scale, it has reached a level that will be hard to surpass. Nonetheless, research and development in this field still continue because safety has the highest priority for the drivers.
The path to the current 'safety capsule' Formula One monocoque began in the early 1980s with the adoption of carbon fibre composite materials for chassis manufacture, although in the strict definition of the word, composites had already been in use in motorsport since the 1950s in the form of glass fibre moulded body panels.
The first Formula One car to be raced that incorporated composite material in its chassis was the 1965 McLaren M2A, which featured panels of Mallite – a composite formed of aluminium sheets over a core of end-grain balsa wood. Although the McLaren benefited from a chassis rigidity advantage over its rivals, the technology was not pursued in later models. This was only an early exercise in producing a Mallite monocoque and was the team's first single seater designed by Robin Herd. The car was the base for development of the Formula 1 car and served as a Firestone test vehicle. It used Traco Oldsmobile and Ford V8 engines. McLaren M2A has only competed in non-championship races, but many lessons from its testing were incorporated into the M2B.
The monocoque was invented by the legendary designer and Lotus team boss Colin Chapman, who inserted a riveted lightweight metal case instead of the classic tubular spaceframe in his Lotus 25 in 1962.
Colin Chapman's Lotus 25 powered by Climax engine. First F1 car with Monocoque design, Colin used riveted metal plates to create "closed" survival cell. Fuel was stored in plastic bags inside monocoque. On upper pictures you can see Lotus 25 car, and on left and down you can see monocoque design in open view.

McLaren was the first F1 team to send his cars with a carbon fiber safety cell onto the starting grid in 1981. But there is debate as to which team was first to produce a fibre reinforced composite chassis since Lotus team were carrying out similar research in parallel with McLaren. Lotus followed "cut and fold" methodology simply replacing the pre-bonded aluminium skins with hybrid composite of carbon and kevlar reinforced epoxy.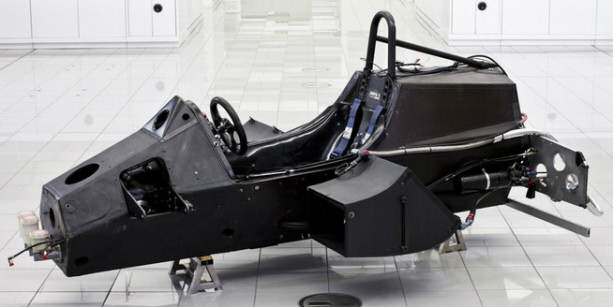 McLaren MP4/1C, first F1 car with Carbon fiber moulded monocoque in plain view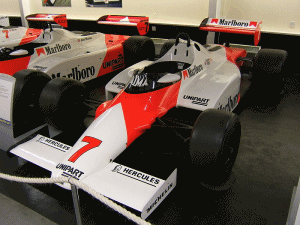 McLaren MP4/1C, competed in the 1983, first F1 car with Carbon fiber moulded monocoque. The main engineer for the MP4 was John Barnard.
The car was originally powered by a Ford engine but later switched to a Porsche engine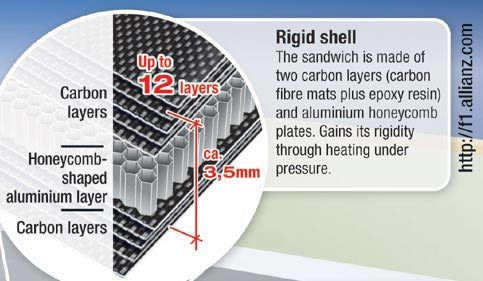 McLaren subcontracted the manufacture of this first model to Hercules Aerospace in the US to create the tub with a mould, while Lotus opted to build theirs in-house. The McLaren was built laying up the plies of carbon fiber around a male mould or "mandrel", before alloy honeycomb and a second carbon skin were applied to the outside of the sandwich using unidirectional (UD) carbon fibre prepreg tipe. Lotus opted for using folded sheets of composite material in a similar manner to the way chassis had previously been fabricated using sheet aluminium and aluminium honeycomb.
Two moulds formed the top and bottom half and were bonded together around the bulkheads to form the final composite chassis. As the hard points for the suspension mountings needed to be accurate and as they were to be attached to the inner skin\bulkhead, the chassis was molded inside out, as explained earlier the male mould was used to lay up the inner skin directly against the mould, so removing any variance in sandwich thickness form the final suspension geometry. This resulted in the outer skin being laid up against the honeycomb and not a mould face, hence the outer finish of these chassis were relatively poor.

Williams FW08 was designed by Patrick Head with Aluminium honeycomb monocoque. Car debuted at the 1982 Belgian Grand Prix. This year Williams will finish in 4th place, the best of the Cosworth-powered cars.

What concerned the designers most was the ability of Carbon composites to withstand a major collision. At the 1981 Italian GP, John Watson lost control of his McLaren and smashed violently into the barriers. He was able to walk away from debris unscatered. This incident went long way to removing any doubts in the minds of those unconvinced of the safety of the carbon fibre composites under strain rate loading. in the later years, the energy absorbing properties of composites have made a great contribution of the safety record of the sport.
Other teams soon followed the carbon fiber chassis route almost entirely adopting the McLaren molding way.
Gustav Bruner ATS team D4 racer left, and below, female moulded monocoque of ATS DS6 from 1983
Then, for the 1983 championship, ATS team D4 racer, under the technical direction of Gustav Brunner, made a female molded chassis taking advantage of the neater external surface of the molded chassis, by also making the monocoques outer skin the primary bodywork for the car and discarding separate bodywork for the large part of the front of the car. Ferrari adopted this design soon after for their first full carbon chassis, the 126C3.
Ferrari 126C3, first full carbon chassis
Meanwhile other teams adopted female molded chassis but still using separate bodywork.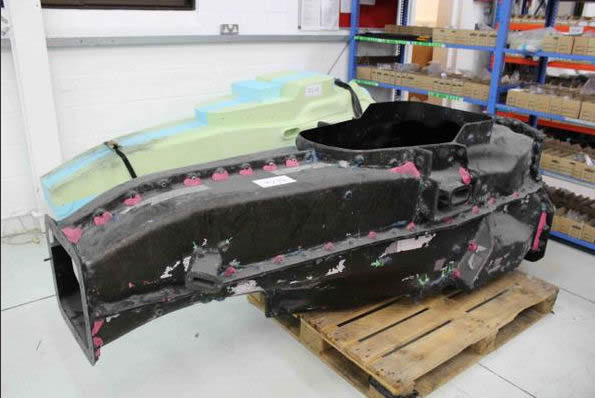 Caterham CT05 2014 monocoque female mould
Finally moving into the 2000, teams required to make much more complex chassis shapes broke the tub up into several sections.

Final stages of production of Formula 1 car monocoque. Pictures showing final measuring process of the monocoque
The monocoques today are all made is manufactured by hand from carbon fiber, a composite material that is twice as strong as steel, but five times lighter. It consists of up to 12 layers of carbon fiber mats, in which each of the individual threads is five times thinner than a human hair. According to the anticipated loads on varying areas of the structure, fabrics with differing weave patterns and in varying orientations are applied. A honeycomb-shaped aluminium layer is inserted between these mats, which increases the rigidity of the monocoque even more. The whole shell is then heated in the autoclave, a giant oven and under negative pressure. After two and a half hours, the shell is hardened, but still the baking procedure is repeated twice more. As a result, the monocoques are strong enough to protect the drivers even in the most serious of accidents, like the one involving Giancarlo Fisichella at Silverstone in 1997. The evaluation of the ADR showed that his Jordan slowed from 227km/h to zero in just 0.72 seconds, which corresponds mathematically to a fall from a height of 200 metres. Even so, the Italian only suffered a minor injury to his knee - thanks in part to the monocoque.




Kubica accident during Canada GP 2007
Or terrible accident of Kubica in Canada 2007 at 230km/h while driving for BMW-Sauber. The speed measured when his car clipped the barrier was 300.13 km/h (186.49 mph), at a 75 degree angle, subjecting Kubica to an average deceleration of 28g. After data from the onboard accident data recorder had been analyzed it was found that he had been subjected to a peak g-force of 75 g!!! After two races brake he was back in car. And next year, 2008, he win for first time on same racing track while driving for the same team. Check here for pictorial of Kubica accident.
In spite of the high standard achieved, FIA never ceases in its efforts to improve safety in the sport even more. Still, Monocoque is not perfect, as we can see in picture of Kubica accident.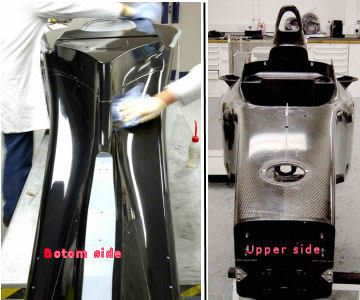 Monocoque can weigh as little as 35 kg and still absorb very large impacts, forces due to cornering speeds and aerodynamic loads.
That's why designers, with FIA supervision and always new rules, still working, how to make cell more safe.
The crash tests which have been stipulated by the FIA since 1985 guarantee the load capacity of the monocoque and the crash structure, and they have become more and more stringent over the years.

Ticknes of monocoque in colors
Since 1997, it has been obligatory for the rear structure as well as the side crash structures and the roll-over bar to pass a crash test before every season. Here, again, the FIA was not satisfied with the standards already achieved and keep raising the level of the requirements a little higher before the every season began by increasing the impact speed for the dynamic crash.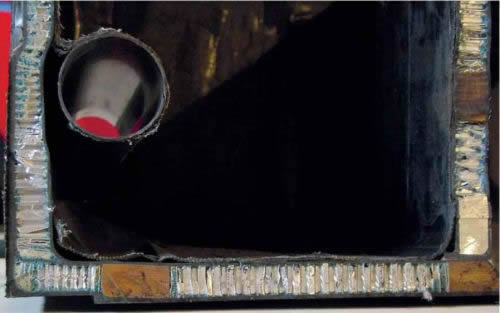 To prevent tube penetrations caused by front suspension, FIA imposed rule that first inside layer must be made from Kevlar, material highly resistant to penetration forces. This rule was imposed after Michael Schumacher crash in Silverstone, when left front suspension wishbone penetrated momocogue and broke Michael's leg.
Overall though, composites are largely unrivalled as a material for impact absorption, with a specific energy absorption (SEA, measured in kJ per kg of material used) far higher than their metallic counterparts – providing sufficient optimisation.
The decision to use CFRP for impact absorption is a fairly easy one. Comparing the SEA-s of various materials, steels achieve about 12 kJ/kg while aluminium reaches around 20k J/kg. However, a well-optimised carbon fibre structure (one with an optimised lay-up/fibre orientation and component geometry) can absorb anything from 40 kJ/kg up to 70 kJ/kg in a highly refined and tested design.
Suffice to say, from a safety perspective, CFRP does not look likely to be superseded as Formula One's material of choice any time soon.
As with everything, FIA impose heavy dimensional limitation on monocoque design too. Inside tube have imposed minimal dimensions to create maximum space for driver legs to prevent impact injuries. Outside dimensions are limited in maximum measurement to prevent engineer's wild ideas. On some specific positions, outside cross-section of the tube is limited in minimal dimensions too.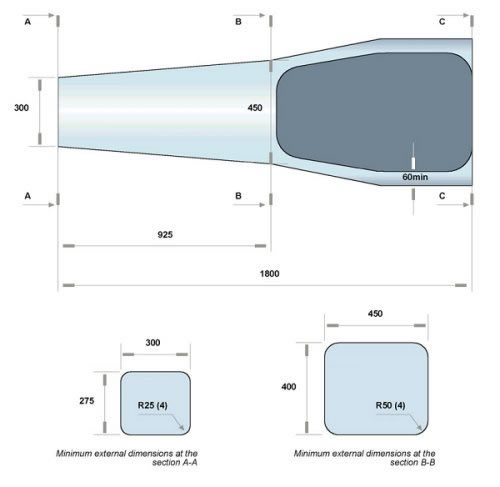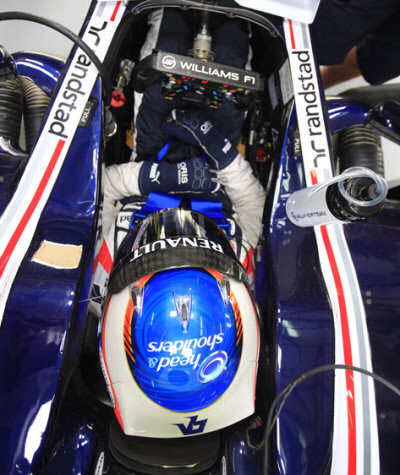 A Formula One monocoque cocoons the driver in a carbon fibre safety cell.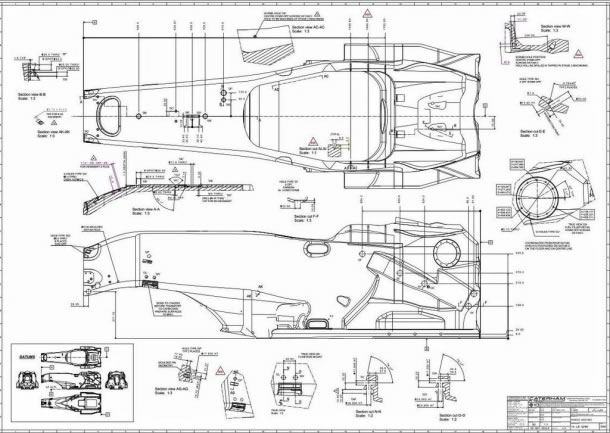 Caterham CT05 F1 2014 car Monocoque drawing
To know more about chassis in automotive industry and a bit of history, check this article.