Loading
VSC - Virtual Safety Car
Motor racing drivers rarely, if ever, acknowledge fear. They fully understand the dangers of racing but to do so would be at odds with the confidence and determination to win.
Previously the only system in place to slow drivers down was a safety car, yellow or double yellow flag, which would notify them that they needed to slow down and be more careful, each on they own extent. However, over time what has happened is drivers have become too worried about slowing down, fearing it will give their competitors an advantage. Unfortunately, that can lead to further accidents.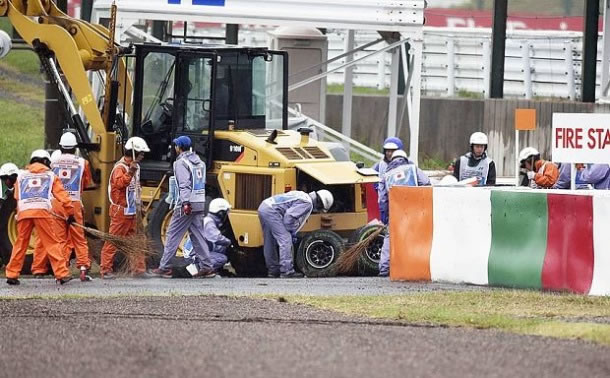 Yellow and double yellow flag slow-down present to driver one weakness of allowing an opponent to gain an advantage, because no driver wants to give anything away by lifting off too much. They may be slowing down, but how much they do so? Backing off is not in driver nature, so perhaps, after Jules Bianchi's crash at the 2014 Japanese Grand Prix in Suzuka, it is time to ask whether driver free will should be removed from the equation.

The FIA, Formula 1 rulers, teams and drivers themselves understand this problem and push for a way of better controlling driver speed in this critical conditions.
In car racing, a safety car is a car which is used to limit speed on a racetrack for safety reasons. Safety cars may be used to keep speed safe in inclement weather while allowing the race to continue, and they are also used to regulate speed in the event of accidents and other incidents on the track. The use of a safety car can be controversial, as it can interfere with the strategy of drivers and racing teams, destroy race rhythm and some people view safety cars as interference.
For smaller incidents is not practical to pull safety car out, and that is the time to use yellow and double yellow flag. Charlie Whiting, FIA and the teams have acknowledged this and after Jules Bianchi's crash they start looking into how to produce a system to control the speed of cars while under flags, without deploying the safety car. F1 wants a system to limit lap times when officials feel an incident could be cleared relatively quickly, but when workers, marshals or recovery vehicles need to be deployed on track to return it to racing condition.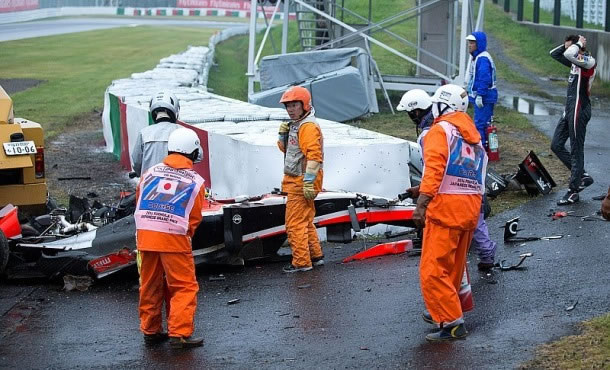 The 'Virtual Safety Car' system was given a trial run at the end of both practice sessions on the opening day during Austin U.S. Grand Prix 2014 with the drivers still on track at the chequered flag continuing for an extra lap adhering to a delta time on their steering wheel display. That forced them to reduce their speeds to about 35 percent less than a normal dry lap time for incidents that do not require a full safety car. Drivers will be aided by a display on their dashboards, and if they exceed the specified speed limit, they will be penalized. During the testing, a certain section of the track was put under a yellow caution flag, and drivers had to achieve a specific speed through it. After Friday's tests, drivers said it remains a work in progress. While VSC is tentatively a success, some drivers are complaining that it's too difficult.
Here's Jenson Button: "There are positives and negatives. When you're wheel-to-wheel and the system comes on you can't just hit the brakes like we are now to get the speed down. In that respect it's very tricky. I like the idea but you do spend a long time looking at your steering wheel. With the way the Safety Car boards are now and with the lap that we do when there's no Safety Car you can dip below the time and you get away with it because as long as you cross the finish line positive [against the target time] you are okay." Button said.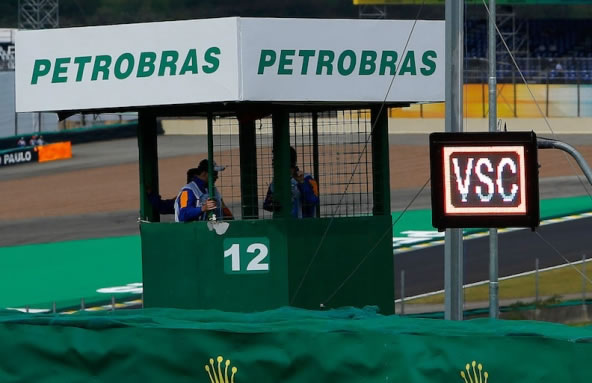 The conviction that the VSC (Virtual Safety Car) was the right way to go was reinforced when trials of a stricter system - that imposed a speed limit in a specific track sector rather than around the whole lap - met with disapproval from drivers following a test in Abu Dhabi. After some drivers complained about system is fine-tuned again and tested it again during Brazilian GP 2014.
On the end, FIA and Formula 1 teams have agreed to introduce the Virtual Safety Car for 2015 debut.
The Virtual Safety Car [or VSC] sees all the cars slowing down a speed limit in what would effectively be a full-course caution, however this would be done without deploying the actual Safety Car in order to better control the speed of the cars at any given point. Initially there were concerns about drivers getting distracted trying to keep to the speed limit by looking at a delta time on their dashboard, as opposed to the road up front.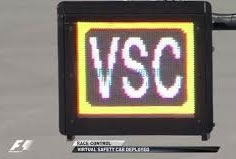 Once the virtual safety car has been called, all electronic marshal panels around the track will display 'VSC', while teams will be notified via the official messaging system.
When the clerk of the course is satisfied it is safe to resume racing, teams will be notified via the official messaging system. Then, "at any time between 10 and 15 seconds later, 'VSC' on the FIA light panels will change to green and drivers may continue racing immediately". After 30 seconds, the green lights will be extinguished.
Added to that, drivers cannot lap "unnecessarily slowly, erratically or in a manner which could be deemed potentially dangerous." However once they were eased by the FIA, they are now satisfied that the system can be put into use. VSC should be implemented also in free practices to give drivers the chance to practise it.

2015 Virtual Safety Car rules
(rules will probably be changed and adjusted before and during 2015 season)

Article 41: Virtual Safety Car (VSC)
41.1 The VSC procedure may be initiated to neutralize a race upon the order of the clerk of the course. It will normally be used when double waved yellow flags are needed on any section of track and competitors or officials may be in danger, but the circumstances are not such as to warrant use of the safety car itself.
41.2 When the order is given to initiate the VSC procedure a message "VSC DEPLOYED" will be displayed on the official messaging system and all FIA light panels will display "VSC".
41.3 No car may be driven unnecessarily slowly, erratically or in a manner which could be deemed potentially dangerous to other drivers or any other person at any time whilst the VSC procedure is in use. This will apply whether any such car is being driven on the track, the pit entry or the pit lane.
41.4 No car may enter the pits whilst the VSC procedure is in use unless it is for the purpose of changing tires.
41.5 All competing cars must reduce speed and stay above the minimum time set by the FIA ECU at least once in each marshalling sector (a marshalling sector is defined as the section of track between each of the FIA light panels). All cars must also be above this minimum time when the FIA light panels change to green (see 41.7 below). The stewards may impose either of the penalties under Article 16.3a), b), c) or d) on any driver who fails to stay above the minimum time as required by the above.
41.6 With the exception of the cases listed under a) to d) below, no driver may overtake another car on the track whilst the VSC procedure is in use.
The exceptions are:
a) When entering the pits a driver may pass another car remaining on the track after he has
Reached the first safety car line.
b) When leaving the pits a driver may overtake, or be overtaken by, another car on the track
before he reaches the second safety car line.
c) Whilst in the pit entry, pit lane or pit exit a driver may overtake another car which is also in one of these three areas.
d) If any car slows with an obvious problem.
41.7 When the clerk of the course decides it is safe to end the VSC procedure the message "VSC ENDING" will be displayed on the official messaging system and, at any time between 10 and 15 seconds later, "VSC" on the FIA light panels will change to green and drivers may continue racing immediately. After 30 seconds the green lights will be extinguished.
41.8 Each lap completed whist the VSC procedure is in use will be counted as a race lap.
If you ask me, I'm in favor of the VSC, because I don't see the need to neutralize the whole track with safety car when an accident is not so serious to call it out. But, as usual, F1 making something more complicated then it needs to be. Just give a driver a pit-limiter style button and here we go. They are all on same speed.
---
F1 Accident Panel: 'Bianchi did not slow sufficiently'

The following is a summary of the findings of the Accident Panel's examination of the circumstances surrounding Jules Bianchi's crash at the Japanese Grand Prix on 5 October, 2014 in Suzuka.

On lap 43 of the Japanese GP, Jules Bianchi lost control of his Marussia in Turn 7, and struck a mobile crane that was recovering Adrian Sutil's Sauber, which had crashed the lap before. Bianchi suffered life-threatening injuries to his head, and was evacuated to hospital by ambulance.
The weather conditions at the time were rain and a deteriorating track condition, and the section of the track where the accident occurred was subject to double yellow flags, due to Sutil's crash.
A review of all the evidence and other information about the events leading up to Bianchi's accident has been carried out by the 10-man Accident Panel, appointed by the FIA. The Panel has issued a 396-page report on their findings with recommendations for improvements, many relevant to all of motorsport. This has been presented to the FIA World Motorsport Council.

Conclusions:
The review of the events leading up to Bianchi's accident indicates that a number of key issues occurred, which may have contributed to the accident, though none alone caused it:
1. The semi-dry racing line at T 7 was abruptly narrowed by water draining onto the track and flowing downhill along it. Both Sutil, and Bianchi one lap later, lost control at this point in T 7.
2. Sutil's car was in the process of being recovered by mobile crane when Bianchi approached Sectors 7 and 8, which include the part of T 7 where the recovery was taking place. Sectors 7 and 8 were subject to double yellow flags.
3. Bianchi did not slow sufficiently to avoid losing control at the same point on the track as Sutil.
4. If drivers adhere to the requirements of double yellow flags, as set out in Appendix H, Art. 2.4.5.1.b, then neither competitors nor officials should be put in immediate or physical danger.
5. The actions taken following Sutil's accident were consistent with the regulations, and their interpretation following 384 incidents in the preceding 8 years. Without the benefit of hindsight, there is no apparent reason why the Safety Car should have been deployed either before or after Sutil's accident.
6. Bianchi over-controlled the oversteering car, such that he left the track earlier than Sutil, and headed towards a point "up-stream" along the barrier. Unfortunately, the mobile crane was in front of this part of the barrier, and he struck and under-ran the rear of it at high speed.
7. During the 2 seconds Bianchi's car was leaving the track and traversing the run-off area, he applied both throttle and brake together, using both feet. The FailSafe algorithm is designed to over-ride the throttle and cut the engine, but was inhibited by the Torque Coordinator, which controls the rear Brake-by-Wire system. Bianchi's Marussia has a unique design of BBW, which proved to be incompatible with the FailSafe settings.
(English dictionary - FailSafe = adjective: designed to return to a safe condition in the event of a failure or malfunction, verb: (intransitive) to return to a safe condition in the event of a failure or malfunction)
8. The fact that the FailSafe did not disqualify the engine torque requested by the driver may have affected the impact velocity; it has not been possible to reliably quantify this. However, it may be that Bianchi was distracted by what was happening and the fact that his front wheels had locked, and been unable to steer the car such that it missed the crane.
9. Bianchi's helmet struck the sloping underside of the crane. The magnitude of the blow and the glancing nature of it caused massive head deceleration and angular acceleration, leading to his severe injuries.
10. All rescue and medical procedures were followed, and their expediency is considered to have contributed significantly to the saving of Bianchi's life.
11. It is not feasible to mitigate the injuries Bianchi suffered by either enclosing the driver's cockpit, or fitting skirts to the crane. Neither approach is practical due to the very large forces involved in the accident between a 700kg car striking a 6500kg crane at a speed of 126kph. There is simply insufficient impact structure on a F1 car to absorb the energy of such an impact without either destroying the driver's survival cell, or generating non-survivable decelerations.
It is considered fundamentally wrong to try and make an impact between a racing car and a large and heavy vehicle survivable. It is imperative to prevent a car ever hitting the crane and/or the marshals working near it.

Recommendations:
A number of recommendations for improvements have been proposed, relevant in many cases to all of motorsport. They include the following:
1. A new regulation for double yellow flags:
Proposed new Appendix H Article (possibly under 2.4.5.1 b): The Clerk of the Course will impose a speed limit in any section of track where double yellow flags are being displayed. It is proposed that a Working Group, made up of FIA Race Directors and Stewards should meet and draw up detailed regulations and guidelines for the application of this new regulation, in time to apply it in 2015 across international circuit racing.
2. Safety critical software:
A review of safety critical software and measures to check its integrity will take place.
3. Track drainage:
Guidelines on circuit drainage will be reviewed, to include drainage off access roads.
4. 4-hour Rule:
Article 5.3 of the F1 Sporting Regulations states that:
However, should the race be suspended (see Article 41) the length of the suspension will be added to this period up to a maximum total race time of four hours. It is proposed that a regulation or guideline be established such that the Start time of an event shall not be less than 4 hours before either sunset or dusk, except in the case of night races.
It is also recommended that the F1 Calendar is reviewed in order to avoid, where possible, races taking place during local rainy seasons.
5. Super Licence
It is proposed that drivers acquiring a Super Licence for the first time should undertake a course to familiarize themselves with the procedures used by F1 in running and ensuring the safety of an event. It is also proposed that new license holders pass a test to ensure that they are familiar with all the relevant regulations.
6. F1 risk review
Consideration will be given to a review of F1 risk, in order to ascertain whether there are any significant holes in the safety defenses, such that an unforeseen combination of circumstances could result in a serious accident.
7. Tires
It is part of the challenge of a racing driver to drive his car as fast as possible given the track conditions combined with the characteristics of his tires. Although the characteristics of the wet weather tires provided by Pirelli did not influence Bianchi's accident or its outcome in any significant way, it is recommended that provision is made for the tire supplier to develop and adequately test wet weather tires between each F1 season, such that it is able to supply the latest developments to the first event.

Composition of the Accident Panel
Presidency:
Peter Wright, President of the Safety Commission
Members:
Ross Brawn, former Team Principal of Mercedes F1 Team, Brawn Grand Prix and former Technical Director of Scuderia Ferrari
Stefano Domenicali, former Team Principal of Scuderia Ferrari
Gerd Ennser, Chief Stewards' representative
Emerson Fittipaldi, President of the FIA Drivers' Commission, F1 Steward
Eduardo de Freitas, WEC Race Director
Roger Peart, President of the Circuits Commission, President of the ASN of Canada, F1 Steward
Antonio Rigozzi, Advocate, Judge at the International Court of Appeal of the FIA co-opted by the teams
Gérard Saillant, President of the FIA Institute and President of the Medical Commission
Alex Wurz, President of the GPDA, drivers' representative